ATTENDEE INFORMATION
Below you will find important information that you should know before you go. Please familiarize yourself with the information and let us know if you have any questions. We hope you are excited to learn, network and explore! See you soon!
ATTENDEE ORIENTATION WEBINAR
We invite you to watch a brief overview of SYTA Summit 2023. This webinar is best for any first-time attendee or anyone looking to get a lay of the land before arriving in Southern California. Please use the link below to watch the recorded webinar.
Carylann gave a webinar on what to expect at the SYTA Summit 2023.
She reviewed the schedule day by day and provided additional information for each activity.  If you have any questions, you can email us at [email protected].
Summit Yearbook 
Ever need help putting a face with a name? We invite you to explore the 2023 SYTA Summit Yearbook listing all registered attendees.
Hotel confirmations will be emailed to attendees by Tuesday, January 10, 2023. If you have not received your confirmation, please email [email protected].
Disney's Grand Californian Hotel & Spa
1600 S. Disneyland Drive
Anaheim, California 92802
(714) 635-2300
HEALTH & SAFETY
SYTA will not require proof of vaccination status or a negative test result at SYTA Summit events and off-site activities.  Mask-wearing at SYTA meetings and events is totally acceptable and up to the individual attendee.
SYTA encourages attendees to follow guidance from the Centers for Disease Control (CDC) on measures to reduce infection from COVID-19 and to protect against severe complications.  For more information, please review the guidelines at https://www.cdc.gov/coronavirus/2019-ncov/vaccines/stay-up-to-date.html
EVENING EVENTS
SYTA will be providing private meal functions for all attendees during our time together. Seats may be assigned based on the functions.
GROUND TRANSPORTATION
Attendees are responsible for transportation to and from the hotel.  One airport transfer will be provided to LAX on Friday, January 20th, 2023 leaving at 6:00 am, PST from the hotel.  Please email [email protected] with your airline and flight information and/or confirm you will be using the transfer when you check in at registration.
BESTVIP Chauffer Services
BestVIP is offering Summit attendees a 10% discount.
BestVIP (www.best-vip.com)
To book, email – [email protected] and mention Student Youth Travel Association Summit to receive the reduced rate.

SUMMIT PROGRAM AND YEARBOOK
Attendees will receive a link to the Summit Yearbook that includes names, companies, and photos of all Summit attendees. The Summit website will serve as the official program. Attendees will receive a daily schedule onsite.
WHAT'S APP!
Attendees are encouraged to join the Summit Whats App group to receive notifications from staff and to communicate with Summit attendees.
SYTA Summit SoCal 2023🌴
WhatsApp Group Invite: https://chat.whatsapp.com/DFujuQXrABBEwpe6F2ewHN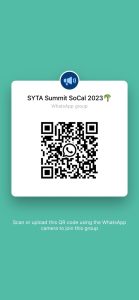 We encourage you to share your Summit experience socially as long as other attendees have given permission to use their photos. We are still representing SYTA and SYF when we post.
Use the hashtag #SYTASummit23 to share your experience!
ON-SITE REGISTRATION, TRILLIUM ROOM
Attendees may pick up their registration materials at Registration/SYTA Central.  If registration is closed when you arrive, please go directly to the scheduled event and we will provide you with your registration. Name badges should always be worn. Lanyards are color-coded to designate registration types.
Tour Operators – Blue
Sponsors – Black 
Speakers – Yellow
Guests – Green
Staff – White
ARRIVAL AND SUMMIT SPONSOR SHOWCASE
Join us for the first event at Summit where Tour Operators will spend a few minutes visiting with each of the Sponsors.  Please see your check-in details below. Tour Operators, the goal is for each Tour Operator to rotate through the tables and meet each of the sponsors. You will be given a listing to check off and ensure you had a chance to meet with each one.  We really appreciate your support of our Sponsors!
4:30 pm – Sponsor Check-In, Sequoia Foyer
4:45 pm – Tour Operator Check-In, Sequoia Foyer
5:00 pm-7:00 pm – Summit Sponsor Showcase, Sequoia Ballroom
SYTA CENTRAL, TRILLIUM ROOM
SYTA Central is in the Trillium Room and serves as a hub for all Summit attendees. Staff will be available to answer questions, provide directions and help with any of your needs.  Attendees are encouraged to stop by and catch up on emails, schedule meetings with other attendees or have informal round table discussions.
NETWORKING AND EDUCATION
This year's schedule is a combination of events, activities, and education.  The schedule is available by day on the website and attendees will also receive a printed version.  Detailed information is available below the daily schedule.  Attendees are invited to all Summit events except for Tuesday, January 17th morning tour of the Disneyland Imagination Campus.  A limited number of passes are available, and this tour is geared toward tour operators.
WIFI AND INTERNET
Complimentary wireless internet access is available in guest rooms and many public areas, including the main lobby and pool deck. To connect to the Internet using a wireless-enabled device, choose the "Disneyland Resort Hotels Wi-Fi" network.
SEATING AND GROUP TOUR ASSIGNMENTS
Assignments may be provided for events. If you are bringing a guest, your guest will sit and tour with you unless it is another sponsor. Two sponsors from the same company will be assigned to different tables and tours. Thank you for helping us make the most of our networking opportunities.
PARTICIPATION
We appreciate your attendance at Summit and understand that circumstances may come up to change your participation.  Please let the staff know if you are unable to attend events as we have scheduled transportation and do not want to leave anyone behind.
MEDICAL INFORMATION
If a guest experiences an emergency, please contact the closest cast member (identifiable by a resort nametag)  for help. House phones in the resort meeting and public spaces are available to reach resort security by dialing "0" or to call 911.
The resort has registered nurses on site. The front desk can dispatch a nurse to evaluate and if needed provide guests with telephone numbers of local Doctors and urgent care facilities close to the resort for the guest to contact on their own.