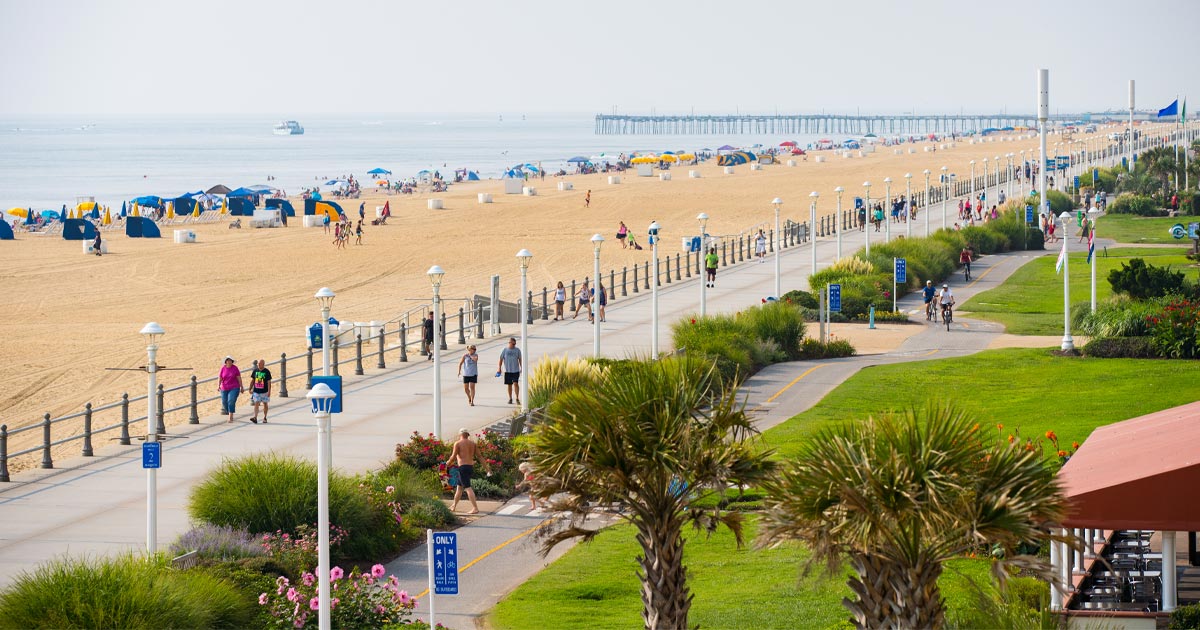 Nature, Fun and Maritime History at Virginia Beach
Dolphin-watching voyages, historic lighthouses, and miles of pristine beachfront make Virginia Beach a great destination for student travel. Within a day's driving distance for two-thirds of the U.S. population, it is a convenient location offering a wide range of educational sites, fun activities, and plenty of student performance opportunities.
Virginia Beach is rich in maritime history. The Surf and Rescue Museum offers galleries depicting the history of the Coast Guard and shipwrecks off the Virginia Coast, along with guided tours of wrecks and rescues, shipwrecks, ghost lore, and a STEM tour about simple machines used by the Coast Guard. The Cape Henry Lighthouse is the oldest government-built lighthouse in America, dating to 1791. Commissioned by George Washington and overseen by Alexander Hamilton. Students can climb to the top for amazing views of the Atlantic Ocean and Chesapeake Bay. The Military Aviation Museum, with one of the largest collections of flyable WWI and WWII aircraft in the U.S, offers STEM focused Exploration Tours and various learning labs.
The Virginia Aquarium and Marine Science Center's exhibits include a touch pool, a variety of ecosystems ranging from Volcanic islands to peat swaps and sea, along with onsite educational programs. The Aquarium also offers Dolphin and Whale Watching cruises. Students can also visit numerous historic sites-such as the First Landing Cross, where America's first permanent settlers landed in the New World in 1607- and tour the area's historic homes to get a sense of life in the 1700s. Explore the Eco-system with a visit to First Landing State Park or Back Bay National Wildlife Refuge. Take a ride on the Nature Bus for a creative and educational adventure.
Students will never run out of fun things to do in Virginia Beach. Groups can play in over 13,000 square feet at Dave and Busters or go bowling, play laser tag and enjoy a 95+ game arcade room at APEX Entertainment. 11 tracks with 16 different go-kart styles await at Motorworld along with thrill rides at Atlantic Fun Park. 17 different ropes courses connecting hundreds of platforms are available at The Adventure Park and Wetland Ziplines at Adventureworks. Float on a cushion of air at IFLY Indoor Skydiving and tee off in style at Top Golf. Ocean Breeze Waterpark offers a million-gallon wave pool and over 30 rides. Be sure to save time to explore the famous 3-mile Virginia Beach Boardwalk.
Marching Bands, choirs, and other performing groups have many options in Virginia Beach. September's Neptune Festival, November's Veterans Day Parade, and December's Holiday Parade offer marching opportunities. The Sandler Center for the Performing Arts and Zeiders American Dream Theatre offer performance opportunities, and the chance for students to take in a show. The Virginia Beach Town Center, Lynnhaven Mall and Regent University Theatre also offer opportunities. The Virginia Arts Festival offers performance opportunities, interactive learning experiences for students, and a range of concerts students could attend.
With a wide selection of student friendly restaurants and hotels, student travel to Virginia Beach has never been more inspiring. No matter the season, student groups will come away with a great appreciation for the unique setting that is Virginia Beach, but also with a greater depth of knowledge and lifelong memories.