Once business has wrapped, it's time for fun and exploration! We invite you to join us at our evening networking events: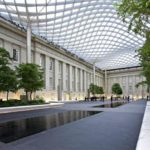 The Capital of Explorations: A Night Celebrating 25 Years of Student & Youth Travel (Friday)
Hosted by Destination DC, SYTA, Maryland Office of Tourism, Virginia Tourism Corporation, Smithsonian American Art Museum and Local Partners
Where history meets future…we invite you to celebrate 25 years of student travel. Located between the Smithsonian American Art Museum and the National Portrait Gallery, the Robert and Arlene Kogod Courtyard will be the backdrop to our long-awaited reunion. Plan to join friends and colleagues for an evening enjoying cocktails and light fare. Cocktail or evening attire is suggested. Enjoy party amenities from Visit Maryland, Virginia Tourism Corporation, Six Flags, Broadway at the National, ARTECHOUSE, and take a tour of the Smithsonian galleries. Visit with George Washington's Mount Vernon, Ford's Theatre, O Museum, Unlimited Biking, and Macerich Shopping Centers. Following the event take an evening tour of the monuments with Big Bus. Event and transportation included in Annual Conference Registration.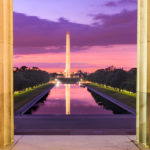 Dine Around (Saturday)
Washington, DC boasts a lineup of celebrity chefs and culinary experts offering a diverse roster of possibilities for your Dine Around. If you're looking for more than just a culinary adventure, SYTA has partnered with the Washington Nationals, Cirque du Soleil and the National Theater to offer you a unique opportunity to host your group. Even if you're not part of a Dine Around group, you may take advantage of these special offers.
Washington Nationals vs. Cincinnati Reds
Saturday, August 27 at 7:05PM
Six the Musical at the National Theater
Saturday, August 27 at 7:30PM
Cirque du Soleil's KURIOS
Saturday, August 27 at 8:00PM
Click here for more details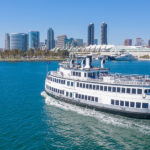 Evening on the Water (Sunday)
Hosted by City Cruises by Hornblower
Experience DC landmarks from a whole new perspective on a City Cruises Washington, DC cruise.
Departing from the Wharf, enjoy an upscale cruise experience along the Potomac with breathtaking views of iconic national landmarks like the Jefferson Memorial, Georgetown waterfront and Lincoln Memorial.
Enjoy a delicious cuisine and bar onboard the Odyssey as we celebrate SYTA 2022!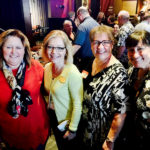 Throwing it All Back at Pinstripes! (Monday)
It's time to throw it all back as we wrap up #SYTA22! Celebrating 25 years of student travel in DC – a popular destination for the middle school traveler – has us feeling a little nostalgic.  Perhaps you traveled here yourself as a middle schooler. We invite you to join us at Pinstripes for food, drink, dancing, bowling, bocce and more! And if you're game, we invite you to dress as you would have on a Friday night at the bowling alley in 8th grade. That's right, throw it back with us, celebrate 25 years of student travel and dress as your middle school self!