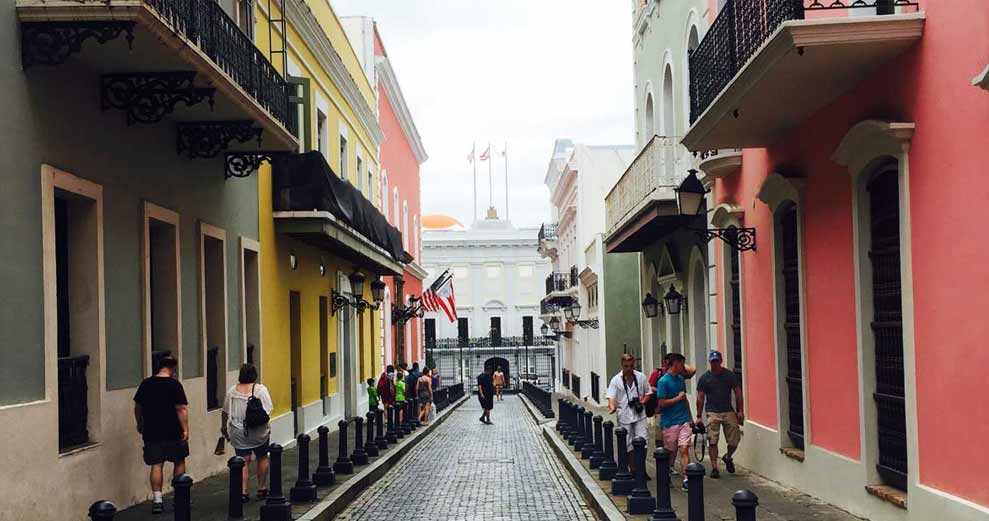 Discover Puerto Rico Partners With SYTA To Promote The Island As The Ideal Destination For Student Travel
August 16, 2019
Puerto Rico is announced as the host destination for SYTA Summit 2020, January 23 – 26, as the island promotes a wide range of educational and cultural experiences for student travelers.
In an effort to showcase all Puerto Rico's diverse student travel offerings, Discover Puerto Rico, the island's first Destination Marketing Organization, has established a three-year partnership with the Student and Youth Travel Association (SYTA). Discover Puerto Rico kicked off the partnership with a presence at the SYTA Annual Conference in Birmingham, Alabama, August 9 – 13, 2019, and is focused on working closely with tour operators, group travel planners and educational travel companies specializing in the student travel segment, to position Puerto Rico at the top of their list.
"We are excited to partner with SYTA and elevate Puerto Rico as a destination ideal for the student travel market. Travel is a life-changing experience and it's our responsibility as a destination to provide the tools to tour operators to ensure these students return home with tangible personal and educational benefits from their time on the Island," said Brad Dean, CEO, Discover Puerto Rico.
"Beyond our stunning beaches, if you combine our history and rich culture with our diverse natural offerings, there are limitless experiences student and youth travelers can have on our Island that are educational and fun."
Puerto Rico will host SYTA Summit 2020 https://syta.org/summit2020/, affording more than 120 senior executives in the student travel industry and SYTA member tour operators, travel planners, and educational travel companies the opportunity to experience the destination's offerings for student travelers.
Puerto Rico's unique history and rich cultural features set it apart as a Caribbean student and youth travel destination. The island's fusion of Taino Indian, Spanish, and African cultures is seen vividly in its food, music, dance, and architecture; its natural attractions are unparalleled. The island is home to El Yunque, the only tropical rainforest in the U.S. National Forest System; three of the world's five bioluminescent bays; and El Monstruo, the longest zipline in the Americas. Beyond history, culture, and miles of pristine beaches, student and youth have many adventure and nature experiences to enjoy. Beginning this fall, San Juan commences celebration of its 500th anniversary, bringing to travelers a wide range of added cultural experiences.
"The SYTA community overwhelming embraces Puerto Rico as the host city of the SYTA Summit 2020. This will be the second time SYTA has hosted this important meeting on the island," said Carylann Assante, CAE, CEO, SYTA and SYTA Youth Foundation. "This year, we will include local tourism executives, educators, and students who will share their stories of leadership and resilience during a challenging time. We are inspired by their efforts to continue offering travel opportunities to their students, while welcoming other student groups to their home. We look forward to expanding our partnership with Discover Puerto Rico."
At 2019 SYTA Annual Conference, Discover Puerto Rico launched Hacienda Puerto Rico, inspired by the rich coffee culture and various coffee plantations around the Island, including traveler favorites Hacienda Lealtad in Lares, Hacienda Tres Ángeles in Adjuntas, and Hacienda San Pedro in Jayuya. Attendees had the opportunity to taste a variety of specialty drinks made from authentic Puerto Rican coffee and traditional pastries such as guava cakes. Haciendas are a great example of the distinctive experiences student travelers can enjoy. Many offer in-depth coffee tours, where travelers get the opportunity to learn all about sustainable coffee growing practices.
An unincorporated United States territory, Puerto Rico is a prime destination for hosting meetings, incentives, conferences and events. Its extraordinary air access, no passport requirement for U.S citizens, and use of the U.S dollar remain important value propositions, providing ease in traveling and doing business.
Visit Discover Puerto Rico.com for further information on the Island and its variety of offerings and lodging options.
###
About Discover Puerto Rico
Discover Puerto Rico is a newly established private, not for-profit Destination Marketing Organization (DMO) whose mission is to make Puerto Rico visible to the world as a premier travel destination. The DMO brings prosperity to the people of Puerto Rico by collaboratively positioning the Island's diversity and uniqueness for leisure, business and events. It is responsible for all global marketing, sales and promotion of the destination and works collaboratively with key local governmental and non-governmental players throughout Puerto Rico's visitor economy and community at large, to empower economic growth. To discover all the beauty the Island has to offer, visit DiscoverPuertoRico.com.