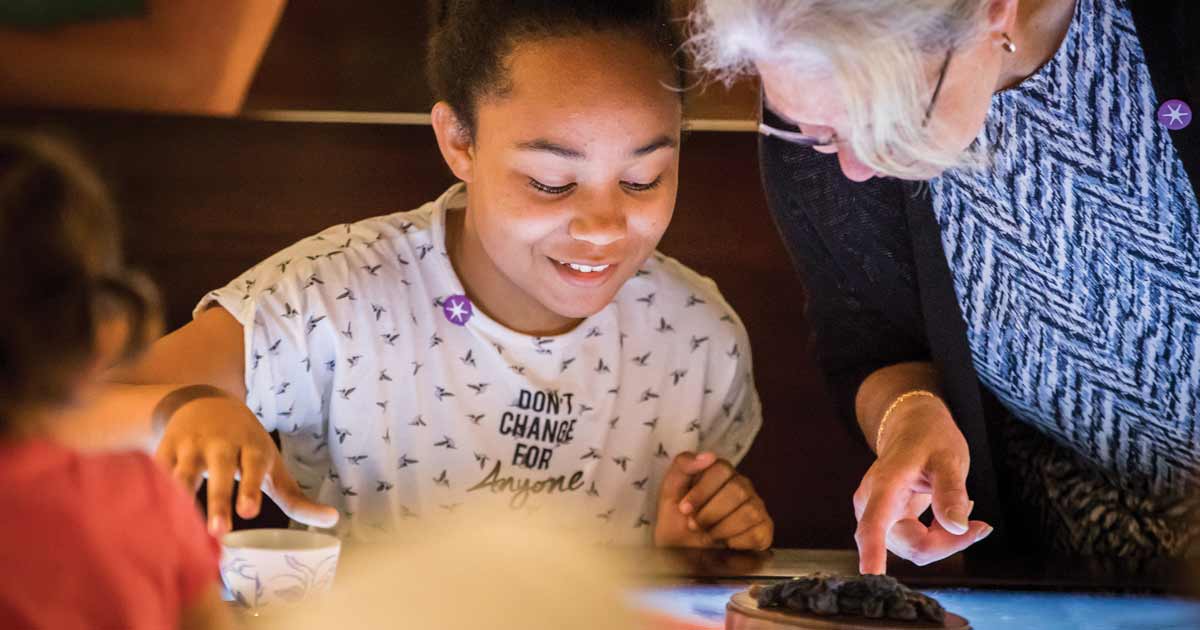 Feel the Energy and History: Philadelphia, Pennsylvania
October 26, 2020
The second-largest city on the East Coast, Philadelphia brings history to life and offers students opportunities to visit top-notch art and science museums, among a variety of attractions. Whether throwing up your fists for a photo next to the Rocky statue, gazing in awe at the Liberty Bell, or chowing down on an authentic cheesesteak at Campo's—with Cheez Whiz, of course!— students are sure to find fun in the City of Brotherly Love.
From 57 stories high, see 360° panoramic views of the city—morning, noon and night—at One Liberty Observation Deck, the tallest observation deck in Philadelphia. Visiting students could utilize the Go Find Your Philly Interactive Boards, allowing them to focus in on key landmarks and get even more information on their particular history, architecture, and cultural impact. No matter what time of year you're here, One Liberty offers an unforgettable view.
At the Penn Museum, students could connect with the cultures of Africa, Asia, the Americas, and the Mediterranean through the more than 1 million objects on display from across the globe. Galleries dedicated to Egypt, Greece, Rome, Etruscan Italy, Israel, China and Japan, and the Middle East provide in-depth insight into the past, while a newly added 25,000-pound red granite Sphinx of the Pharaoh Ramses II offers a great photo op upon entering the museum.
Situated mere steps away from Independence Hall—where the Declaration of Independence and the Constitution were signed—the National Constitution Center seeks to engage visitors through interactive programs and exhibits that explore the history and relevance of the Constitution and celebrate freedom. Students could get a U.S. history refresher with Freedom Rising, an inspiring 17-minute multimedia theatrical performance, before standing among 42 life-size bronze statues of the Founding Fathers in Signers' Hall!
Not far away is Philadelphia's newest museum, the Museum of the American Revolution, which uncovers and shares compelling stories about the diverse people and complex events that sparked America's ongoing experiment in liberty, equality, and self-government. An interactive presentation of George Washington's actual Revolutionary War tent is among the many artifacts that will leave students with a deeper understanding of this period of American history and how it relates today.
Named for the famous American scientist and statesman, Benjamin Franklin, the Franklin Institute electrifies science in creative and engaging ways. Upon entering, students are greeted by the towering Benjamin Franklin National Memorial, a dramatic 20-foot-high marble statue of Benjamin Franklin sculpted by James Earle Fraser. After you've snapped a class photo in front of the memorial, venture over to the iconic Giant Heart—an attraction that's been a must-see for students for half a century. While visiting, be sure students experience an awe-inspiring astronomical presentation inside the Fels Planetarium. They may even get to chat with Derrick Pitts, Chief Astronomer and Director of the Fels Planetarium—whose notable career has included meeting President Barack Obama and participating in the first-ever White House Star Party.
Considered one of the nation's foremost destinations for seeing world-class art, the main building of the Philadelphia Museum of Art, which opened in 1928, is a marvel in and of itself! Beyond the famous East Terrace steps Sylvester Stallone ascended in Rocky, the museum is home to more than 200 galleries full of visual wonders to explore—from world-famous impressionist and post-impressionist works by Renoir, Monet, and van Gogh, to extraordinary "period rooms" and architectural ensembles from around the world. Remember to stop in the Great Stair Hall to get a selfie with the gilded beauty, Diana.
When it comes to refueling, Maggiano's Little Italy is an ideal option, offering a wide variety of crowd-pleasing Italian-style meal choices. Students could comfortably exchange thoughts and perspectives of their trip over lunch or dinner in a custom-arranged dining area, no matter the size of your group.
Students will also love soaking in over 4,000 works of community-based public art while venturing through the city. Led by Mural Arts Philadelphia, the projects are resident-driven and from 50 to 100 new pieces are commissioned each year. Ask students to jot down how many they see throughout their trip and which ones were their favorite!
Have some free time? Students could peruse Fashion District Philadelphia, a shopping district spanning three city blocks downtown. Its centralized location makes it easy to fill any gaps you may have in your itinerary, without venturing outside the city limits. Don't leave without grabbing a soft pretzel, a Philadelphia comfort food staple—easily found through many street vendors or inside Reading Terminal Market, one of America's largest and oldest public markets.
Coming in 2021 to Independence Mall
The Faith & Liberty Discovery Center will be a place for students to explore the relationship between faith and liberty in America from its founding to today, by illuminating the influence of the Bible on individuals in key historical and personal moments.
Written by Sarah Suydam, Staff Writer for Teach & Travel.
This article originally appeared in the September 2020 issue of Teach & Travel.
Photo courtesy of the Museum of the American Revolution.