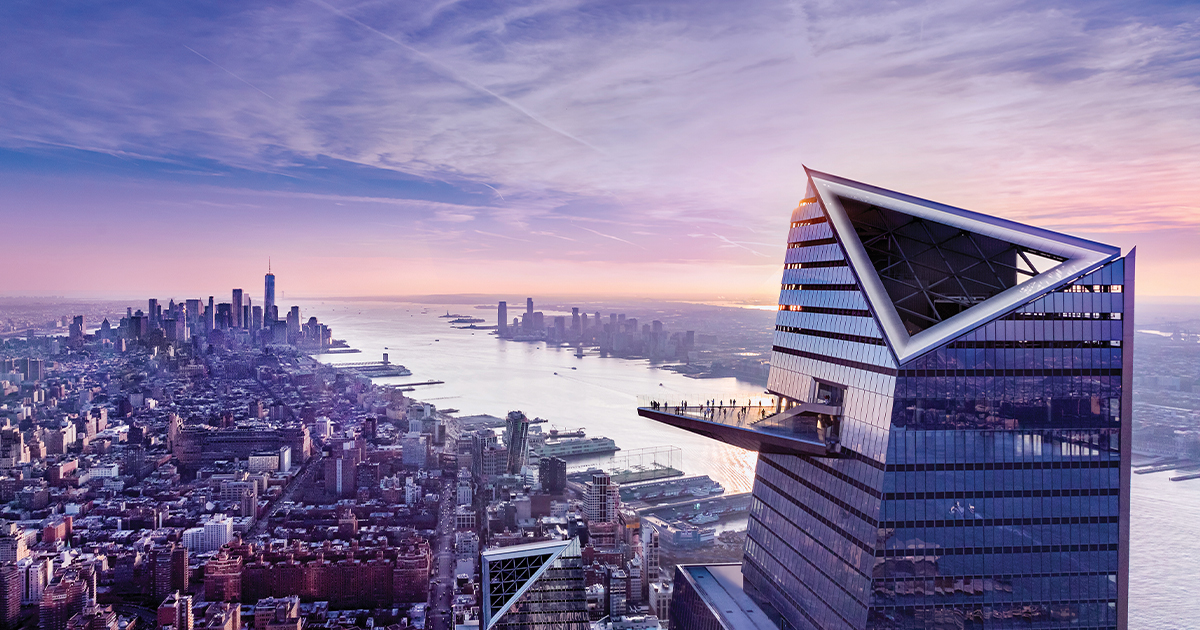 See New York From a New Perspective at Hudson Yards
September 8, 2021
Hudson Yards is New York City's newest neighborhood, an innovative template for the future of cities. Hudson Yards is home to more than 100 diverse shops and culinary experiences. Students can enjoy the 14 acres of public plazas, take in the displays of public art, or enjoy a cultural food journey at Jose Andre's Mercado Little Spain.
If you're looking for a new way to see the city, Hudson Yards is home to Edge: the highest outdoor sky deck in the Western Hemisphere. So much happens before you leave the ground when you enter Edge's award-winning multimedia experience to start your journey to the sky. Focusing on Hudson Yard's construction, sustainability, and their status as New York's first LEED Gold certified neighborhood, students are sure to gain knowledge and insight into Manhattans new west side.
Guests will enter the elevators and head up 100 stories in less than one minute. Once upstairs guests step onto Edge over 1,100 feet in the sky. Whether students choose to explore their thrilling glass floor or enjoy the views from their boldly angled glass walls, Edge is an adventure unlike anything else in New York. With their unique vantage point on the west side of Manhattan, Edge offers 360° views of New York City and beyond. Their frameless glass panels will offer you the chance to see uptown to The George Washington Bridge, all of Central Park, and down to the Statue of Liberty and beyond.
Edge has partnered with Discovery Education to launch an immersive education program in 2021. Called REACH FOR THE SKY, this STEM-centric program focuses on the incredible making of Edge and its home at Hudson Yards. This unparalleled program features digital and in-person opportunities designed to elevate and embrace the education elements of Edge. REACH FOR THE SKY is cost free to all groups and visitors.
This fall, Edge will launch their virtual field trip. Presented at no-cost, this virtual field trip explores the many ins and outs of the neighborhood and highlights the design, development, history and construction of Edge. Following that, over the next 3 years, Discovery Education will be releasing more content diving into other topics surrounding this incredible building and neighborhood.
Along with those digital resources will be material for groups and visitors coming to Edge. With activities for before the trip, during and after lesson plans and student materials will provide the adventure of Edge before students even step foot into the sky. Discovery Education is the worldwide edtech leader whose state-of-the-art K-12 digital platform supports learning wherever it takes place.
REACH FOR THE SKY is free for all, and Edge offers excellent group rate packages exclusively to tour operators. Be sure to inquire about their special rates for student groups.
For more information on REACH FOR THE SKY and group rates, visit www.edgenyc.com.