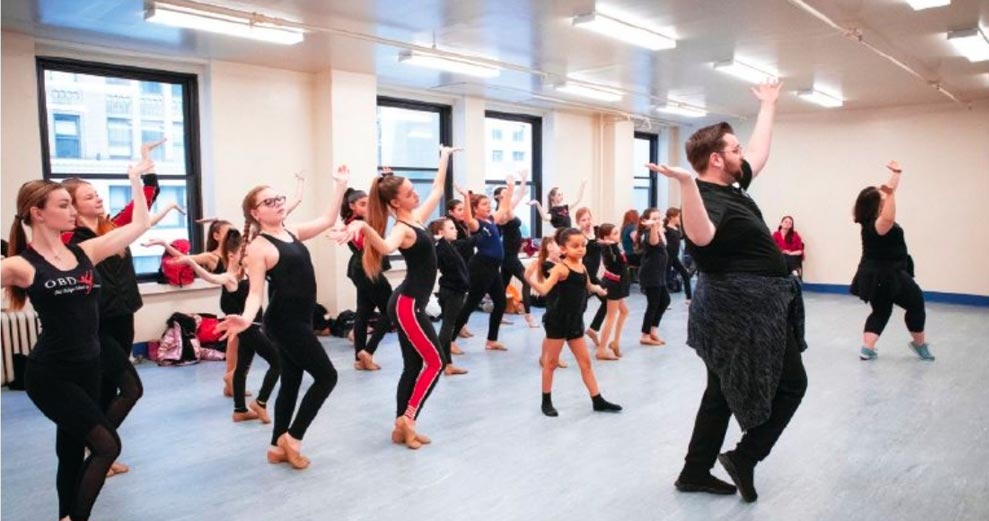 Surrounded by the Magic of Disney: Dance Students Experience the Enchantment
June 10, 2020
The storytelling and magic of Disney has captivated countless people through compelling song, dance, and acting, for generations. Today, students have an even more immersive opportunity to experience the enchantment firsthand.
Ashlei Trowbridge, the owner and director of Old Bridge School of Dance in Matawan, New Jersey, prioritizes creating experiences for her dance students, where they can learn from professionals in the industry outside of the studio. She was thrilled when she learned Disney Broadway Workshops presented the perfect chance to do just that.
"I'd done workshops with the casts as a dancer, so I called St. James Theater in New York City to ask if they offered anything in addition to tickets for groups," said Trowbridge. "They connected me with Disney Theatrical Productions and we've had two successful trips!"
This year, Trowbridge had 24 dancers—ranging from first to 12th grades—partake in a 90-minute Aladdin workshop, taught by a teaching artist in an actual Broadway rehearsal space in New York. Her students also enjoyed a Broadway performance of Aladdin and a backstage tour.
"Our students love participating in the workshops and the teaching artists make sure everyone is engaged and having a wonderful time," said Trowbridge, who worked with Corey Steinfast from Disney Theatrical Productions to coordinate the details of their trip. Students leave the workshops full of confidence in themselves and what they have to offer.
"They learn new techniques and tips for performing and becoming a character and, most importantly, leave with memories!"
Trowbridge, whose school is extremely family-oriented, notes the Disney Theatrical Productions staff made planning easy and fun.
"They go above and beyond to make sure that you are able to get everything you want out of your experience. If you are thinking about scheduling a workshop or seeing a show, just do it!"
Ever since attending the workshop, Trowbridge says, her students are looking forward to hearing what show they'll be seeing the next year.
"The unique experience of learning from professionals who make our favorite movies come to life on stage is unlike anything else," said Trowbridge. "We always go in with an expectation to have fun and learn one new thing; to break out of our shells and to try something new and be excited with what we've done."
This once-in-a-lifetime experience creates opportunities for lasting memories together—Trowbridge's ultimate goal.
Written by Sarah Suydam, Staff Writer for Teach & Travel.
This article originally appeared in the May 2020 issue of Teach & Travel.
Photo courtesy of Disney/Shay Frey