SYTA LIVE – Virtual Annual Conference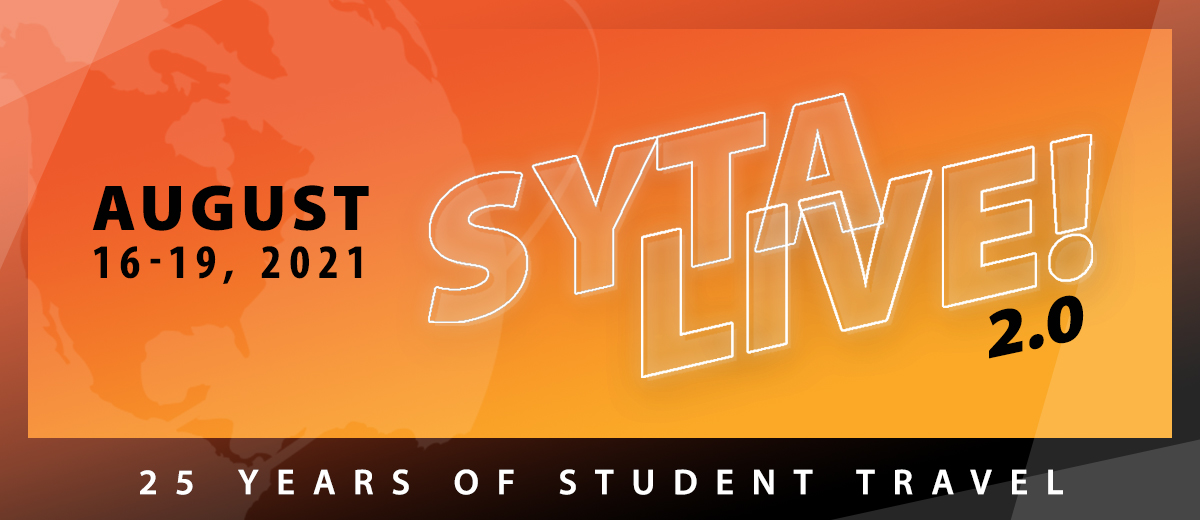 The Student & Youth Travel Association is proud to present SYTA LIVE – Virtual Annual Conference.
SYTA LIVE will bring you updates from industry leaders, insight into association advancements and motivation from keynote speakers. In addition, you'll experience the Best of Broadway and hear inspirational stories from the SYTA Youth Foundation. Lastly, SYTA LIVE is excited to bring back the ever-so-important Business Appointment sessions and tradeshow.
SYTA continues to be the Voice of Student & Youth Travel; SYTA LIVE embodies that voice. Anyone involved in the business of student travel – domestically and internationally – will benefit through involvement in the SYTA Community. SYTA LIVE will provide business opportunities, networking and education that will move industry professionals through 2021 and beyond.
SYTA is much more than just a membership organization; it's a community. And as the student travel industry rebuilds, SYTA is leading its members on a path to recovery.
---
Schedule
August 16: Annual Meeting, Keynote Speaker, Presidential Speeches and the Best of Broadway
August 17 – 18: Business Appointment Sessions
August 19: SYTA Business Appointment Sessions, SYTA Youth Foundation and Closing Celebration
* This is a working schedule. Updates will be provided as further details become available.   
---
Registration
SYTA LIVE is made available to all SYTA member companies. Registration will be available soon!
---
Inquiries and Information
SYTA Membership Inquiries, Megan Marshall, [email protected]
Sponsorship Information, Monica Schafer, [email protected]
Registration and General Information, [email protected]
---