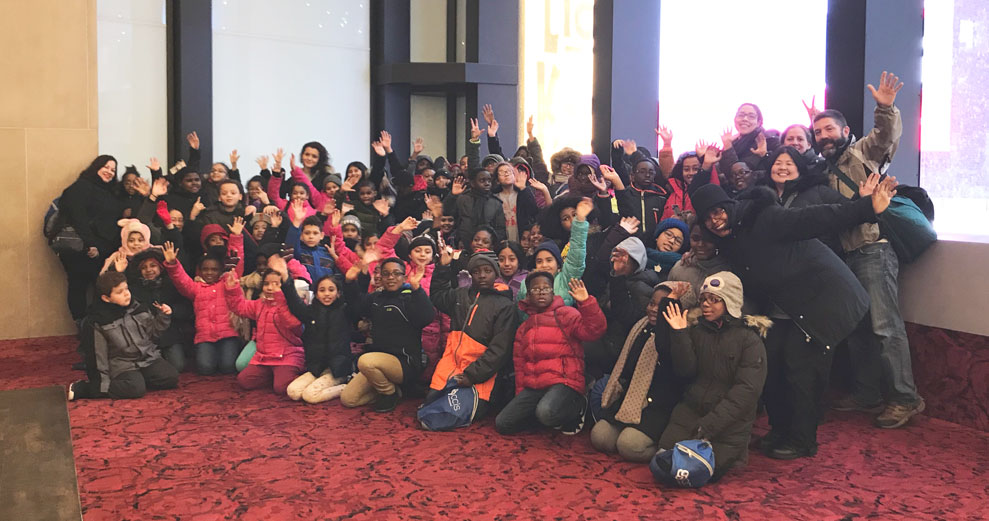 SYTA Youth Foundation and Disney Theatrical Group Host Students On Broadway
March 27, 2018
WASHINGTON, D.C. – The SYTA Youth Foundation (SYF) and Disney Theatrical Group hosted 87 New York City students from P.S.51 Bronx New School for an exciting day on Broadway through the SYF Broadway Bound 2018 program.
The students experienced The Lion King, Broadway's award-winning "Best Musical," on March 7, 2018. Disney Theatrical Group donated the tickets and gave the students access to TDF Stage Doors, a project-based arts education program that provides students with a meaningful introduction to live theater.
"For some of our students, this will be their first Broadway show," said Dr. Min Hong, Principal of P.S.51 Bronx New School.  "Perhaps for some school communities, receiving an opportunity to ride a coach bus, eat at the Hard Rock Cafe, and watch a Broadway show may be a kind gesture—but for our children, this is a life-changing event in their lives."
Special thanks to Disney Theatrical Group for hosting; Hard Rock Cafe for providing lunch; Academy Bus, LLC, for transporting the students; and CCIS, Inc. for serving as the official tour operator for the program.
About P.S.51 Bronx New School
P.S.51 Bronx New School is a Title 1 school located in one of the highest poverty areas of New York City. The school's mission is to ensure and promote every child's academic success and social emotional well-being by empowering and engaging all members of the school community to champion for their children.
About SYTA Youth Foundation
The SYTA Youth Foundation's mission is to impact students and youth through travel experiences that change their lives.  SYF strives to provide access to travel opportunities for the maximum number of young people that would otherwise be unavailable due to family hardship or budget cuts in school systems.  www.sytayouthfoundation.org
###
About SYTA
SYTA is the non-profit, professional trade association that promotes student and youth group travel. It seeks to foster integrity and professionalism among student and youth travel service providers. SYTA members play an important role in facilitating both domestic mobility and international incoming and outgoing mobility worldwide. As the voice of student and youth travel, SYTA represents the interests of leading U.S., Canadian and international travel agencies, tour operators, attractions, destinations, educators and suppliers. www.syta.org