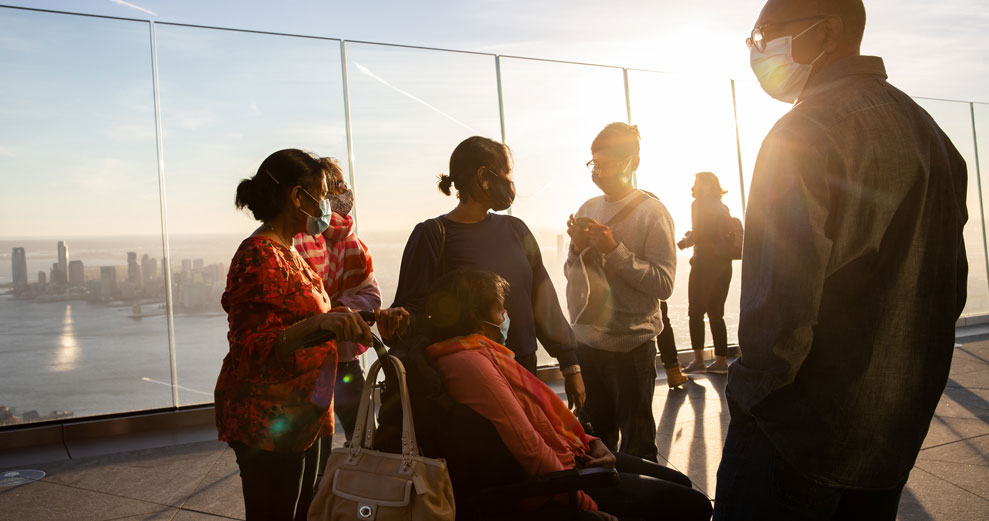 The Big Apple with NYC & Company
March 9, 2021
Safety for student travelers, and all travelers, remains at the forefront of New York City's hospitality community.
NYC & Company, the official destination marketing organization and convention and visitors bureau for the five boroughs of NYC, has asked businesses and their guests to take the All In: NYC Stay Well Pledge to ensure responsible visitation. Those taking the Pledge promise to adhere to public safety protocols such as physically distanced operations, mask wearing and disinfecting of public spaces. Nearly 200 businesses have taken the Pledge and countless others have instituted their own similar practices.
Even from a distance, New York City's institutions still help inspire and educate students around the globe. NYC Virtual Field Trips is a collection of online resources ranging from activity books to study guides to virtual tours and more. You can incorporate these experiences into your curriculum or utilize to have some fun with your students. But of course, there is no substitute for an in-person visit to NYC. Here are some options you may want to visit when it is safe to return.
El Museo del Barrio, one of the most unique locations on Fifth Avenue's Museum Mile, specializes in art from the Puerto Rican, Caribbean and Latin American cultures that are an integral part of the City's fabric. This fine arts collection is bolstered by cultural festivities, educational programming and a Pan-Latin café.
Another opportunity for a culture deep dive is the Weeksville Heritage Center located in Crown Heights, Brooklyn. One of few African American historic sites in its original location since the 1840s, Weeksville Heritage Center preserves and interprets the history of the free African American communities of Weeksville, Brooklyn. Their recently opened 19,000-square-foot building is dedicated to African American history and American artistic expression.
Getting around in NYC can be tricky for out-of-town visitors—and even locals. Luckily, New York City is full of fantastic local tour guides to assist and expose you to hidden gems in all five boroughs. Turnstile Tours, On Location Tours and Food on Foot Tours are a few of the local operators offering a variety of general and specialty tours that will make your trip unforgettable. Hudson Yards in New York City's newest neighborhood, a result of the largest private real estate development in the history of the US, offers extensive shopping and dining opportunities. Not to be missed is Edge NYC, the highest outdoor sky deck in the Western Hemisphere, with breathtaking views of Manhattan, Brooklyn, Queens and New Jersey.
New York City is ever-changing and evolving as residents, visitors and experiences add their own vibrancy and excitement to this metropolis. We can't wait to safely welcome you and your students again.
Photo courtesy of Walter Wlodarczyk.