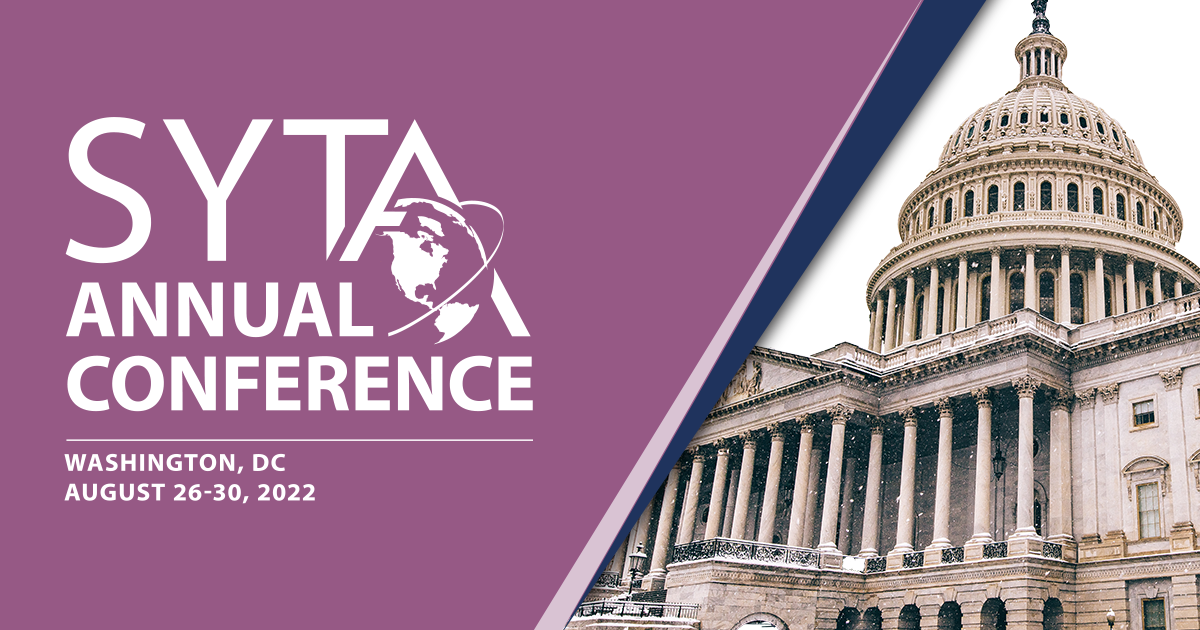 Know Before You Go: Supplier Edition
We are back, in-person, and very excited to see you at the 2022 SYTA Annual Conference! Here's your full guide to everything you need to know before you arrive in Washington, DC.
---
CONFERENCE LOCATION
Washington Hilton
1919 Connecticut Ave.  NW
Washington, DC
TIME ZONE – Washington DC is in the Eastern Time Zone.
---
TRANSPORTATION FROM AIRPORTS TO THE WASHINGTON HILTON HOTEL
Three airports service the Washington, DC area. For transportation to the hotel from the various airports:
Baltimore-Washington Airport (BWI): Both Amtrak and MARC trains have stops at DC's Union Station. From Union Station use Taxi, Uber/Lyft or Metro to Dupont Circle (about 3-4 blocks from the hotel).
Washington Dulles Airport (IAD): Taxi, Uber/Lyft to the hotel.
Reagan National Airport (DCA): Taxi, Uber/Lyft or Metro to Dupont Circle (about 3-4 blocks from the hotel.
---
REGISTRATION – Hotel Terrace Lobby
Registration hours:
Thursday, August 25   2:00PM – 6:00PM
Friday, August 26        7:30AM – 7:30PM
Saturday, August 27   8:00AM – 6:00PM
Sunday, August 28      8:00AM – 6:00PM
Monday, August 29    8:00AM – 6:00PM
---
HEALTH AND SAFETY GUIDELINES
Your comfort and safety continue to be of the utmost importance during the 2022 SYTA Annual Conference. Our staff continues to monitor the latest information coming from public authorities and are working closely with the Washington Hilton to ensure all recommended safety guidelines and health protocols are followed during our time at the hotel. Guests are welcome to wear masks.
Please click here for the latest health information from SYTA including a link on travel to Washington, DC. One policy that remains in place: any individual(s) who, within fourteen (14) days prior to the conference, have been exposed to or experienced any symptoms associated with COVID-19 or its variants, which include fever, cough, and shortness of breath among others, are strongly encouraged not to attend the meeting.
---
ATTIRE FOR CONFERENCE– Business Casual 
In general, the SYTA Annual Conference is Business Casual. Evening events, however, have special dress guidelines, please see below. As a reminder, the hotel and other buildings can be cool, so it would be appropriate to have a jacket or sweater for your comfort. Washington DC can be hot and humid in August with highs in the low 90's and lows in the 60's.
SPECIAL EVENTS ATTIRE
Need some inspiration for your evening event attire? Check out SYTA's specially created "Pinterest" page.
Friday, August 26

The Capital of Explorations: A Night Celebrating 25 Years of Student & Youth Travel

Saturday, August 27
Sunday, August 28

Evening on the Water

Attire: Nautical, Flat and rubber soled shoes

Monday, August 29

Closing Event: Pinstripes
Attire: Back to your 8th grade clothing style, rubber soled shoes
---
TRANSPORTATION FOR OFF-SITE EVENTS
All evening events will take place outside the Washington Hilton and complimentary round-trip transportation will be provided to the Friday, Sunday, and Monday off-site evening events. All transportation will depart from the Transportation Lobby (where Registration is.) Please Note:  A staging area will be designated in preparation for loading buses. Notification of location and times will be announced through the mobile app.
---
DIGITAL CONFERENCE PROGRAM 
SYTA is dedicated to being more sustainable and with that, comes an electronic conference program. SYTA will provide a mini pocket guide and use the mobile app as the main source of information for all-things-conference. Be on the lookout for an email with instructions on how to download this conference app prior to coming to Conference.
---
GENERAL SESSIONS AND LUNCHEONS
Don't miss the excellent program in store for you in 2022!
General Sessions and Luncheons from 12:30PM – 2:30PM features:
Saturday: Annual Conference Welcome Luncheon sponsored by Disney on Broadway and Disney Imagination Campus featuring Keynote Speaker Kevin Brown
Sunday: SYTA Youth Foundation (SYF) Luncheon sponsored by Golden Corral. Help us SOAR.CLIMB.RISE.
Monday: Presidential Speeches & The Best of Broadway sponsored by Group Sales Box Office at Braodway.com mixes business with a preview of the finest and most entertaining shows on Broadway.
---
EDUCATION
SYTA is pleased to offer you over a dozen education sessions as part of your registration. We encourage you to read through each session and plan your schedule accordingly. The full education schedule can be accessed on the websiteor in the mobile app.
 There are two supplier-specific sessions that would be great to attend:
Panel Of Key Industry Suppliers (Supplier Session) – 8:45AM – 9:45AM

One of the business-producing benefits of the SYTA conference is supplier-to-supplier networking. If you are a new supplier to the student travel market or a seasoned supplier looking to reconnect, join this session to create connections, become referable and discover how you can make the most out of your SYTA membership.

Speakers: Norm Hull, Norm Hull & Associates; LouAnna Henton, Nashville CVC; and Eric Marshall, Universal Orlando Resort
Location: Jefferson West

Tour Operator Panel (Supplier Session) – 8:45AM – 9:45AM

Supplier attendees will have the opportunity to hear from a panel of student tour operators on what they are looking for in working with a supplier. This interactive session will allow you to ask your questions and gain insight into how best to navigate the supplier-tour operator relationship.

Speakers: Norm Hull, Norm Hull & Associates; Valerie Bedard, A+ Voyages; Shannan Carter, Live Travel and Tours; Tom Merrill, Bob Rogers Travel; Michael Holzer, Educational Travel Adventures
Location: Jefferson West
---
STUDENT & YOUTH TRAVEL SHOWCASE 
Be where the action is…at the Showcase! Visit with over 30 exhibitors daily Saturday – Monday from 9:00AM – 6:00PM with one exception….. the Showcase is closed during General Session Luncheons.
---
SYTA CENTRAL – Showcase Floor
Your hub for all things SYTA: Membership, appointments, Board election, new attendee information, upcoming meeting information and more.
---
SYF LOUNGE FEATURING: ONLINE SILENT AUCTION, CHANCE DRAWING AND LIVE AUCTION
Don't miss your chance to snag a great auction item and contribute to providing scholarships and programming for underserved youth to experience the magic of travel! Make a monetary donation and/or bid on items in the online silent and live auctions and the chance drawing. Donors are recognized for their generous support of the SYTA Youth Foundation. Text AC2022 to 423725 to get access to the online auction!
Online Silent Auction: Bidders register online and manage their bids through OneCause. It's free to create an account! Your credit card will only be charged if you're the leading bidder when the auction closes. Closes Monday, August 29 at 12:30PM ET.
Chance Drawing: Opens Friday, August 26 at 2:00PM ET and closes Monday, August 29 at 12:30PM ET. Tickets can be purchased at the SYF Lounge or prior to conference online through OneCause. If purchased prior to conference, please visit the SYF Lounge to pick up your tickets.
Live Auction: The live auction will be immediately following the SYF Luncheon on Sunday, August 28 at the SYF Lounge. You can preview the live auction items on OneCause!
---
BUSINESS APPOINTMENT SESSIONS – Located on the Showcase Floor, Columbia Ballroom
Business Appointments hours:
Daily Saturday – Monday
10:00AM – 12:12PM
3:00PM – 5:12PM
Some important reminders as a Supplier Company:
 One appointment book per member company
When sharing the book of appointments, we ask no more than two attendees participate in the appointment. Both appointment takers must take appointments together and cannot separate on the appointment floor to pick up additional appointments.
Non-appointment taking suppliers cannot be on the Business Appointment Floor and are encouraged to network on the Showcase Floor, visit the SYF Lounge and attend Education Sessions.
All appointment-taking attendees should have received an email with Login ID and password information and access to appointment schedules on Tuesday, August 9. Access your appointments in the appointment portal.
REMINDER: Be sure to download or print your appointment schedule prior to your arrival.
Appointment Questions? Please contact SYTA Staff at 703-610-1263 or email [email protected].
---
SYTA GUARANTEE
If you have not had the opportunity to meet with a particular buyer or seller company, let a member of the SYTA leadership or SYTA team know, and we will assist with arranging a personal introduction for you! Our mentors, volunteers and leadership are available to help connect you with other attendees.
---
NEW ATTENDEES
Welcome to the SYTA family! Please be sure to pick up your new attendee ribbon at registration. This will make it easier for all attendees to add their own welcome. We encourage you to plan ahead and review the schedule so that you can make the most of your first SYTA experience! Click here to access important first-time attendee information.
---
VOLUNTEER
Looking for a great way to meet new people and play an active role during conference? It's not too late to become a volunteer! Our volunteers are instrumental in the success of the conference each year. Click here to sign up!
---
SOCIAL MEDIA
Stay connected on-site through social media. Follow all the events as they occur using our conference event hashtag #SYTA2022
---
2022 SYTA CONFERENCE PHOTOS
Upload your photos, see everyone's shared photos and access Group Travel Video's photos utilizing the SYTA Conference App and click the "Upload Your Photos" icon. IT'S FUN AND EASY!
Post your photos on Facebook and other social media. Remember – don't post anything you wouldn't want you grandmother to see!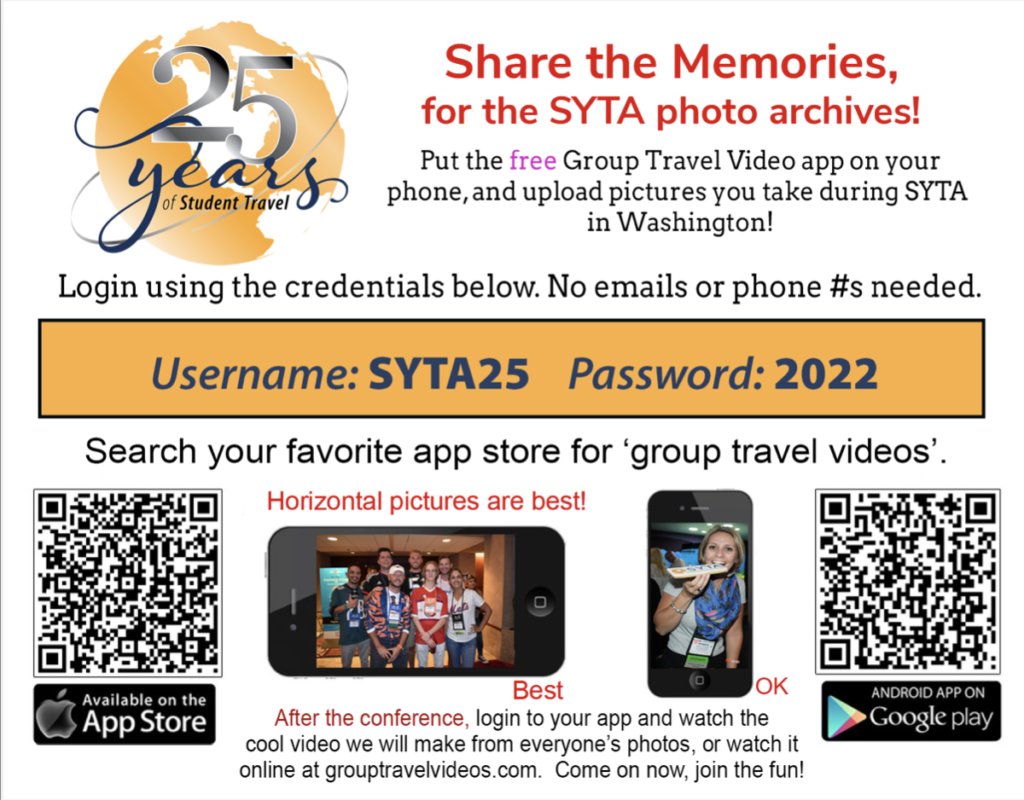 ---
WI-FI
Wireless internet is available in the Hilton hotel meeting space and lobbies.
Network: Hilton_Meetings
Password: SYTA22
If you have any other questions prior to Conference, please feel free to contact the
SYTA office: (703) 610-1263 or email [email protected].
---