Conference App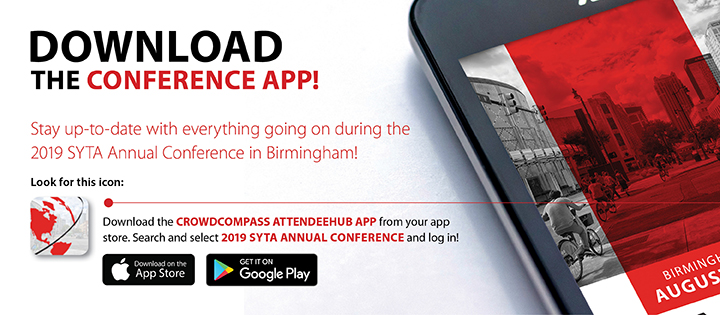 Don't wait until you arrive in Birmingham to start networking with fellow attendees, exhibitors and speakers. Download the SYTA Conference event app today, set up your profile and start connecting with your peers!
Get the app:
1. Access the App Store on iOS devices and the Google Play Store on Android. Use the store buttons above for direct links to the app or search "AttendeeHub". Install the app.
2. Once the AttendeeHub app is installed on your device, tap its icon on your homescreen. In the search bar, type SYTA to find the 2019 SYTA Annual Conference event, then click on Download.
IMPORTANT NOTE: Please Allow Push Notifications from the App! We will be sending out important information, updates, reminders and more via the push notifications.
To access all the benefits of the app, you'll first need to log in.
3. When prompted by the app, follow the prompts to complete the log in process. You'll receive a verification email to complete setup. Verification code email comes from CrowdCompass ([email protected]).
4. Verify your account by entering the unique four-digit verification code in your mobile app that was emailed to you.
Now you're ready to get started!
Here are a couple useful ways to utilize the app:
Access the full schedule of events or save events to your personal schedule and set reminders for education sessions, events and appointments.
Activity Feed: Share updates with everyone on the app, post to the social wall and check notifications. Notifications is where you'll find updates to ongoing Conference events, important announcements and start time reminders.
Search for event attendees or exhibitors and use the app to send direct messages to other event attendees.
Take notes during a session or about a specific speaker or exhibitor.
These are just a few of the features of the app. We can't wait to see how you'll use it!
The official SYTA Conference hashtag is #SYTA2019. Be sure to connect with SYTA on social media, tag and share your 2019 SYTA Conference adventures. See you in Birmingham!