Special Events
"Pep Rally"
SPONSORED BY Marriott international
Friday, August 9
4:30pm – 6:30pm
Showcase Floor, BJCC
It's game time! Cheer on the 2019 SYTA Annual Conference!
Wear your "favorite" team jersey as you visit with exhibitors, network with fellow attendees and enjoy tailgate treats. The Membership Development committee asks that you bring a "school photo" for the yearbook wall.  Exhibitors are encouraged to showcase team pride and festively decorate their booths.
Opening Night Event
SPONSORED BY Greater Birmingham Convention & Visitors Bureau

A Taste of Birmingham!
Friday, August 9
7:00pm – 10:00pm
Alys Stephens Performing Arts Center
Let's get this party started!
Birmingham has grand plans for the opening event of the 2019 SYTA Conference in Birmingham. Festivities take place at the impressive Alys Stephens Performing Arts Center on the campus of the University of Alabama at Birmingham.
The high-stepping, hard-rocking Minor High School Band will greet guests as they arrive for the party. Inside, party-goers will get in the groove with an array of eats and drinks and accompanying music. Then we'll peel off to the party rooms, each with a different genre of music to keep the good times flowing. The evening culminates in the main concert hall with a performance by Alabama homeboy and American Idol winner Taylor Hicks. It's gonna be a hot time in the old town!
Saturday, August 10
7:00pm
Take advantage of this open night to experience the Birmingham Southern cuisine with customers, colleagues and friends! This the only open evening where there is not a planned conference event. Please note: SYTA does not coordinate the dine around evening.
Dine Around Option: Birmingham Barons Baseball Game: Let's Play Ball! If you don't have dine around plans, join SYTA Members and new attendees for a night out at the Birmingham Barons baseball game! Your ticket includes a general admission with capability to network, game day food & non-alcoholic beverages. Add your ticket to your registration for a night full of fun and fireworks!
Check out the neighborhoods below and what they have to offer!
Downtown – The Business of Pleasure: An explosion of retail space, hip new lofts, professional baseball and a slew of breweries, restaurants, coffee shops and bars have made downtown Birmingham a must-experience to everyone who comes here.
Avondale / Crestwood – The hippest Haven in the 'Ham: Originally built to be a company town for Avondale Mills, the neighborhood is now an emerging nightlife and entertainment hotbed. The newest restaurants, breweries and live music venues make Avondale one place not to me missed.
Southside – Bohemian Rhapsody: Situated at the base of the forested northern slope of Red Mountain, the historic Southside community is one of the most cosmopolitan neighborhoods in Birmingham, with Five Points South being a central hub for art, nightlife and entertainment.
Lakeview – All day. All night. And then some: Conveniently located between downtown and Southside, Lakeview is one of the most bustling areas for entertainment, retail, design and food. Add to that residential lofts, performance and event space and the hottest nightspots in town, and it's easy to see why this area is such a draw.
Homewood – Taking quaint and charming to the next level: Small town southern life meets vibrant, contemporary retail, dining and entertainment options in this easy-to-find, easier-to-get-around neighborhood.
Mountain Brook – Welcome to the tiny kingdom: Located in a quiet, secluded enclave and noted for its boutique shopping, the so-called "tiny kingdom" has upscale shopping, fine dining, spa treatments and greenspaces that all come together to create an experience as luxurious as it is memorable.
Sunday Night Event
SPONSORED BY Alabama Tourism Department

An Evening At The Track 
Sunday, August 11
7:00pm – 10:00pm
Barber Motorsports Park and Vintage Museum
Welcome to the world famous Barber Motorsports Park just 18 miles from the BJCC in downtown Birmingham. SYTA attendees will enjoy an evening of great food and live entertainment in the Barber Vintage Motorsport Museum, officially recognized by Guinness World Records as being the world's largest motorcycle and lotus collection.
The museum also displays rare racecars, including the 1964 Ferrari F-158, in which John Surtees won the 1964 Formula 1 Driver's World Championship.
Home to the Indy Grand Prix of Alabama and the Porsche Sport Experience Driving School, guests may gaze at the beautiful mountain scenery while admiring the track through a glass bridge overlooking the speedway. Attendees may also test their engineering skills and build an actual motorcycle.
This is an evening not be missed and our hosts from the Alabama Tourism Department look forward to welcoming you to one of their top destinations.
Closing Night Event
SPONSORED BY Tourism Winnipeg and travel manitoba


Northern Lights and Human Rights Reception, Dinner & Performance
A interactive and immersive experience 
Monday, August 12
6:30pm – 8:30pm
Manitoba is known for its spectacle of northern lights that draws travellers from around the world. Winnipeg is home to The Canadian Museum for Human Rights (CMHR) which creates inspiring encounters with human rights through an immersive and interactive experience.
This very special closing night event will inspire attendees through the impactful creation of original art by Kal Barteski, accompanied by cellist Rob Knaggs.
KAL BARTESKI is a Canadian artist. Passionate about polar bears, positive words, sea ice and environmental health; she is an advocate for the wild. She is an promoter of community and collaboration. She paints polar bears like her life depends on it. She uses brush lettering and ink drips to celebrate imperfection and will create an original mural with her signature brush lettering and ink drop painting, during this evening. Kal is a philanthropist, artist, activist, TEDx speaker, tactical urbanist, published author and winner of a Women Entrepreneur of the Year Award.
Rob Knaggs is an Australian cellist and composer who lives in Churchill, Manitoba. He creates music that combines his cello playing with electronic looping effects to produce haunting music. He has played his music for beluga whales in a unique interaction that went viral on social media.
Featuring the SYTA All Star Band
SPONSORED BY legends ATTRACTIONS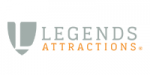 Monday, August 12
9:00pm – 12:00am
The SYTA All Star Band is back on the road and will be playing at this year's Annual Conference in Birmingham. We are excited to welcome first time DYMO sponsor, Legends Attractions.
Following the closing night event, attendees will head to Iron City, a restored concert venue a short distance from the BJCC and host hotels.
Tickets are $50.00 and proceeds from DYMO support the SYTA Youth Foundation.  Buy your tickets in advance through online registration. A limited number will be available onsite.