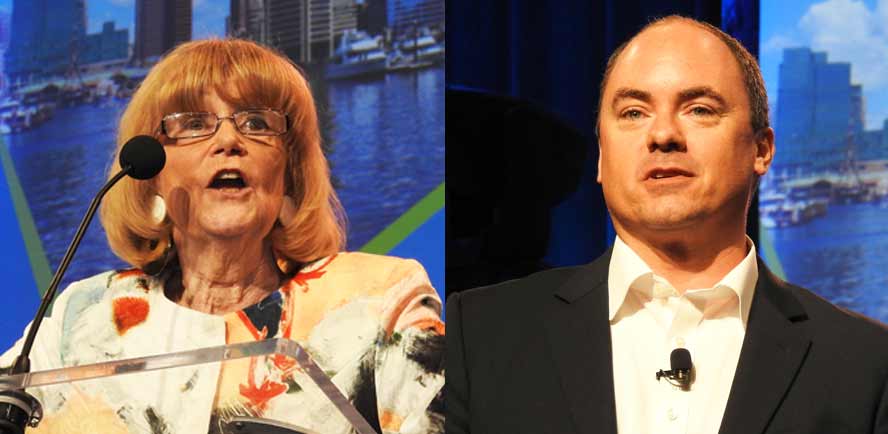 2018 Youth First & Visionary Award Winners Announced
November 14, 2018
The recipients of the Youth First & Visionary Awards were recently announced at the SYTA Conference SYF Luncheon. Read on to learn more about the awards and this year's outstanding recipients.
In a school where 80% of their students receive free or reduced lunch, traveling can seem like one of the things that "someone else gets to do." It doesn't sound like its for students who have to shop at Goodwill or stay at a friends' house when there is no food left to eat at home. But there are those who are working to change that.
The Visionary Award this year is awarded to Benjamin Dotson from Lincoln High School in Tacoma, Washington—someone who has pursued and encouraged these kids to dream big and use travel as a means to explore the world.
Dotson makes them realize that there are endless opportunities for exploration and grow beyond their small city. He works hard to fundraise, establish partnerships and educate administrators on the importance of global education. He went as far as building up a revered horticulture program that uses some of the $25,000 in annual plant sales to fundraise trips and allow students from all socioeconomic backgrounds to participate.
Also a volunteer for several cultural exchange programs hosted at the school, Dotson organizes cultural events for visiting international students and goes the extra step of creating a buddy for them so the students have opportunities to make long-term, meaningful connections. For this year's recipient, it's all about making real connections to the people and the culture of the destinations he visits with young people.
The same can be said for this year's recipient of the Youth First Award—Toby Orenstein from Toby's Dinner Theatre & Columbia Center for Theatrical Arts of Columbia, Maryland.
Each year, the Youth First Award is given to an individual or organization that demonstrates a commitment to enriching students' lives through travel and/or contributing to the advancement of our industry through volunteer activities, community service, or education.
Orenstein comes to work every day, passionate about theatre and education. With a positive attitude, she encourages her employees, students and volunteers to work hard, dream big and never give up.
Orenstein started her journey of service and education as a result of a phone call from Eleanor Roosevelt. As a recent graduate in Theatre and Education from Columbia University, she was selected as one of twelve teachers to go into the public schools in Harlem and use art—specifically theatre arts—to teach core classes such as English and Social studies to the at risk student population. Today, she is the founder and Director of the Columbia Center for Theatrical Arts, a 501© (3) nonprofit organization, serving tens of thousands of children each year for over 40 years.
In 1976, for the Bicentennial celebration, Orenstein produced an original work called Celebrate America. It is a musical montage of the history of the United States performed through song, dance and monologue by a group she called, "The Young Columbians." Now, generations of children have performed this piece at many prestigious venues around Maryland and beyond including Merriweather Post Pavilion, the White House, Wolf Trap and Disneyland. Students come from all over the state to participate in these unique and extraordinary theatrical arts experiences.
Orenstein is an innovator and activist and works tirelessly to ensure that groups traveling to the Maryland area have the best experience possible with regards to itinerary, lodging and entertainment.
At 81 years old—a time when most people are retired and slowing down to enjoy the rewards of their hard work—Orenstein is still going strong. Never content to rest on yesterday's accomplishments, she continually sets herself new and bigger goals, whether it's a new show she's never tried before, a new initiative like her "Starfish Sponsor a Child" program that provides $35,000 in need-based scholarships to young artists each year, or bringing more arts to the county and state by helping create a new visual arts center.