Center for Student Travel Safety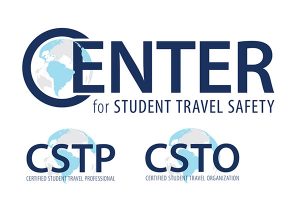 The Center for Student Travel Safety is a non-profit, independent C-3 organization, working in partnership with SYTA to administer and grant SYTA certification programs. SYTA is developing risk management and safety standards to provide a foundation for a NEW Certified Student Travel Organization program that will be launched in 2019. The Center will also administer SYTA's Certified Student Travel Professional program.
SYTA also partners with the Center to provide education, training, and knowledge resources for its members in the areas of risk and incident management, emergency response plans, and overall safety practices that address the challenges of traveling student groups.  A new series of guides produced with the Center for Student Travel Safety will be released in 2019. The Center also serves as a resource to SYTA members who need professional expertise.
About the Center
The Center for Student Travel Safety (CSTS) was founded in October of 2015 to help travel organizations address the challenges faced when traveling groups of students domestically or internationally.
Resources and Consulting Services
The Center provides expertise to travel organizations in these areas:
Emergency Response Plan Development
Travel Safety Standard Development & Implementation
Family Assistance Planning
Medical Information Collection and Processing Systems
Incident Management Planning & Training
On-call Support Service Packaging
Student Travel Procedure Development & ADA Compliance
Contact
The Center for Student Travel Safety
2231 Crystal Drive, Suite 204
Arlington, VA 22202
Phone: 703-610-1263
Fax: 703-610-0270
Email: [email protected]
About the Certified Student Travel Organization (CSTO)
The SYTA Travel Organization Certification Program is a voluntary program intended to educate tour operators, group travel planners and receptive operators in the facilitation of risk management processes that impact the health and safety of their customers while on the road. Learn more about this program at https://syta.org/our-community/professional-development/accreditation.
Click here to download the CSTS brochure.