CSTP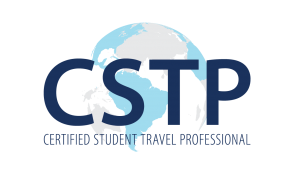 The Certified Student Travel Professional (CSTP) designation adds an additional level of professionalism in the student and youth travel industry. It is also intended to raise the awareness of student travel as a unique business segment. When you complete the program, you will receive a designation which will allow you to be recognized throughout the student travel industry as a professional specialist.
A CSTP designation will provide you with additional credibility amongst your peers and your clients. You will acquire specific knowledge of the student and youth travel industry as well as sharpen your business skills and increase basic knowledge. Training exercises will also give you the opportunity to spend time focusing on challenges and opportunities facing your organization.
Requirements
Three "Fundamentals of Business" courses through IUPUI (Indiana University-Purdue University Indianapolis). Same program as ABA-CTIS. $229/course. 20% discount if register for all three at one time.  Courses start March 15, 2019.
Two Required courses – choose from three
Customer Service – July 1 – August 30 2019
Promoting Your Business – September 1 – October 31, 2019
Business Grammar and Writing – November 1 – December 15, 2019
One Elective course – Choose from four
Effective Advertising – March 15 – April 30, 2019
Running a Business: Understanding the Numbers is Step # 1 – March 15 – April 30, 2019
Personal Organization & Effectiveness – May 1 – June 30, 2019
Igniting Your Effectiveness – May 1 – June 29, 2019
Click Here to Register for IUPUI Courses
For questions Regarding IUPUI courses, please contact Shohn Beeson at [email protected] or 317-278-5901
Three Face-to-Face SYTA Events- SYTA Conferences and/or SYTA Summits
Minimum of 3 face-to-face education sessions at SYTA Conference or SYTA Summit. Sign-in required.
Six SYTA Educational Webinars 
Up to 3 previously recorded webinars can count towards the 6 required. At least 3 must be attended live.
Must complete post webinar survey if viewed live or webinar attendance form if viewed online.
Three Industry Volunteer Actions
These may include volunteering at SYTA Annual Conference, SYTA Summit or serving on a SYTA Committee/Board for one year. Volunteer actions must be 3 different events or committees.
One Written Essay
Essay must be a minimum 500 words on any subject that helps the participant gain a better understanding of the student and youth travel industry and improves their general knowledge of the industry.
Cost
CSTP Program Registration is $295 for SYTA Members and $585 for Non-Members
To learn more about the CSTP program or to enroll, please click here.
For additional information on the CSTP program, please contact SYTA staff at [email protected] or 703-610-1263.
CSTP Graduates:–
Congratulations to our current 2019 CSTP Graduates. These candidates were recognized at the 2019 SYTA Annual Conference:
Kimberly Lynn
Director of Tourism
Visit Goodlettsville
Marisol Pena
Regional Sales Director
Silver Hotel Group
Jane Tougouma
Group Tour Sales Manager
Destination Cleveland
SYTA Recognizes all CSTP Graduates!
Alex Urdaneta
Brian Carr
Carey Randall
Cindy Richardson
Cindy Thomas
Colleen Palmertree
Corinne Grubar
Cyd Antang-Plotkin
Dana Romanello
Donna Adam
Greg Dotson
Greg Shipley
Heather Jones
James Coggin
Jara Haas
Jennifer Bareis
John Icabone
John Krish
John Marshall
Justin Shuler
Kara Mihalevich
Kendra Dolton
Kenneth Wooten
Kevin Streit
Kim Burger
Kirk Troen
Kristy Merritt
Lenni Neimeyer
Lindsay Hill
Lisa Scalzo
Lori Scott
LouAnna Henton
Marc Reiter
Marie Enriquez
Marie Martin
Melissa Ardales
Melinda Strickland
Melissa McClure
Michelle Thomson
Mimi Vielhauer
Nanette Mickle
Neal Sutton
Pam Kruseck
Renee Eichelberger
Robin Parker
Roxana Rivera
Ruthann Crust
Sandi Kerth
Shannan Carter
Shelby Moody
Shelly Cole
Shirley Davis Conner
Tim Branson
Tish Losure
Tracy Francis
Urte Land
Victoria Jones
Wendy Snelson