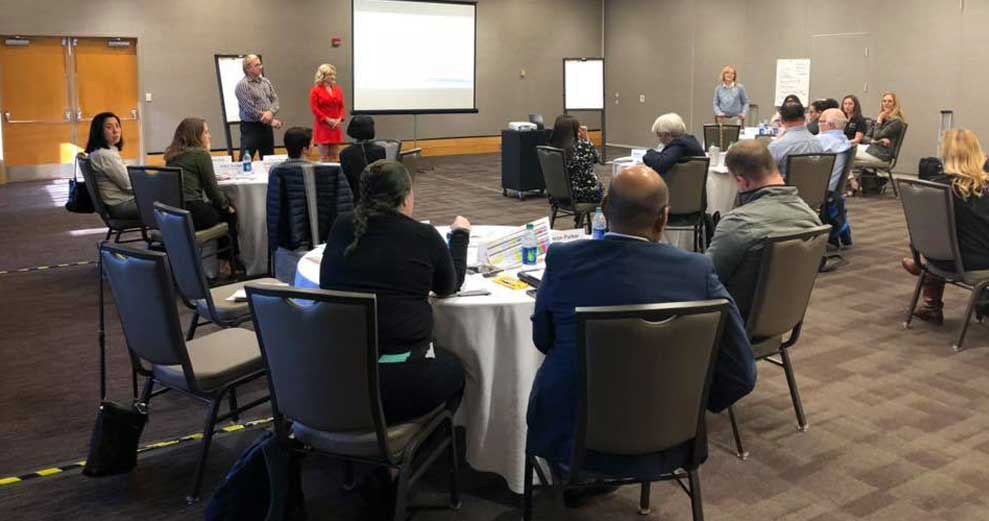 2019 Annual Conference Committee Members Gather in Birmingham
November 6, 2018
Led by Conference Chair Terry DiCastro (WorldStrides), members of the 2019 SYTA Annual Conference Committee assembled in Birmingham, Alabama for a strategic planning meeting on October 24 – 25, 2018.
The 2019 Conference Committee includes chairs of five subcommittees: New Attendee/Membership Development (Lee Callicutt, Dana Romanello), Hospitality (Pam Kruseck), Education (Kara Mihalevich), Golf (Karen Pitcherello, Beverly Coscia) and Silent Auction (Reagan Stulbaum). These leaders are supported by four members of the SYTA Board of Directors (LouAnna Henton, Justin Shuler, Urte Land and Adele Youngs), as well as several representatives from SYTA's 2019 and 2020 host cities, Birmingham (Sara Hamlin, Brent Cotton, Sheryl Ellis, Annie Williams), Huntsville (Pam Williams) and Winnipeg (Karen Goosen, Natalie Thiesen, Sarah Robinson, Melanie Swenarchuk).
During the face-to-face meeting last month, Conference Committee members confirmed "Technology & Gamification" as the conference theme and agreed to focus on the attendee experience from start to finish when making decisions.
Additionally, over the next several months, Conference Committee members are working to:
Build strong attendance numbers while maintaining a balanced ratio of buyers to sellers for appointments
Promote conference among colleagues and industry friends
Design education sessions that are relevant and memorable for attendees of distinct backgrounds
Deliver value to strategic partners and sponsors
Raise funds to benefit SYF via the pre-conference "Blastoff" event in Huntsville, as well as sightseeing tours, Silent Auction, 5K Fun Run and DYMO in Birmingham
When discussing 2019's pre-conference event, the SYF 20th Anniversary Blastoff, the committee decided to clarify the first registration package so attendees understand they can experience Blastoff on Thursday, August 8 but still return to Birmingham in time to participate in Friday afternoon sightseeing tours:
Package One
Thursday, August 8:
9:00 AM – 12:30 PM Space Camp Mission & Lunch
1:30 PM – 4:30 PM Sightseeing Tour
5:30 PM – 7:00 PM Countdown Reception & Golf Pairings Party
7:30 PM – 10:30 PM SYF Anniversary Blastoff Event
Friday, August 9:
9:00 AM Departure to Birmingham
1:00 PM Sightseeing Tour
Stay tuned for more exciting updates as we approach the SYF 20th Anniversary Blastoff (August 7-9) and 2019 SYTA Annual Conference (August 9-13)!