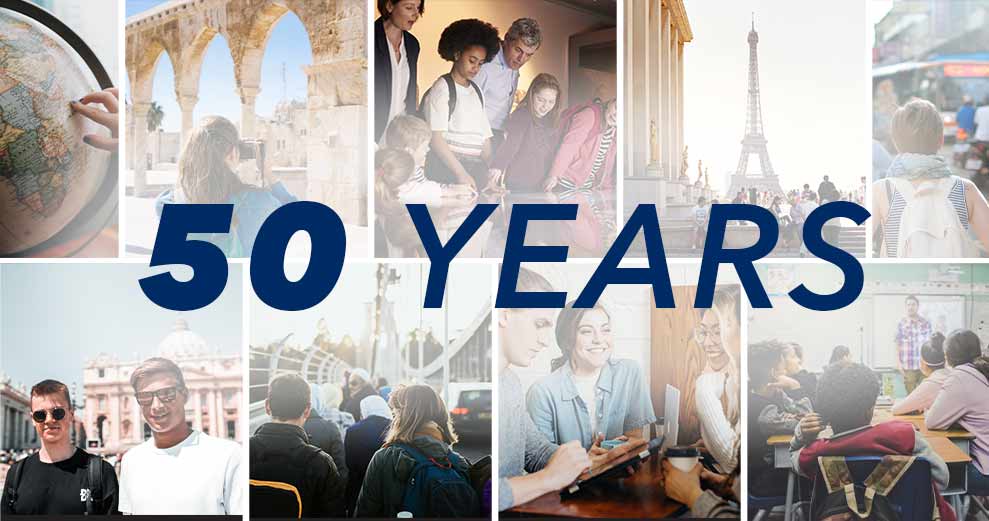 50 Years of Showing Student and Youth Groups the World
March 3, 2020
Hemisphere Educational Travel, a nationally recognized family-owned and -operated educational travel company, is celebrating its 50th anniversary in 2020. Since 1970, Hemisphere has provided customized student tours and youth educational travel services.
In the 1960s, Jack Golen was a geography teacher in Chicago, Illinois, looking to make a lasting impression on his students. He traveled with a class to the nation's capital, Washington, D.C., which the group spent three days touring. It became one of the most memorable experiences for Golen and his students.
It was then Golen recognized not only were students excited and having the time of their lives, but the tour had also provided an educational enhancement to the curriculum implemented in his classroom. One year later, he chose to retire from teaching to pursue his dream of offering the same experiences and feelings to more student and youth groups throughout the country.
Hemisphere Educational Travel was born.
"I'm very proud of what Hemisphere has become," said Golen, adding that though much has changed over the years, Hemisphere has always focused on client relations and creating memorable experiences for students. "My company has impacted hundreds of thousands of lives over the past 50 years and the future is bright. I have no doubt that Jennifer and Brad will continue to grow Hemisphere, well beyond my lifetime."
Today, Hemisphere continues the tradition of being family-owned and -operated, along with being a trusted, well-respected leader in educational travel. Each year, thousands of students tour the world with Hemisphere and experience the strong bond between travel and education through tour programs.
"Technology continues to enhance tours and provides our young travelers many unique and different experiences. The integration of interactive exhibits, virtual reality, and augmented reality is something that continues to surface at many of the sites and attractions that we offer," said Brad Rosenbaum, General Manager. "The future will provide us with an ever-changing landscape of monuments, memorials, museums and attractions."
Though Rosenbaum can't predict what history will bring in the next 10 years, he knows the Hemisphere team will continue to visit destinations and attractions to familiarize students with whatever the future holds.
"Whether our clients' purpose of touring is educational, cultural, performance-related or just plain old fun, we will seek out new experiences so they can continue to provide their students an opportunity of a lifetime outside of the classroom," said Rosenbaum.
To celebrate, Hemisphere has shared "50 Ways to Spark Student Travel," showcasing the ways educators have used travel to inspire and change the lives of students nationwide.
A few list highlights:
Spark student travel by having students reflect and write a follow-up of what they learned on their trip.
Spark student travel by creating a private group for your students and their parents. You can use this throughout the stages of your educational travel trip to share information, build rapport, organize events, and keep everyone updated and in contact—even during the trip.
Spark student travel by creating a quiz game to play during downtime on the trip that tests the knowledge students are learning.
Spark student travel by bringing students back to the classroom who have traveled with the school before to share their experiences and perspectives with other students.
To read the entire list of "50 Ways to Spark Student Travel," visit Hemisphere Educational Travel.
Written by Sarah Suydam, Staff Writer for Teach & Travel.