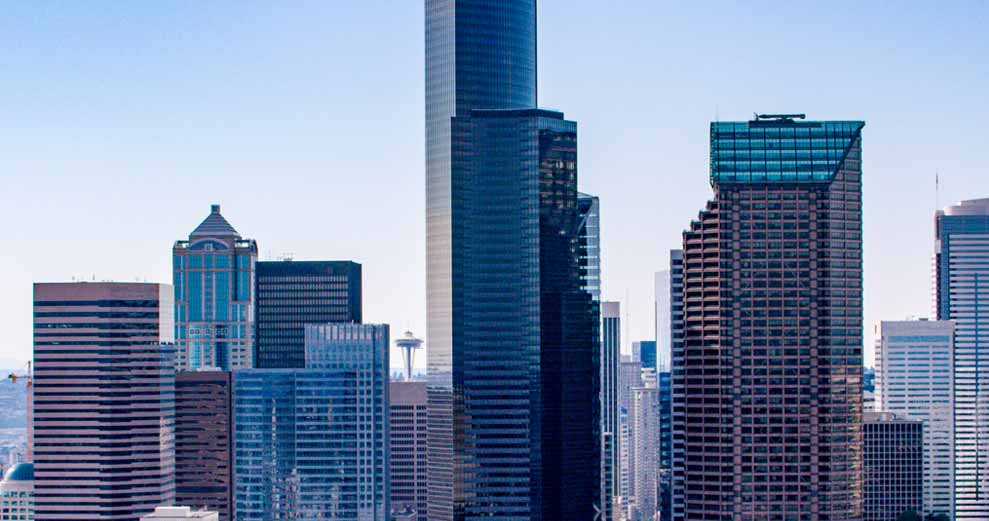 A Classroom in the Clouds
May 29, 2019
Located on the 73rd floor of Columbia Center in downtown Seattle, Sky View Observatory offers students 360-degree panoramic views of Mt. Rainier, Bellevue, the Cascade Mountains, Mt. Baker, Elliott Bay, the Olympic Mountains, the Space Needle and the city of Seattle.
But that's not all.
Learn more about what education opportunities await inside this classroom in the clouds.
At 902 feet, Sky View Observatory offers the tallest public viewing area in the Pacific Northwest—and chances for elevated education! Educators can take advantage of a multipart lesson for their students incorporating literacy, reading, economics, geography, social studies, the environment and sustainability, and educational technology standards.
Students' learning starts before they even arrive at Sky View Observatory! An introductory lesson utilizes a guided reading approach to critically examine informational text and graphics regarding the industries, economy, distributions of wealth and sustainability of resources of Washington State and surrounding counties—preparing them for the adventure ahead.
Upon arriving at Sky View, students will dive right into the history of Columbia Center and the Observatory. From there, they'll use their compass skills to participate in a thrilling Landmark Scavenger Hunt. A description of each landmark is provided, including its contribution and purpose to the region—information students will use to assess the role geography has played in the economic development of Washington.
Students will not only tap into critical thinking skills to understand the structure, components and process of natural and human-built environments, but they'll also leave with lasting memories they'll cherish for years to come.
Once back in the classroom, extend students' learning with further expansion of STEM applications and fun project ideas spanning various subject areas they'll continuously encounter.
The curriculum—designed by a National Board-certified teacher with a Doctor of Education degree and 15 years of experience—can be chosen based on difficulty to meet the needs of diverse learners, so there's something for everyone! Students will stretch their imaginations, change their outlooks, and gain a whole new perspective.
Learn more at Sky View Observatory.
Content and photo courtesy of Sky View Observatory.