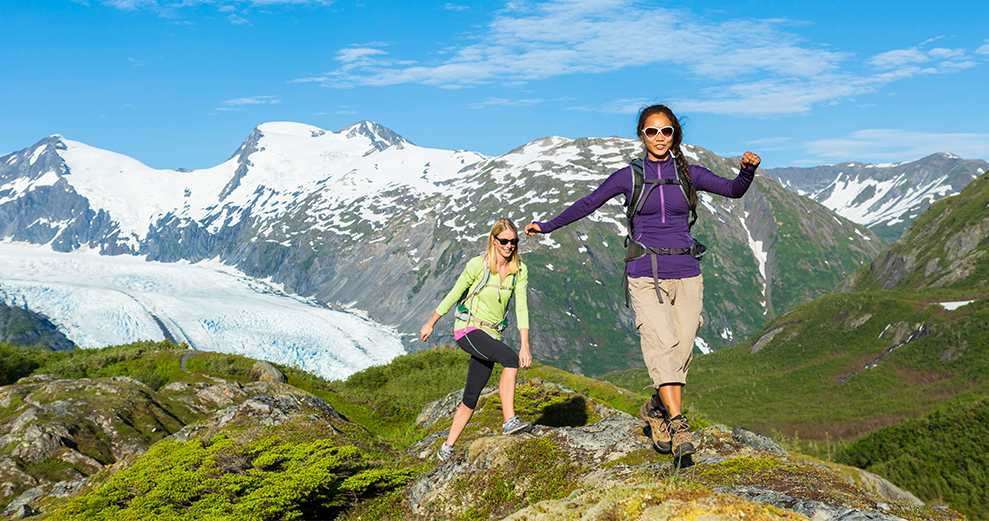 An Exploration of the Natural World in Anchorage
October 23, 2019
No other place so balances urban appeals with the wonders of the natural world as Anchorage, Alaska. Incredible wildlife, immense mountains and inspiring glaciers await. These outdoor adventures and unforgettable views will have students eager for hands-on learning and explorations of the environment.
Eagle River Nature Center
A bit removed from the city bustle but still easily within reach, the Eagle River Nature Center offers a sense of solitude and an intimacy with the wilderness. Even better, naturalist-guided programs allow students to learn a range of topics, including the geology of the glacier valley, basic wilderness survival skills and even owl pellet dissections. After the workshop, students can view the Chugach Mountains from the salmon viewing deck or hike along the trail system the center maintains.
Alaska Zoo
Set in the wooded hillside of Anchorage, the Alaska Zoo offers the perfect setting for encounters with animals native to Alaska and similar climates. Students get to meet local creatures like moose, bears, wolves and musk oxen at the Alaska Zoo. Dedicated to conservation, the Alaska Zoo has become a home for many orphaned and injured wildlife. Students can get behind the scenes by joining the zoo's Discovery Tour to learn even more about the different species there.
Portage Valley
By cruise, students can get up close and personal with Portage Glacier, one of the most easily accessible glaciers in the Anchorage area. Aboard the ship, students learn firsthand from a U.S. Forest Service ranger about the valley's geology, wildlife and history. The nearby Begich, Boggs Visitor Center offers an overview of the area's glaciers and serves as starting point for a ranger-led, mile-long hike to Byron Glacier.
Anchorage Museum
An interdisciplinary museum that combines art, history, culture and science, the Anchorage Museum is rich in hands-on learning. The museum's Discovery Center introduces visitors to Alaska's technology, artwork, marine life and more through interactive installations. While the northern lights, or aurora borealis, may not be visible all the time, students can still witness and learn about what causes this natural wonder while watching the planetarium show, Above Alaska.
Alaska Native Heritage Center
Learn about Alaska Native people through storytelling, song, dance and sport. More than a museum, the Alaska Native Heritage Center shares the diverse traditional and contemporary values and lifestyles of Alaska Native people. Students can venture on a guided tour of the life-size replicas of traditional dwellings and learn how the local environment shaped these structures. When available, students can even learn about and sample traditional foods and understand why these foods are still central to the lives of many Alaska Native people.
Learn more at Visit Anchorage.
Written by Kathleen Bonnar, Content Specialist, Visit Anchorage.
Courtesy of Visit Anchorage.
Photo courtesy of State of Alaska/Michael DeYoung.