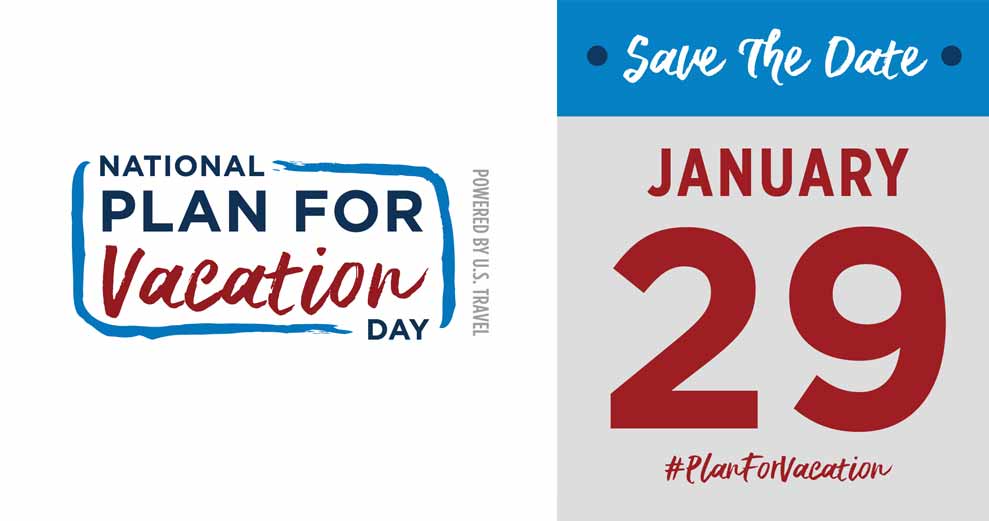 Are You Ready for National Plan for Vacation Day?
January 4, 2019
Every year more than half of Americans (52 percent) fail to use all their time off, creating a stock pile of 705 million unused vacation days, up from 662 million days the year before.
That's why the U.S. Travel Association wants you to participate in National Plan for Vacation Day.
"National Plan for Vacation Day is an opportunity for Americans and for America. And who better than the travel industry to help plan the perfect vacation?" said Roger Dow, President and CEO, U.S. Travel Association.
"America offers something for everyone, whether you prefer a sunny day at the beach or a snowball fight in the mountains. We encourage every American to plan their time off to explore our great country."
The most effective remedy for American workers who want to use more vacation days is better planning. Yet just over half (52 percent) of households set aside time to plan the use of their vacation time each year.
To help employees get their vacation days on the calendar, U.S. Travel Association created a vacation planning tool. By simply entering the number of days off earned, users can plot out their trips or vacations for the year, export to their work or personal calendar, and share with their family and co-workers.
There are several ways you can celebrate and encourage future travelers:
Share on social. Use #PlanForVacation in all posts, showcase what makes your destination unique and engage multiple audiences.
Spread the word. Customize your message by bringing it home—share planning and vacation usage habits of residents in your own state or the states in your target markets with the U.S. Travel Association's State-by-State Time Off fact sheet.
Plan it out. Pair the planning tool from above with itineraries for those visiting your destination. Together, visitors can plan their year out and get inspired to see what your destination has to offer.
Promote travel. Incorporate vacation planning as part of your marketing leading up to and on National Plan for Vacation Day. Consider offering a promotion for longer travel bookings—making planning a win for your destination or organization, too.
Be a role model. Does your company have a positive vacation culture or perspective? If yes, consider a blog from your CEO for your company website or influencer platform (e.g., LinkedIn, Medium). If not, become a vacation advocate: talk with your manager and HR on how to improve the culture around time off and encourage your colleagues and direct reports to commit their days.
National Plan for Vacation Day is celebrated the last Tuesday in January as a day to encourage Americans to plan their vacation days for the rest of the year at the start of the year.
Access resources and more to help you plan.