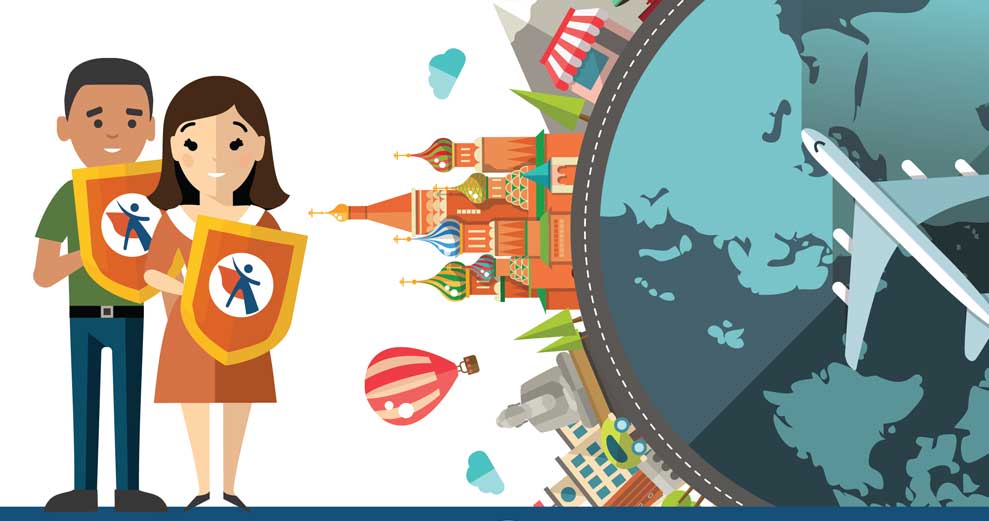 Common Sense. Uncommon Practice.
December 18, 2019
Do you know how to depart smart?
Most people agree: It is a beautiful thing to desire and work toward giving our youth the world.
Imagine developing a student and youth dream trip to a foreign country. Imagine teachers planning and engaging students as active participants. This can—and should—be a life-changing experience for everyone, in positive ways. But then … Life happens.
Perhaps a student trips and falls, suffering critical injuries, or becomes severely ill or is involved in an accident. How do you prepare your students for these kinds of situations? Are you prepared, as the group leader?
Many teachers and faculty pursue global student experiences with the best possible intentions and little to no support or systems for "what if" situations. Students are more likely to die studying abroad than in auto accidents, according to recent reports by the Forum on Education Abroad.
In public polls of hundreds of student exchange and travel teachers, we discovered that only 3% can score more than 3 out of 10 on common-sense questions in the Depart Smart Travel Safety Savvy quiz. Most travelers, including teacher-led tours, don't know what they need to know to depart smart.
1. Do you read and accurately interpret U.S. Department of State country-specific warnings?
2. Do you and your students register their trip in the Smart Traveler Enrollment Program?
3. Do you and your student know where the U.S. Embassy is and how to contact the consulate?
4. Do you and your students visit a travel clinic for preventive health care, weeks before departure?
5. Do you and your students protect your personal well-being with adequate travel insurance?
(The insurance carrier should prepay for care and provide emergency medical evacuation.)
6. Do you and your students know the emergency numbers for fire, police and ambulance?
7. Can you and your students ask for help and identify your location in the local language?
8. Do you and your students' emergency contacts have passports that pass the validity rule?
9. Are your and your students' critical personal health information in the local language?
10. Are your and your students' important documents copies, stored and digitally secure?
Many corporations have entire security teams and third-party vendors to safeguard the well-being of their workforces abroad. Schools, not so much. Teachers often go it on their own. Many schools do not have a global student travel policy or work with a trusted student travel provider that has a strong safety and risk management culture. It is an uncommon practice.
Depart Smart developed the award-winning, lifesaving Travel HEROES Safety online course. It empowers faculty and students with super safety skills, tools, and personalized emergency preparedness plans to mitigate risks, advocate for themselves, and return safely. Coupled with an experienced SYTA Member travel provider, teachers and students who prepare ahead by taking the Travel Heroes Safety course are staged to help shift the paradigm toward commo-sense practices focused on safe rewarding journeys.
Sheryl Hill is publicly recognized as an industry expert, speaker, award-winning author and advocate, as seen in major news. She has been seen in CNN, USA Today, Saturday Evening Post, ABC, NBC, CBS, Newsweek, Forbes, Huffington Post and more. She pours her time and talent into Depart Smart's four pillars of strength: Awareness, Tools and Resources, Education, and Advocacy, in award-winning ways. Visit https://departsmart.org to learn more about Depart Smart and the Travel HEROES Safety course.
Photo courtesy of Depart Smart.
This article originally appeared in the November/December 2019 issue of Teach & Travel.