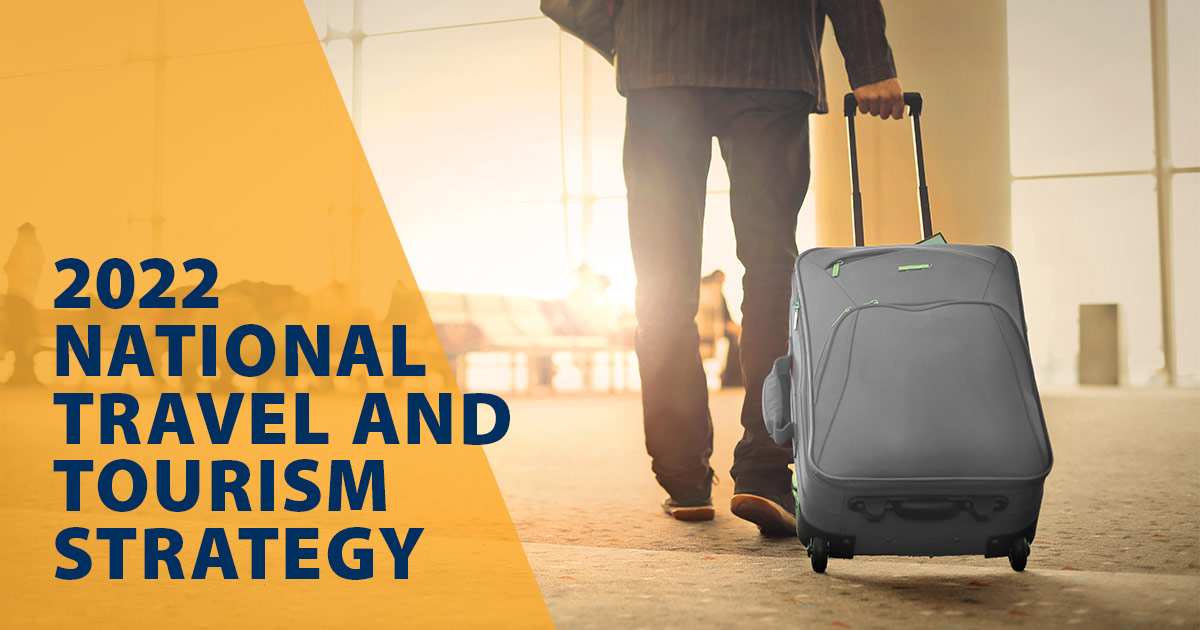 Department of Commerce Outlines 2022 National Travel and Tourism Strategy
July 14, 2022
On June 6, the U.S. Department of Commerce released the 2022 National Travel and Tourism Strategy, which works to focus federal efforts on supporting travel and tourism in the United States.
The federal government will work to implement the strategy under the leadership of the Tourism Policy Council and in partnership with the private sector, aiming toward an ambitious five-year goal of increasing American jobs by attracting and welcoming 90 million international annual visitors—estimated to spend $279 billion annually—by 2027.
Prior to the pandemic, the travel and tourism industry generated $1.9 trillion in economic output and supported 9.5 million jobs. Approximately 1 in every 20 jobs in the United States relies directly or indirectly on travel and tourism.
In addition, nearly 80 million international travelers visited in the U.S. in 2019, contributing nearly $240 billion to the economy, making the United States the global leader in revenue from international travel and tourism. However, those numbers dropped to roughly 20 million in the past couple years.
Obviously, reaching and exceeding those numbers is an ambitious goal, even with an ever-increasing global population. Here's the four-point approach of the new National Travel and Tourism Strategy:
Promoting the United States as a Travel Destination
Goal: Leverage existing programs and assets to promote the United States to international visitors and broaden marketing efforts to encourage visitation to underserved communities.
Facilitating Travel to and Within the United States
Goal: Reduce barriers to trade in travel services and make it safer and more efficient for visitors to enter and travel within the United States.
Ensuring Diverse, Inclusive, and Accessible Tourism Experiences
Goal: Extend the benefits of travel and tourism by supporting the development of diverse tourism products, focusing on under-served communities and populations. Address the financial and workplace needs of travel and tourism businesses, supporting destination communities as they grow their tourism economies. Deliver world-class experiences and customer service at federal lands and waters that showcase the nation's assets while protecting them for future generations.
Fostering Resilient and Sustainable Travel and Tourism
Goal: Reduce travel and tourism's contributions to climate change and build a travel and tourism sector that is resilient to natural disasters, public health threats, and the impacts of climate change. Build a sustainable sector that integrates protecting natural resources, supporting the tourism economy, and ensuring equitable development.
Created by Congress and chaired by U.S. Secretary of Commerce Gina M. Raimondo, the Tourism Policy Council (TPC) is the interagency council charged with coordinating national policies and programs relating to travel and tourism. At the direction of Secretary Raimondo, the TPC created this five-year strategy to focus U.S. government efforts in support of the travel and tourism sector which has been deeply and disproportionately affected by the COVID-19 pandemic.
To read the report in full, head here.
If you'd like more data on international travel both in and out of the country, we suggest the Survey of International Air Travelers (SIAT) and its interactive data tools. These tools allow users to interactively analyze the characteristics of US residents traveling overseas (outbound) and characteristics of overseas visitors to the US (inbound).
They cover everything from average days a trip is booked in advance to group size, age and gender breakdown, leisure activities and much more. To learn more and access the tools, click here.