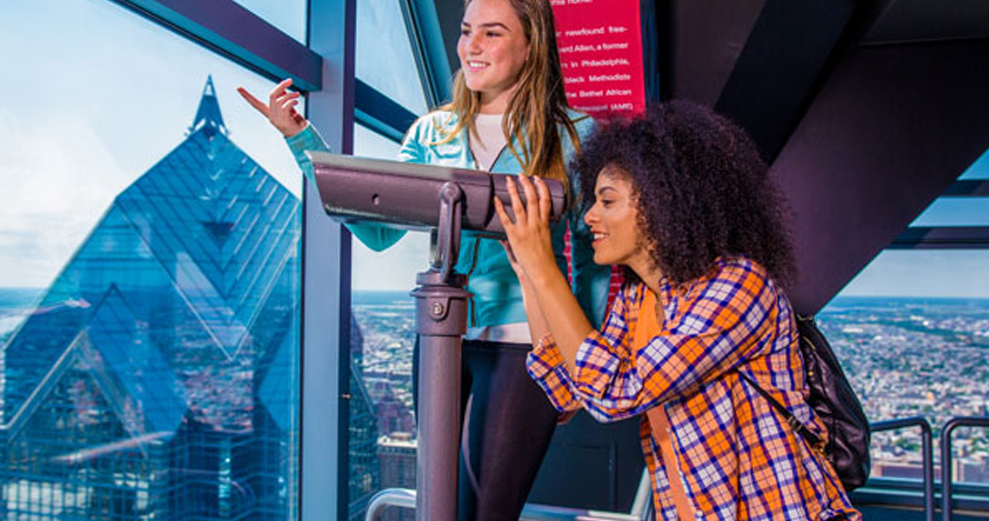 Experience Philly from the Top at One Liberty Observation Deck
August 15, 2017
Perched 57 floors above the buzzing city, Philadelphia's tallest attraction, One Liberty Observation Deck, is the highest publicly accessible vantage point of the always-sunny city—and the only place to see Philly from the Top!
Students and visitors are immersed in the best of Philadelphia art, music, sports and culture—brought to life through audio zones and media installations placed throughout the space. Interactive technology brings Philly's neighborhoods and famous landmarks, such as the iconic William Penn statue atop City Hall, to your fingertips, allowing you to zoom in and out for a closer look.
Student groups have access to Sky School educational resources, which offer pre-, during- and post-visit activities for early childhood, elementary, middle and high school students. Students in grades 6-12 are guided through "Selfie Scavenger Hunts," while younger students are invited to draw photos and complete coloring worksheets depicting what they see.
Open 365 days a year, The Deck offers hours of operation that make for spectacular views morning, noon and night, with a maximum capacity of 275 people at any given time. Student group coordinators relish in easy access to bus loading zones—just steps from the building—and close proximity to other attractions in the area. Special group packages with access to nearby attractions and restaurants can be customized upon request.
New reduced student rates are available for groups of 20 or more. Student groups can book their tours by contacting Diane Meglino at [email protected] or by calling 215.845.4160.
For more information on One Liberty Observation Deck or its Sky School program, visit PhillyFromTheTop.com and follow the venue on Facebook, Twitter, and Instagram.