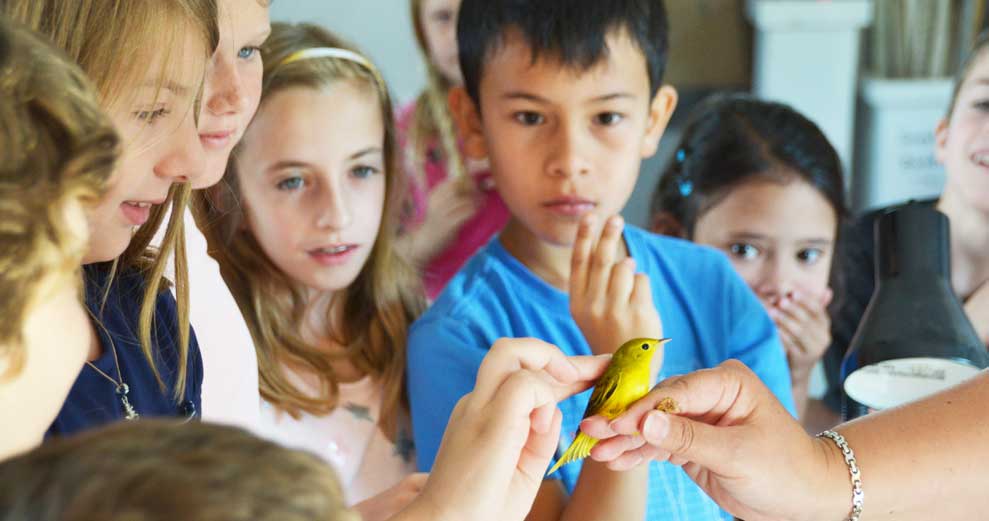 Flock to Oak Hammock Marsh
October 2, 2018
Interactive youth group experiences in Winnipeg include close encounters with birds, wetland hikes and canoe adventures. Mike Green from Tourism Winnipeg shares his marsh experience and what students can expect to learn when they visit Oak Hammock Marsh this fall and winter.
On a recent visit, our Tourism Winnipeg staff spent the day on water, land and marsh—partaking in numerous activities that demonstrated how hands-on learning makes Oak Hammock Marsh the place to be in Winnipeg when it comes to sustainable action.
The day started with an encounter with birds no bigger than the palm of a student's hand. These striking songbirds had gently flown into nets and were quickly gathered up to be weighed in envelopes—admittedly a surreal sight. They had their bellies blown on, wings measured and feet banded, and were then put into our hands so we could feel the gentle flutter before releasing them back into the wild.
This was all done under the supervision of Paula Grieef, Oak Hammock and Ducks Unlimited Canada's resident naturalist. Ducks Unlimited Canada's national headquarters is located inside Oak Hammock's Interpretive Centre. Paula, along with a summer student, recorded all the data on these little feathered wonders.
There was a variety of birds including finches, sparrows and even a wren, which may soon be found in Mexico, the Southern U.S., or even the coasts of Costa Rica this winter.
Later, while wearing hip waders in the wetlands, Jacques Bourgeois, our French Canadian guide who has been working at Oak Hammock for nearly 20 years, pointed out the marsh's marvels. There were tiny crustaceans like shrimps, insects like dragonflies, amphibians and all manner of birds around us. We were given additional little details about these species while the rest of our group paddled by in a voyageur canoe.
Dusty Molinski, the captain of said canoe—who is also the resident snowshoe guide at Oak Hammock Marsh come winter—was telling them about the more than 300 species of bird, accounting for 50 percent of bird species you can find in Canada, who call the marshland home throughout summer. He did this all while steering the canoe around bullrushes and cattails that towered overhead.
During fall, students can be treated to the spectacle of over 400,000 birds descending on the marsh on a daily basis, as large swaths of these fowl prepare to fly south.
As winter hits, the marsh transforms into a frosty wonderland, as the student experience expands to skating on the rink, snowshoe tours and so much more.
Oak Hammock Marsh Interpretive Centre is located about a 20-minute drive from downtown Winnipeg, Manitoba. Student packages and pricing are available; contact [email protected] for more information.
Courtesy of Mike Green, Tourism Winnipeg.
Photo courtesy of Tourism Winnipeg.