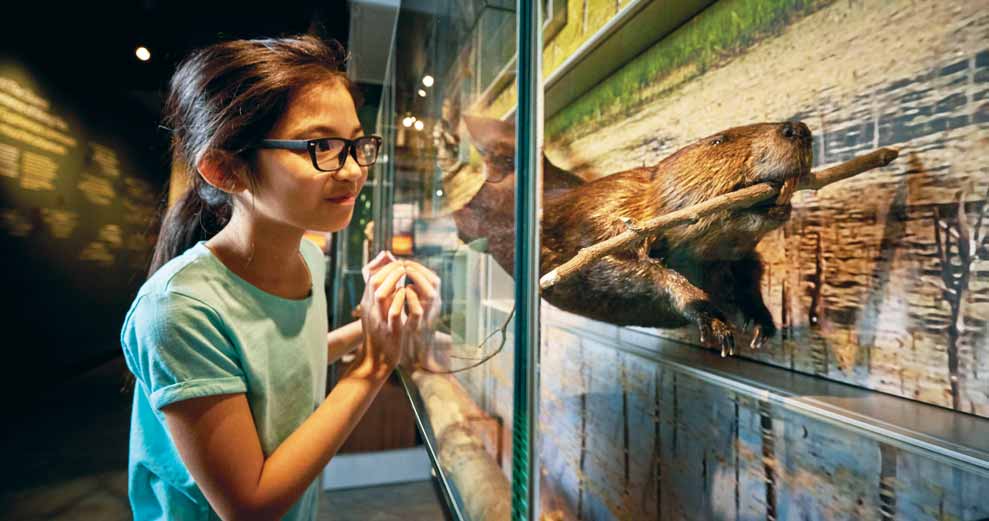 Go, Canada: 10 Reasons to Take Your Students to Manitoba
January 9, 2019
Manitoba, the Canadian province between Ontario and Saskatchewan and bordering North Dakota and Minnesota, provides a wealth of adventure and learning opportunities for student groups. Home to numerous North American Aboriginal groups—among them the Inuit and the Cree, Chipewyan, Ojibwa and Assiniboin Indians—it is rich in culture and history, offering a view into North America's roots. Manitoba is bursting with flora and fauna, with open prairies, boreal forests, bush-tundra and marshlands, as well as lakes, waterways and the Hudson Bay Lowland.
If you're planning your next student tour, here are 10 reasons to consider Manitoba and its capital, Winnipeg.
1. Manitoba Museum. Located in Winnipeg, the award-winning museum is Manitoba's largest not-for-profit heritage and science center. It features interpretive museum galleries, including walk-through galleries—one with a full-size 17th-century sailing vessel; hands-on science and technology exhibits; and a planetarium with laser and night sky shows.
2. Assiniboine Park. The century-old park, also in Winnipeg, is home to an 80-acre zoo with nearly 200 species. In the Journey to Churchill exhibit, students will learn about polar bears, wolves, Arctic fox, muskoxen, caribou and snowy owls. There's also an aurora borealis theater within the exhibit and the Leatherdale International Polar Bear Conservation Centre, which focuses on polar bear transition, research and education. Not to be missed are the sculpture garden, conservatory and public art galleries. Planning a visit? Ask about the year-round programs, designed specifically for schools and groups.
3. International Peace Garden. Straddling the border of Manitoba and North Dakota about three hours southwest of Winnipeg is the International Peace Garden, created to tell the story of peace between the U.S. and Canada—now more than 200 years. In addition to lush floral and water gardens, the site has an interpretive center, a 9/11 memorial, a bell tower and a peace chapel. Many also come to the garden for cycling, canoeing and winter sports.
4. Wilderness Edge. Is Winnipeg your home base? You'll be excited to know you can get to Wilderness Edge in about 90 minutes. The retreat and conference center, located in Pinawa inside Whiteshell Provincial Park, is a welcoming host to groups from around the world. Popular packages range from water adventures to arts and crafts to horseback riding to hiking to ice fishing to snowshoeing. It even has a natural waterslide—a student favorite!
5. Canadian Museum for Human Rights. With a special but not exclusive focus on Canadian heritage and identity, the Canadian Museum for Human Rights, in Winnipeg, was created to be a national and international destination. Through its programs, people from all parts of the world and every background are encouraged to open a dialogue about human rights—and make a commitment to act against hate and oppression. The museum features 11 galleries, interactive experiences, guided tours, and thought-provoking programs designed for students on topics such as women's equality, First People's rights and human rights violations.
6. Oak Hammock Marsh Interpretive Centre. With a mission is to "connect people with wetlands," Oak Hammock Marsh Interpretive Centre in Stonewall is a popular destination for students interested in ecology, biodiversity, wetland and watershed preservation, and aquatic and terrestrial wildlife. The center sits amid a 36-square-kilometer wildlife management area where 300 bird species, 25 mammal species, and countless amphibians, reptiles, fish and invertebrates make their homes. Year-round, there are educational programs available to student groups, from GPS to geocaching; birding to bannock baking; indigenous games to canoe voyages.
7. Winnipeg Art Gallery. Founded in 1912 by a group of local businessmen, Winnipeg Art Gallery positions itself as "a cultural advocate for understanding and experiencing art and art-making, and their vital place in our lives, work and society." Now the sixth-largest in Canada and internationally renowned, WAG features more than 25,000 works of art—from 15th-century European masterpieces to 21st-century American art. It's also a showcase for Manitoban artists and has a large collection of Inuit art, sculptures and artifacts. Student programs include workshops and tours, and in-depth explorations into Arctic culture and traditions, Aboriginal history and Inuit art.
8. Riding Mountain National Park. In Onanole, in southwest Manitoba, grasslands, boreal forest and deciduous forest ecosystems converge to create the nearly 3,000-square-kilometer Riding Mountain National Park. The park offers a variety of hands-on, guided school programs, such as oTENTik camping—a blend of A-frame cabin and prospector tent; escarpment exploration; and bison, elk, beaver and wolf research expeditions. There are also many self-guided experiences, among them hiking, fishing, cross-country skiing, geocaching and cycling. Be sure to check out Friends of Riding Mountain National Park for additional programming.
9. Churchill Northern Studies Centre. Put on your seatbelts and parkas: You're headed way up to the Canadian sub-arctic! Situated on the Hudson Bay, at the heart of three distinct biomes—marine, tundra, and northern boreal forest—is Churchill Northern Studies Centre. The center offers three- to four-day school group programs February – March and June – November, with dormitory-style accommodations. In summer, groups might catch the arrival of beluga whales in the Churchill River Estuary, get the opportunity to speak with a local Aboriginal elder, or go bird watching, fossil hunting and wildflower discovering; in winter, search for polar bears, get transported by a dog team or possibly even build an igloo.
10. FortWhyte Alive. There's 640 acres of protected urban greenspace right within the Winnipeg city limits? Oh, yes! Part educational facility, part wildlife refuge, part nature center, FortWhyte Alive connect humans with nature, through community-minded, sustainably-focused programs and events. It offers a range of guided activities for groups, from wilderness survival, to trailblazing, to a frontier challenge, and self-guided options like orienteering—a timed sport that tests navigation and racing skills. It also hosts winter fun days, hands-on science days and age-specific classroom lessons.
Whether you keep your trip within Winnipeg or take your travels further afield, Manitoba will leave your students enlightened, exhilarated, inspired and probably a little bit tired!
Written by Allison Kay Bannister, contributing writer for Teach & Travel.
This article originally appeared in Teach & Travel.
Photo courtesy of Manitoba Museum/Ian McCausland.