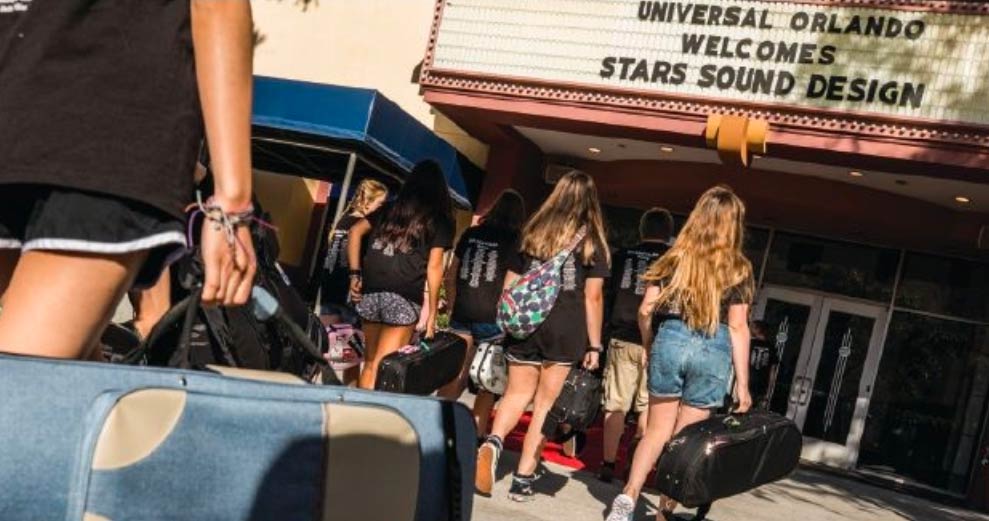 In Safe Hands
February 23, 2021
Student travel is far from dead.
It may not be on the same scale, but there are already groups across the country traveling safely and successfully. Like fresh buds emerging through snow, these trips remind us a new season of life is on the way.
This January, a student band group from Texas got the full Universal Orlando Resort experience, including a sound workshop that took them behind the scenes of Hollywood, preparing the music, sound effects and voice acting for a movie scene. It was all done with strict safety measures that the Beckville High School students had no problem following.
The school had a different experience planned last year, but thanks to flexibility from everyone involved, an amazing trip to Orlando was able to come together. We spoke with Universal Orlando's Senior Vice President of Sales, Eric Marshall, about the workshop and other experiences the resort has to offer groups this year.
How did this workshop come about?
The band planned to visit Orlando last March, but with the pandemic closing the area theme parks, the trip was put on hold. As a Universal Orlando Resort Preferred Youth Travel Planner, Unique Travels & Tours was aware of the offerings for youth groups at our destination, along with the enhanced safety protocols we have in place, and was excited to share the details of the Sound Design: Music and the Art of Foley workshop with the band director. After learning about all the workshop had to offer, combined with the value of the opportunity to visit Universal Orlando, the band director was excited and committed to the new itinerary for his group.
What does this experience have to offer the people involved?
A workshop of this caliber offers students an unmatched, once-in-a-lifetime experience that we're proud to put together. In these workshops, students get hands-on, real-world experience geared toward several performance career paths. Bands and choirs will score a movie scene from any of Illumination's The Secret Life of Pets, DreamWorks' Trolls, Illumination's Despicable Me or The Lorax, and dancers will learn how to ace auditions. All of our workshops are developed to align with National Core Arts Standards and focus on career readiness. At Universal Orlando, our attractions may be about movies, but with these workshops, we truly show them what it takes to help bring a movie to life with music.
How have you managed these workshops during the pandemic?
We put a lot of value on the Youth Programs industry and education, and have made a commitment to both across our entire destination. Our Youth Program teams worked quickly to plan how to strategically and safely welcome back groups prior to our parks' reopening. With these procedures focused on "screening, spacing and sanitization" in place, we have welcomed several group activities and visits across our destination since we reopened. We have hosted Youth Performance Programs and Workshops including our STARS Performance Programs, and welcomed schools and groups for our Universal Studies Educational Programs, such as Your Classroom in Motion: A STEAM App Series.
What's exciting about this workshop to you?
For this opportunity with the Beckville High School Band, what is most exciting is that despite everything going on in the world, these kids got the full Universal Orlando Resort experience. They stayed at Universal's Cabana Bay Beach Resort, spent three days in our theme parks (Universal Studios Florida and Universal's Islands of Adventure), dined in Universal CityWalk, and most importantly, created lasting memories as a band. This was an incredible way for these students to kick off 2021.
Is there anything else you'd like to tell our readers?
This was a huge step for Universal Orlando and one we're prepared for. Safety for anyone who comes to our destination is the top priority and we're well-equipped to handle any group. Our destination is perfect for these opportunities and we are so appreciative for partners like Unique Travels & Tours, who truly see the value of what we have to offer as they believed that Universal Orlando was the right experience for their client and the best opportunity to create lasting memories.
Beckville's View
For another perspective, we talked to Josh King, director of the Beckville High School band.
How did you enjoy the workshop?
Oh, man, it was fantastic. They really treat you first class, VIP the whole way. Really sweet to all my kids. Everybody had a blast smiles on faces. Just a really great experience for our kids.
How was safety handled?
What's great about band kids is, if you tell them to do something, they're gonna do it, and they're gonna keep doing until you stop, which is a blessing and a curse. But in this case, you know, they're taking care of business, wearing their masks, staying apart, and making sure they don't travel where they're not supposed to.
Any advice for other teachers?
Check the barometer for your community, and make sure you have someone that gives you lots of good information. I don't think I could ever travel without an expert, in all honesty. Unique Traveling Tours is taking great care of us … so it's made it pretty easy for me.
Photo courtesy of Universal Orlando Resort.