Active Board of Director Candidate: Ryan Morris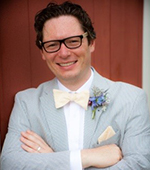 Ryan Morris
VP & CFO/Co-Owner, Music Travel Consultants
Before I even realized there was a Student Travel Industry, I was a part of it. Growing up in a community and school district, in organizations and with parents that recognized the value of travel, I was fortunate to have many opportunities to see our world. Those experiences truly shaped me into the person I have become. The more I become involved with SYTA and the SYTA Youth Foundation, the more I have grown, both personally and professionally. Working and interacting with a talented group of people who understand one's daily struggles and concerns, and who are excited to share how to overcome them, is invaluable. SYTA's resources and educational opportunities have enabled me to confidently manage and grow our business. Being able to give back to others through the SYTA Youth Foundation has been a blessing to me. The opportunity to join the SYTA board, to energetically promote student travel and to give back to the SYTA membership, is something for which I am grateful and eager to embrace.
Briefly describe your experience in the student travel industry, including any volunteer or leadership positions which you have held.
During my nine years with Music Travel Consultants, I've been able to work in all areas of its operation including sales, marketing, tour operations and finance. This has helped me see the Student Travel Industry from many angles. Now, as Vice President and Chief Financial Officer, I work with all areas of the company, develop strategic initiatives and maintain its financial health. Prior to Music Travel, I spent six years at Walt Disney World, where I learned what the supplier side of the industry looks like. Working in facility and event operations at Disney's Wide World of Sports, handling large youth groups, taught me much about doing things the right way. In 2016, and again this year, I'm serving on the SYTA Summit Committee. In the past two years I have participated in Running for Youth events, and I'm now on the Running for Youth Committee.
Why do you want to serve on the SYTA Board of Directors and how will SYTA benefit if you are elected to the Board of Directors?
The issues facing our industry are more complex than ever. The strong, unified voice that SYTA provides is very important. I believe SYTA must continue to offer resources to our members, so we all are able to deal with the issues, as we grow our industry and individual companies. If elected, I hope to guide our association to serve members in those ways. Because SYTA has given my company and me so much over the years, I'm eager for the chance to give back to the association and to other SYTA members through service on the SYTA Board of Directors.
In referring to SYTA's Strategic Plan, what aspects of the plan are you most engaged in and how do you feel you can help SYTA achieve these strategic objectives?
SYTA's Strategic Plan is exciting. One of my key interests is to promote research on Student Travel trends. The great work done in that area in recent years is a solid baseline. It gives us a really good overview of the market. Now we must find ways to utilize that research to demonstrate the value of student travel to those outside of our industry.
Additionally, we should continue to tap the vast knowledge of our members. Identifying best practices and industry standards, and using them to update the SYTA Accreditation Program and membership requirements. By keeping membership standards high and meaningful, we know that every SYTA member company is prepared to do right by its clients and represent our industry well.
My ability to work with a large number of stakeholders, whose goals vary, sometimes widely, helps me recognize possible unintended outcomes before they happen. That allows me to offer unique, thoughtful insight into large questions, and create meaningful, achievable objectives. This is an important part of my role at Music Travel, and I will bring that to the SYTA Board as well.
What do you see as the challenges facing the student travel industry? What can SYTA do to meet those challenges?
Our industry's health is directly tied to the success of our member companies. An issue with one company, fairly or unfairly, can have an effect on all of us. This truth is magnified by the speed and ease with which information travels through social media. The greatest challenge we face as an industry is the combined issues of safety and crisis management.
SYTA has done an excellent job compiling resources addressing safety and crisis management, and educating members about it. The upcoming Safety Preparedness Handbook will be a great tool. A hesitance to share information with competitors is another significant challenge. SYTA, more than most, addresses that obstacle well. SYTA must continue to find ways to champion a spirit of openness and sharing. A strong and growing industry is made up of companies that cooperate and learn from one another.
We must look for additional areas and issues that would benefit from SYTA standards and guidance. As we develop a culture of openness and sharing involving those issues we should also be looking for new avenues and methods for disseminating that information to our members.
Please comment on the significance of the SYTA Youth Foundation and its role in furthering SYTA as the Voice of Student & Youth Travel?
SYF, to me, is the heart of what SYTA is all about. It's what initially drew me to get more involved with SYTA, after attending the SYF Luncheon at the annual conference. We are in this industry because we believe that travel positively changes lives. SYTA Youth Foundation is our chance to demonstrate just how important that is to us and demonstrate the dramatic effect that it can have for the individuals we help. I've been involved with SYF through the Running for Youth team the past two years, as a Wingman (if you aren't already one, you should become one!) and I am currently serving on the Running for Youth Committee. All SYTA members should be encouraged to get involved with SYF even if it's just by sharing the stories of the kids helped by the foundation.