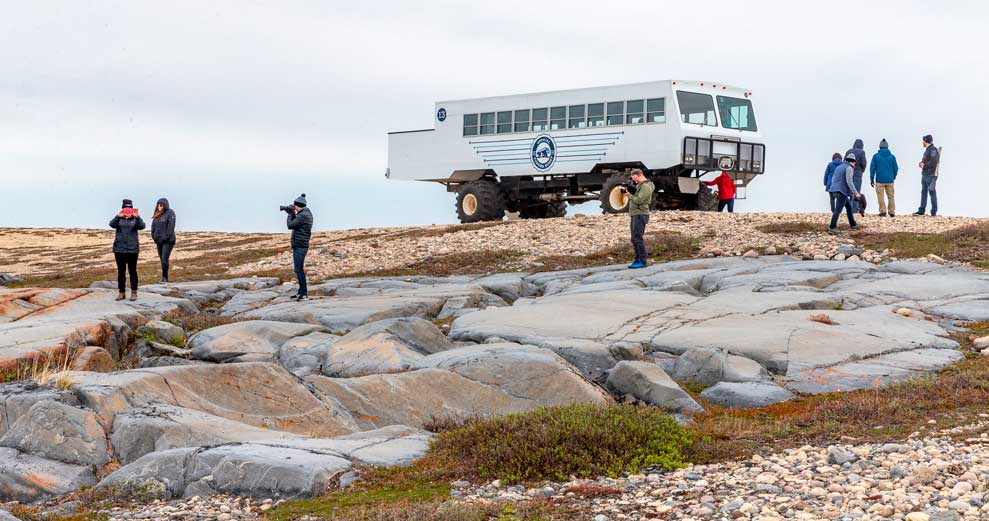 It's Easy Being Green in Churchill, Manitoba
November 10, 2020
This remote destination on the edge of Hudson Bay in northern Canada is home to delicate ecosystems and iconic wildlife. Here, boreal forest, tundra and marine biomes converge, providing ideal habitats for polar bears, beluga whales and hundreds of species of migrating birds, among others. Protecting and preserving the ecosystem is a top priority for Churchill tour companies that bring visitors to this remote destination to marvel at Churchill's wonderful wildlife.
Green by design: For over 30 years, this family-owned business has been bringing adventurers to northern Manitoba. As a Certified B Corporation, Frontiers North has the highest standard of social and environmental impact. They have placed the importance of preserving the ecosystems over business growth and they actively work to minimize their impact on the land. This includes ensuring their Tundra Buggies adhere to trail systems and outfitting these vehicles with a grey water management system to protect the land.
Eco in action. Frontiers North Adventures started Churchill's first recycling program, which the Town of Churchill took over in 2011. In fact, this company is 100% free of plastic bottles – having eliminated 3,708 plastic water bottles since 2016.
Advancing the cause. Through a partnership with Polar Bears International and Explore.org, Frontiers North provides a platform for education about wildlife and issues affecting Canada's North. Plus, the company has created two conservation-focused trips around polar bears and beluga whales, where visitors interact with scientists. Polar Bears International and Ocean Wise will also benefit from a portion of the proceeds of these tours.
Green by design: Churchill Northern Studies Centre has been around since 1976 as a nonprofit field station dedicated to research and education in the subarctic. In 2011, it moved into its new facility located 20 km east of town: a stunning, two-story structure built to LEED Gold certification standards. Notable design features of the CNSC include loads of natural light permeating 90% of the interior space, and a solar wall that heats incoming ventilation air.
Eco in action: In 2017, CNSC brought a Growcer to Churchill, a 40-foot shipping container outfitted with hydroponic gardening equipment that supplies the northern community with 250-400 pieces of kale, chard, lettuce and herbs per week. CNSC affectionately calls this gardening program Rocket Greens, a nod to the centre's location on Churchill's abandoned rocket research range site.
Advancing the cause: CNSC hosts over 100 researchers and scientists per year studying arctic animals such as polar bears, belugas and wolves, as well as plants, birds and the northern lights. Travellers with a keen interest in science can learn directly from these experts on CNSC's year-round learning vacations.
Learn more about ways to sustainably explore Churchill at travelmanitoba.com.
Photo courtesy of Travel Manitoba.