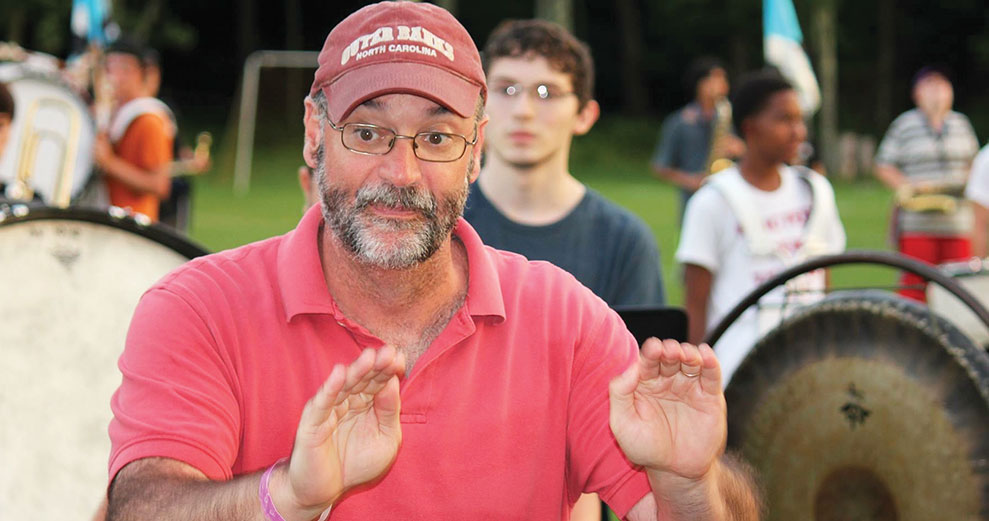 John Maiello: Creating a First-Rate Experience
October 30, 2019
John Maiello, now in his 34th year of teaching, started traveling with student programs his first year. Then a part-time teacher, he traveled with students when the original teacher he'd been working with became unavailable. "I've always been an action-type person." The school was fine with him launching the plan he'd helped create; the students had a great experience performing at Camden Community College adjacent to Philadelphia, which they toured the rest of the day.
For the past 14 years, Maiello has traveled with students as director of bands at Nutley High School in Nutley, New Jersey. First among many travel goals and points he ponders is providing students a first-rate musical experience. "It's always been around performing and performing well—as well as location, performing venue and musicians we get to work with." Second is selecting interesting, different places to travel.
Certain things, Maiello is quick to note, cannot be accomplished or re-created in the classroom.
"Music is naturally a very authentic form of performance and assessment. When you walk out on the stage at Carnegie Hall—there's nothing you can do to try to re-create that! There's nothing to re-create when you release a beautiful chord and hear it echo for three seconds afterward. The sound of the Sydney Opera House—you're just awestruck!"
Maiello's favorite trip involved students playing in the Sydney Opera House with Frank Ticheli and traveling Australia. "The culture was just so different! It was the whole thing—the musical part of it, the social part of it, learning a bit about Australia's culture and their school systems … It is probably my favorite memory."
Among his students' favorite trips are Australia and, last year, Nashville. "When I first suggested it, the kids kind of hemmed and hawed, mumbling about country music. Afterward, they were raving about what a wonderful trip it was. It really is the place for live music. They had an absolute blast!"
Even challenges add to the good experiences for Maiello and his charges. His secret is being prepared. "I kind of assume the craziness is going to happen."
You adjust to every situation as it arises, Maiello notes, then solve the problem and go on to your next stop.
"Life isn't neat—it's messy sometimes! If you're not OK with the mess, maybe you shouldn't go on trips."
Travel is how Maiello really learns about his students and their character. "When they have to overcome obstacles—that's when you know you've taught them well and taught them correctly."
Students learn to take the good with the bad. A recent performance as one of the mass bands at the TaxSlayer Bowl provided such an opportunity, when it was 48 degrees and drizzling rain. "The kids said, 'We didn't have to drive 16 hours to Florida to be cold and wet!' But you have to overcome those things to be the best. Being able to overcome helps you win in life."
Strong community support also helps Maiello's students win. "At Nutley, I am blessed with an amazing parent group. Our Nutley Parent Boosters are truly the lifeblood of what we do." The parents do a great job fundraising, ensuring the majority of students can participate in performance travel. The school's Taste of the World event—involving local restaurants donating food in exchange for advertising and other wonderful donations—has raised thousands of dollars.
Travel is a motivator for students and performance directors alike. "We live in a society where kids are rewarded and have direct gratification. You're giving them a unique experience—something they've never done—and a goal they can work toward."
Traveling also helps students gain through seeing others perform. "This helps raise your bar much higher. You cannot re-create these special experiences in the classroom. Travel raises the expectation level in our performance, because the world gets a little broader. It pushes us that much more."
Maiello lets Super Holiday Tours take on the travel details, allowing him more time to prepare his students. "They are really based around service. When you're going to a strange place, you need to be able to trust the people who set everything up for you. Kirk Troen has been there for me for any issue that comes up—making itineraries work, dietary needs—they not only set up everything well but are there to problem-solve, which really sets them apart."
And that's one less obstacle for Maiello on the road to creating those first-rate experiences.
Written by Amy L Charles, Editorial Director for Teach & Travel.
This article originally appeared in Teach & Travel.
Photo courtesy of CLEA Photography.