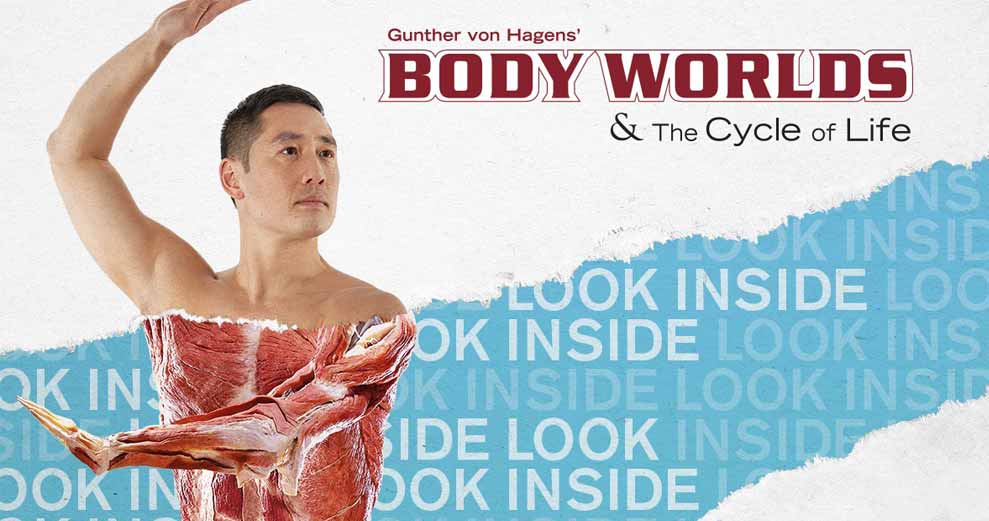 Look Inside Yourself Like Never Before!
June 19, 2019
Visitors to Tokyo's National Science Museum in 1995 were treated to an unprecedented experience—a gallery of real human specimens that showed the inner workings of the human body in intricate detail. The debut of BODY WORLDS marked the birth of a phenomenon that continues to enthrall and educate today. It's the world's most-visited traveling exhibition and now students can experience a new chapter: Gunther von Hagens' BODY WORLDS & The Cycle of Life, on exhibit at the Museum of Science from June 16, 2019 – January 5, 2020.
BREATHTAKING BIOLOGY
For the first time, students will see how our bodies change through the years, from infancy to old age and as it grows, matures, peaks, and—finally—wanes. More than 100 real human specimens, including whole-body plastinates, healthy and diseased organs, and individual tissues, demonstrate the complexity, resilience, and vulnerability of the human body in distress, disease, and optimal health.
Among the full-body plastinates students will encounter are a man performing tai chi, a swimmer, an acrobatic couple, football "gladiators," a limber gymnast, and a senior who walks with a cane. Other full-body displays thoughtfully illustrate the unique details of bones, muscles, tendons, nerves, blood vessels and organs.
BEHIND THE SCENES
The human specimens are preserved through Plastination, a special technique invented more than four decades ago by German anatomist and licensed physician Gunther von Hagens when he was a resident and lecturer at Heidelberg University's Institute of Pathology and Anatomy. During the process, natural body fluids are replaced with fluid plastics to provide the flexibility and strength needed to maintain realistic forms for an unlimited period of time, without decaying. Dr. von Hagens and his wife, Dr. Angelina Whalley (BODY WORLDS curator), have perfected this procedure over the years.
The exhibited bodies and specimens come from donors who will them during their lifetime through a program founded by von Hagens in 1982 and managed by the Institute for Plastination in Germany since 1993. The donors wish to serve the BODY WORLDS mission "to inspire visitors to become aware of the fragility of their bodies and to recognize the anatomical individual beauty inside each of us."
REMARKABLE REALITY
The use of real bodies is a key element in making this exhibition so powerful. The Museum of Science has the privilege of offering students a chance to see real specimens in a safe, educational environment. Authentic human bodies show details of disease, physiology and anatomy that cannot be captured by artificial models.
This is more than a chance to discover what's happening beneath the surface. Students will learn firsthand how poor health, good health and lifestyle choices shape our bodies. They just might be inspired to make some changes in their own lives after experiencing BODY WORLDS & The Cycle of Life, on exhibit for a limited engagement, only at the Museum of Science.
Admission to this exhibition requires purchase of a separate timed ticket. Learn more at Museum of Science.
Written by Jonathan Friedman, Editor, Museum of Science.
Photo courtesy of Museum of Science.