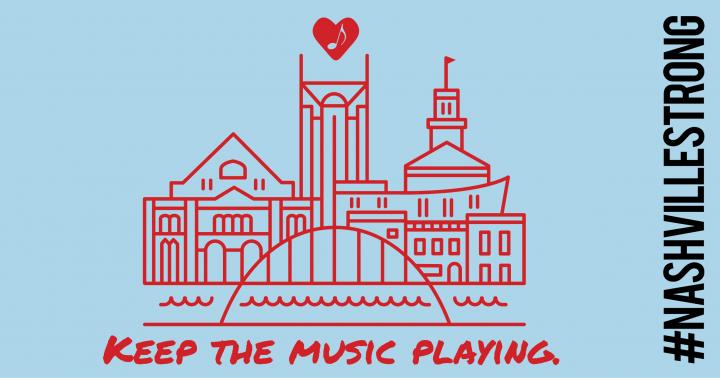 #NASHVILLESTRONG – Statement from Nashville Convention & Visitors Corp
March 4, 2020
Statement from Butch Spyridon, president and CEO, Nashville Convention & Visitors Corp regarding the March 3, 2020 tornado event:
"Thank you to everyone who has reached out following the devastating tornadoes that hit our city and state. Our hearts go out to all who have been affected. We are staying in close touch with the Mayor's Office, our partners in the hospitality industry and other city and community leaders. For those who have asked, we are accepting donations through our Music City Inc. Foundation, and those funds will be immediately distributed directly to families significantly impacted. The NCVC has made an initial donation of $10,000 to start the fund. We have already heard from hospitality industry partners with employees who have lost homes, and we are in contact with Metro Council districts with the most damage to assist with their needs. We are grateful that even with all the devastation, the majority of the city and the downtown entertainment district was spared. As we support those in need and focus on their immediate concerns, we are encouraged that Nashville's music will keep playing. The Grand Ole Opry, Ryman Auditorium and others are open, and many will be collecting donations from audience members. Our industry has come together to focus on helping our neighbors while also serving our visitors."
No city pulls together like Music City does. We've been through tough times before and we come out stronger every time. And we'll do it now. If you want to help: Thank You!
Ways to help:
Donate online or via Venmo or PayPal at 

[email protected]

 to make a donation to Music City Inc., the 501c(3) charitable foundation of the Nashville Convention & Visitors Corp. You can also send a check payable to Music City Inc. at 150 4th Avenue North, Ste. G-250, Nashville, TN 37219.
Donate funds to the Community Foundation's Middle Tennessee Emergency Response Fund: cfmt.org
Donate items to the Community Resource Center at 218 Omohundro Place, Nashville, TN 37210: facebook.com/CRCNashville/
Information for those impacted by the storm: 
Get real-time information on road closures, shelters, voting day updates, and more through the Metro Storm Response Information: nashville.gov
The Nashville Predators and Bridgestone Arena are serving pizza starting at 11am today to all those impacted by last night's storm.
Displaced Jobs Assistance:
If you have employees who are currently displaced from their job, please have them contact [email protected] with their needs. At the same time, if you are currently open for business and able to offer temporary employment, please email [email protected] with your opportunities. HospitalityTN is coordinating efforts to keep Nashville's hospitality community employed while the city recovers.
Read more at https://www.visitmusiccity.com/nashvillestrong.