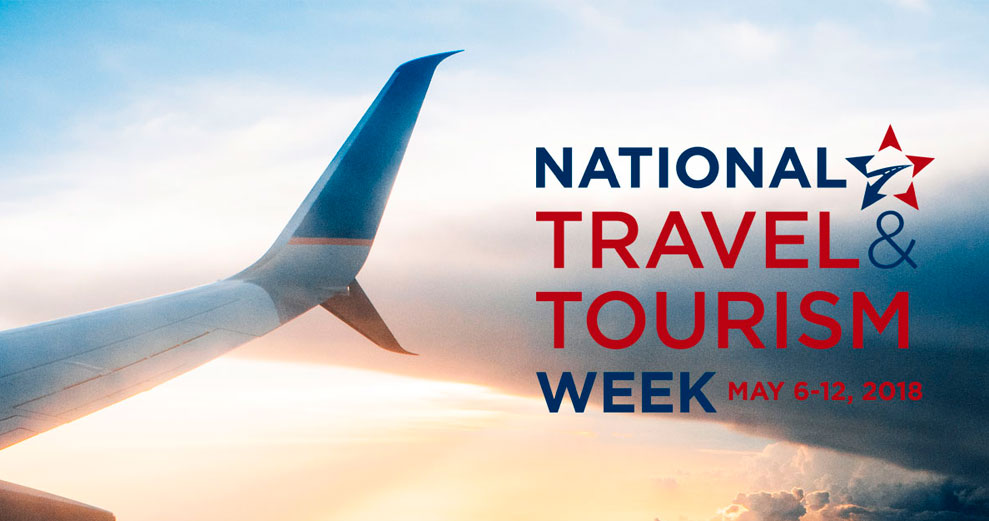 National Travel and Tourism Week Celebrates 35 Years of the Industry's Impact on Communities
March 30, 2018
Each year, travel and tourism professionals across the United States unite to celebrate National Travel and Tourism Week (NTTW), a tradition that salutes the value travel holds for the nation's economy, businesses and personal well-being.
This year's celebration, which takes place May 6 – 12, marks the 35th anniversary of the 1983 congressional resolution that established NTTW. The theme—"Travel Then and Now"—gives the industry an opportunity to reflect on past successes while advocating for policies that promote future growth.
Throughout the week, communities nationwide will unite to showcase the impact of travel over the last several decades to policymakers, business leaders and media.
The U.S. Travel Association outlines five key ways the industry can get involved:
Rally for Travel
Join hundreds of travel advocates nationwide and host a travel rally or event on Travel Rally Day on Tuesday, May 8. Invite local lawmakers, travel workers and industry supporters to participate.
Get Social
Include #nttw18 in all posts about NTTW 2018. This year, the U.S. Travel Association is including two additional hashtags:
#TBTravel: In the spirit of Throwback Thursday, use hashtags on Thursdays leading up to NTTW to share old photos of landmarks, neighborhoods, streets, major events, parades, festivals and other attractions to show the world what the community looked like back in the day.
#TravelNow: Use this hashtag to show the impact of travel on the community today, especially economically.
Get Travel in the News
Engage local reporters to get your story in the news. Considering writing a guest column for local newspapers, destination blogs or company websites—or coordinate a post by an elected official or recognized local authority, such as a governor, mayor or business leader.
Honor Local Travel Employees
Recognize the incredible achievements of the travel workforce—airport personnel, hotel staff, restaurant and retail workers and front-line travel industry employees. Invite travel workers to join your rally, award dedicated employees and thank front-line workers.
Connect with Your Elected Officials
Building relationships with elected officials and their staff sets a foundation for influential conversations about the travel industry. Set up a meeting, write a letter, call their office and ask for support, or connect with them on social media.
The U.S. Travel Association reports that in the last decade alone, travel's economic output increased from $697 million to $990 million, supporting a total of 16.2 million jobs. Travel and tourism are key to helping communities grow—and thrive—nationwide.
Courtesy of SYTA.