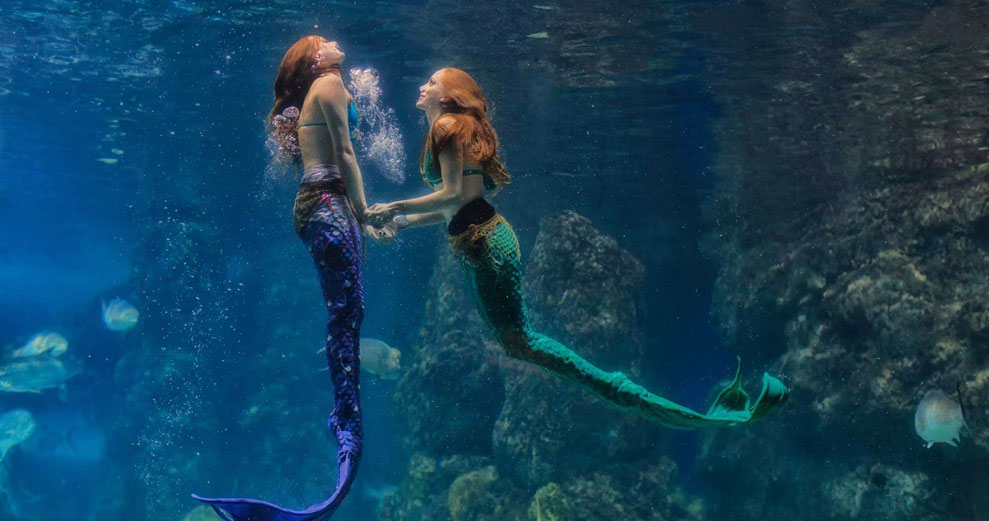 Nothing More than Myth and Legend? Explore Ocean Conservation with Real Mermaids
October 18, 2017
Aquarium Restaurants in Denver and Nashville are home to many different mammals and marine life. They care for all kinds of animals, ranging from North American river otters in Denver to guitarfish in Nashville. Yet Aquarium Restaurants are also home to legendary sea creatures that have been believed to be nothing more than myth and legend. Sailors from all across the sea have never once caught a glimpse of these mythical creatures—but at the aquarium, they're regular visitors.
Come watch beautiful mermaids swim in 78-degree saltwater alongside barracudas, sharks and other schools of fish during Mystic Mermaids, a mesmerizing and interactive show that teaches about ocean conservation and recycling.
Without the use of oxygen tanks, weights or even goggles, these lifelike mermaids undergo extensive training and tests to give audiences a more authentic performance. The show, choreographed to whimsical music, focuses on three mermaids—each created to teach a specific environmental issue.
Audiences are first introduced to a mermaid with an ocean-blue fin, who shares her dedication to protecting coral reefs. The next mermaid, with a dazzling purple fin, tells of her love for the ocean waves and the salty water. The last mermaid, with a seaweed-green fin, plays with her different sea animal friends. Most important, she's their protector.
The trio of mermaids swims around the aquarium and picks up foreign objects that don't belong in their home, like bottles and nets. As they remove these harmful items from the water, they encourage everyone to keep the depths clean and to protect the water and sea animals so everyone can enjoy the ocean.
The fun comes to a close as the mermaids join guests for a meet and greet, when guests get the rare opportunity to have documented proof that these mysterious creatures exist.
The aquarium also boasts more than 500 species of sea creatures in its fish tank—so there's plenty more to explore after the show. The mermaids have not yet been able to swim out to the Aquarium Restaurants in Houston and Kemah, but those locations have other fun and interactive exhibits to experience. Aquarium Houston, for instance, has a 500,000-gallon exhibit filled with over 200 species of aquatic life, and Bengal tigers in the Maharaja's Temple. At Aquarium Kemah, guests can pet and feed live stingrays or explore the rainforest-themed exhibit!
Co-written by Erica Jaramillo and Lauren Viles, Landry's Inc. 
Photo Courtesy of Aquarium Restaurant Nashville