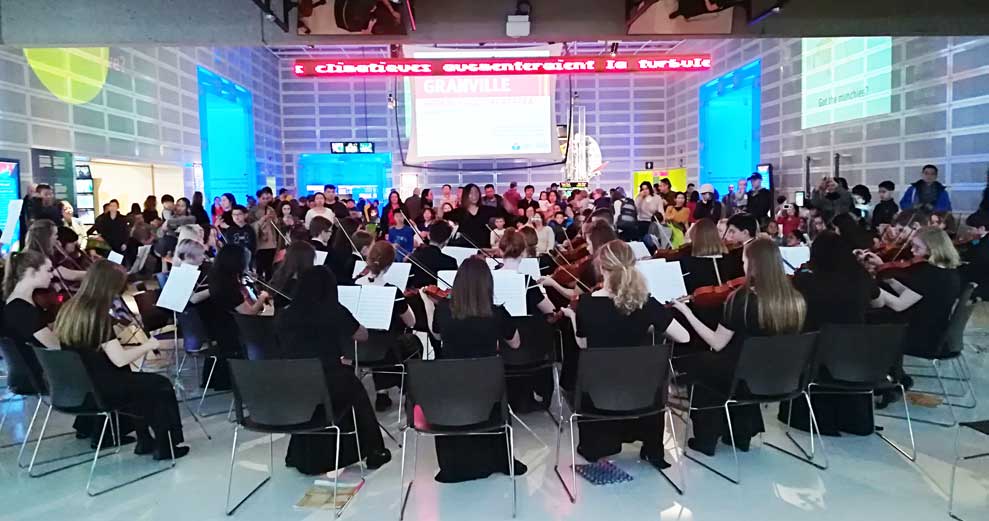 Performance Opportunities to Sing, Slide, Strum and Science!
December 17, 2019
Whether your students are looking to show off their dance skills, singing pipes or a long-practiced orchestral piece, the Ontario Science Centre has performance opportunities for student groups of all kinds. This nontraditional performance venue allows students to gain experience performing publicly and showing off their skills, with the added bonus of exploring the science all around them.
All the spaces at the Ontario Science Centre offer a unique performance experience accompanied by excellent acoustics—a priority for music educators. Performance spaces are free with Science Centre group admission, complete with access to electrical outlets, chairs and some AV support at no additional cost. Local music store partners are also able to assist with instrument rentals by dropping off and picking up rented instruments at the Ontario Science Centre with ease.
The Ontario Science Centre offers four great public performance venues*:
Procter & Gamble Great Hall
Rock Paper Science Hall
HotZone presentation space
Valley Restaurant
All venues offer a chance for students to play for an audience.
Music-related experiences are also part of the Ontario Science Centre's exhibit halls, including the Weston Family Innovation Centre, designed to inspire students to experiment, collaborate and exercise their creativity.
"Students could make magnetic fluids dance by playing the piano or singing into the microphone; create a masterpiece of sound, rhythm, light, pattern and emotion on the Sound Panels; collaborate with each other to morph a sound mix; and more," said Tiffenni Wilkinson, Partnerships and Sales, Ontario Science Centre. "The Science Arcade includes exhibits focusing on hearing and seeing sound, the tunnel of silence, sound vibrations, audio delay and more."
Wilkinson added that groups who visit before fall 2020 could explore the MindWorks exhibit.
"In this exhibit, students can 'build a song' by placing computer-chipped building blocks of different shapes and colors on a musical playing surface or create a digital finger painting by moving their hands above a sensor, creating paint strokes displayed on a video monitor," said Wilkinson. "This can create a feeling of flow—losing track of time, complete immersion in a task, a challenge that scales with skill."
Curious about how much time you might need on your itinerary for a full visit? The Ontario Science Centre has you covered.
"We encourage performance groups to plan at least three hours for their visit, to account for performance time and a chance to explore the various exhibit halls and grab some lunch," said Wilkinson. "If your group would like to add a giant-screen IMAX® experience under Ontario's only OMNIMAX® Dome Theatre, plan for a half-day itinerary—or stay until close to take it all in!"
For more information, visit Ontario Science Centre or contact Tiffenni Wilkinson at [email protected].
* The Ontario Science Centre selects the performance space based on the availability and needs of the group. This is determined in the booking process.
Content and photo courtesy of the Ontario Science Centre.