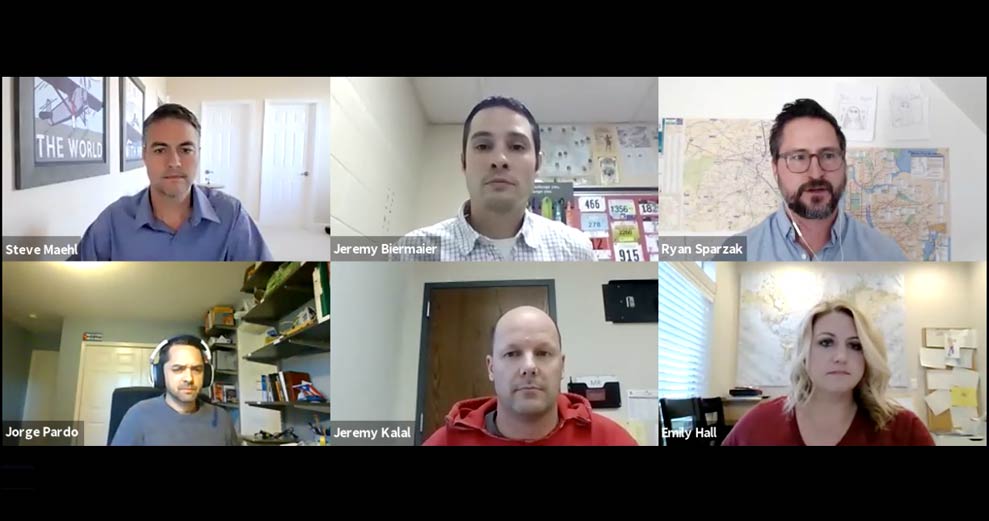 Roundtable Recap: Talking Travel with Educators
December 15, 2020
Everyone is eager for school travel to return, and educators are at the top of the list.
Bonding with students, watching them grow, visiting distant places—it's the educator's dream. That passion came through recently in two roundtables with educators around the country, hosted by SYTA. They discussed their hopes, fears, unique situations, and what operators can do to help.
Both of the roundtables are available in video format on SYTA's website here, but to give you a brief overview of what was discussed, here's our recap!
Key Takeaways
Students, educators, parents and administrators are all excited for travel to return. However, the timeline for that return looks very different depending where you live. Some districts are expecting to be fully operational by June, while many others are hesitant to plan something that soon. Regardless, it all hangs on the vaccine.
The biggest concern is safety. The appetite for travel is there, but what administrators and parents really need to know before they allow travel again is that it is possible to do so safely. In order for travel to happen, educators and operators will likely have to work in tandem to provide all the info needed to quell fears.
How do you handle a sick student? It's a question on everyone's mind—no one wants to leave a 13-year-old all alone, quarantining in a hotel room for two weeks. There's been much discussion over how to handle this, but one idea put forward was to simply have a designated nurse or trusted chaperones who plan ahead of time to stay behind if needed until parents can fetch the student or find another solution.
Some schools are going hands-off of travel. Before COVID, administrators often wanted total control over a trip. Now, liability is a big concern, leading certain school administrations to step away entirely and leave it in the hands of parents and teachers. However, many educators rely on the school to provide coordination, outreach and fundraising, so they have no interest at all in non-school sponsored trips.
Travel insurance is another big concern. When trips were cancelled suddenly this year, refunds were few and far between. Now parents want to be sure something like that won't happen again, which is another reason why they need reassurance before jumping back into travel.
Money is tight. Safety precautions often cost more, meanwhile many communities are hurting financially and parents can't afford everything they used to. Schools are helping by eliminating fees here and there, but this also means fundraisers have been hurting for money over the past year. People should be sensitive to that.
Zooming In
Time is tight, too. While educators expressed an enthusiasm for online resources like virtual field trips, many school districts were forced to cut hours and curriculum to make remote/hybrid learning work. That means there's not nearly as much room for those additional experiences until students are fully back in school and the course has been corrected.
Flying isn't going anywhere. While some educators are open to bussing, most think flying is actually safer due to all the precautions, not to mention the stress of having a bus full of students on a long trip.
There will be adjustments. In the long run, everyone's hoping for a return to normalcy as quickly as possible, and that includes travel plans. But over the next year or two, trips might look a bit different. For instance, music groups will likely avoid adjudicated competitions right away, since the typical "arc" of growth for students has been disrupted so heavily. Educators want the first trips back to be low-stress as possible.
What about hotel beds? Many people in the industry are wondering if travel groups will be switching from the typical setup of four students to a room to two or even one. The answer: It all depends on cost. Almost no one knows right now exactly what trips will look like in the future!
Operators should be the expert: Educators want tour operators to be the expert—they have enough on their plates as is. Plus, it develops trust between operators and the administration/parents. As one participant said, "If you want to travel our students, be the experts on it. Don't wait for us to tell you what we need; you tell us what we need. Surprise us. That's gonna be a tough one."
Silver Linings
"I think the silver for me is, our kids want to travel. They want to get out, they're ready to go do this. We're just waiting for the world to become a safer place for us to get out of that."
"I think a silver lining for all of us is the opportunity to kind of count our blessings, and hopefully create a new sense of appreciation for anything that we get to do."
"We just want to teach music, we want to reach our students, we want to make things better for them. And certainly, travel is one of the ways that I know I've been able to enhance the educational experience and the life experience for my students. It creates such wonderful memories."
Click here to listen to the recordings.