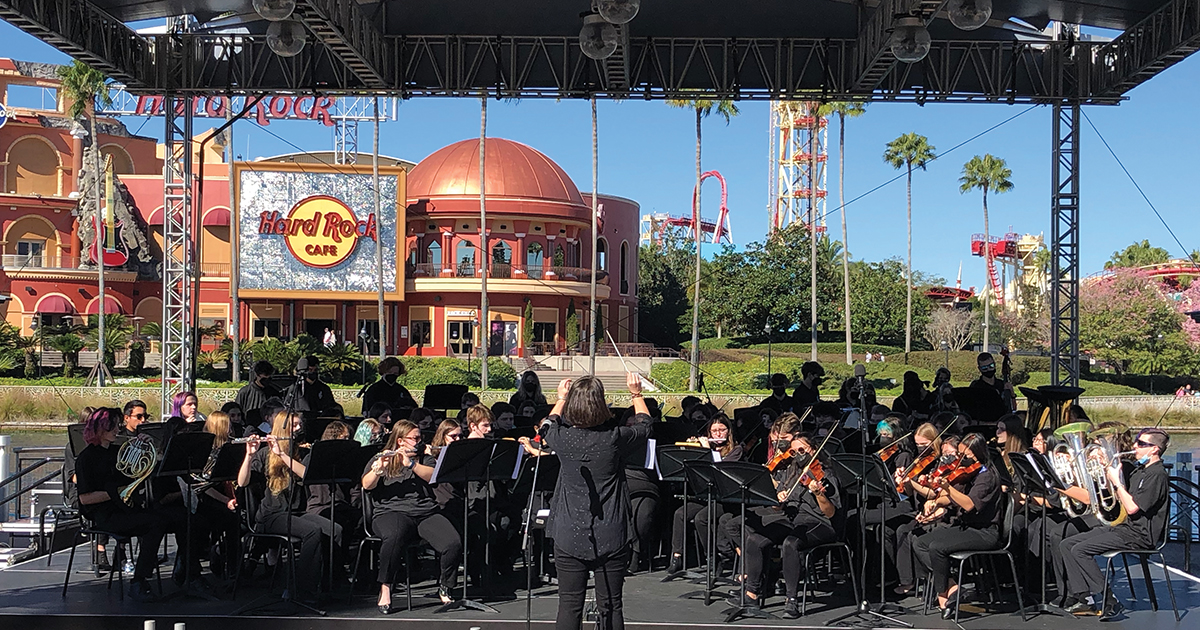 Safe and Sound in Orlando
June 23, 2022
While many school administrations have been trepidatious about travel, one school in Carol Stream, Illinois showed us safe and fun trips are fully attainable with planning ahead and using a tour operator.
Choir director Laura Johnson took her students at Glenbard North High School on a trip to Universal Studios in Orlando, where things largely went off without a hitch. Johnson has been traveling with students since the early '90s, with the help of SYTA operator Bob Rogers Travel. She's gone to Orlando, Disney, Toronto, D.C., and even Hawaii, but she knew this trip would be different.
"Our trip was a week and a half after the New Year. Omicron was just raging in our area and it was very scary about whether we would be able to go," Johnson said. "But we did have a lot of discussion with our administration about whether the trip could happen."
With the trip planned far in advance and nobody wanting to cancel, they had to work quickly to figure out how to do the trip, but safely. The biggest sudden change was requiring all participating students to take a COVID test before travel, which paid off in a big way.
"I did feel kind of bad about it, but in the end, there were a few kids that tested positive and they had to stay home, of course. But it was so much better than a kid being on the trip and miserable, with the rest of us trying to figure out like, how are we going to get them home?"
Luckily, most of the students had travel insurance, which was extremely helpful in recouping costs after having to cancel. While the students that tested positive were sorely missed, they also up being symptomatic, meaning they wouldn't have been able to enjoy the trip properly.
Singing with COVID isn't ideal, and then there's the matter of quarantining sick students, getting them back home, doing so cheaply, and so on. Johnson, the school administration and Bob Rogers Travel did all have extensive conversations about what would happen if a student fell ill on the trip, but it never came down to that.
Of course, students staying healthy didn't happen by accident. Glenbard chose to fly rather than using a bus, in large part due to the comparative amount of time spent in close quarters. It also helped that things in Orlando are largely outdoors, including their performance.
"We performed at Universal, and they have a stage that's kind of on water. It's real nice stage with good lighting, good sound," Johnson said. "It's such a hard thing to sing outside, but they have a nice setup, easy to hear and easy to see. People are shopping and doing that kind of thing, so they stop and listen and that's really nice. That was excellent. I would really recommend that venue for people."
Ultimately, it was the support of the administration, the help of Bob Rogers Travel, and the flexibility of everyone involved that allowed the show to go on. Johnson strongly recommends student travel for anyone who can.
"This year is a challenge, but if they think they would like to travel, they should do it. The tour companies like Bob Rogers Travel are so accommodating and they work with you, not just on your plans and things, but they're awesome about trying to keep the cost at the place we would like it. They're not trying to push anything on us.
"But the big thing is, get your administration on board and make sure they're in agreement with you."
This story originally appeared in the May 2022 issue of Teach & Travel.