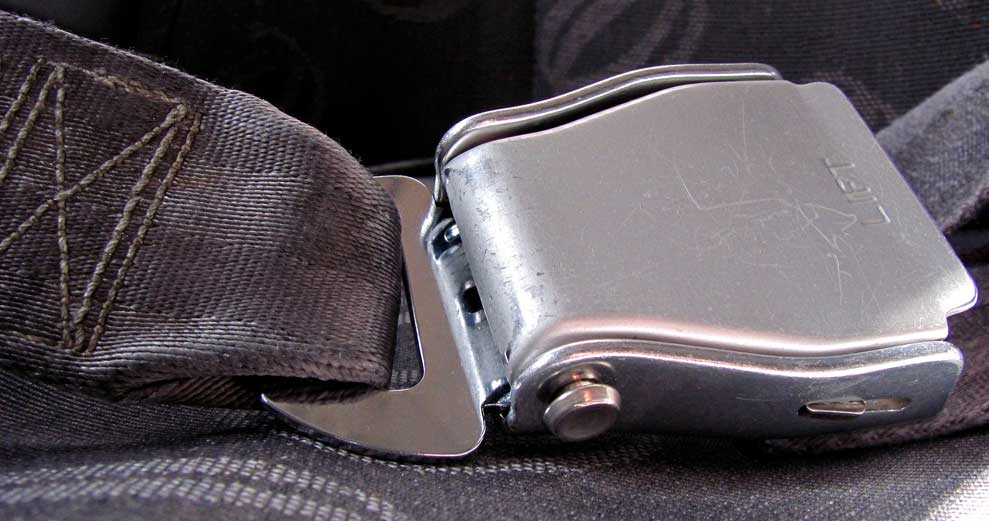 Sara's Wish Foundation and the UMass Transportation Center Secure Safe System Innovation Grant from the Road to Zero Coalition
May 10, 2019
Sara's Wish Foundation (SWF) and the University Massachusetts Transportation Center (UMTC) are proud to announce they have received a Safe System Innovation Grant from the Road to Zero Coalition to advance the SWF and UMTC collaborative effort to end traffic fatalities by 2050.
This grant will help SWF and UMTC continue creating an effective national motor coach seatbelt educational campaign "kit" to increase seatbelt usage on motor coaches. The kit will be distributed to motor coach operators and include easy-to-implement templates of actions. These include formal announcements made by the motor coach driver, a video via an in-vehicle monitor or internet-based application, promotional banners at the entrance to the motor coach and in the terminal waiting area,  text or email messages sent to riders, digital messages promoting seatbelt usage when tickets are purchased online, as well as a simple message printed on the ticket and also attached to the back of each seat: e.g., "Be Safe…Sit, Click and Ride."
"The expectations are that this campaign 'kit' will enable motor coach operators to make passengers aware of the benefits of wearing seatbelts and that this awareness will convince passengers that seatbelts can save their lives and reduce the severity of injuries in crashes," stated SWF President Anne Schewe, who added that this in turn is expected to lead to increases in motor coach seatbelt usage.
"The need to continue to focus on promoting seatbelt usage, especially along our busy, high speed highways, is of paramount importance," says UMTC Director Professor Michael Knodler. "And it makes good sense in light of the fact that all new buses since 2016 are required by law to be equipped with seatbelts, a multi-million-dollar investment made annually by motor coach operators."
Knodler also noted that based on a small, preliminary survey conducted jointly by SWF and UMTC, current seatbelt usage on motor coaches may be on the order of 1 percent.
"With as many as 40,000 people killed each year in motor vehicle crashes, now is the time for bold and innovative action," said Nick Smith, interim president and CEO of the National Safety Council. "Once again, the selection panel had an impressive pool of applicants, but this year's winners stood out because of their logic-based, proven strategies. We look forward to watching their progress on our shared journey to zero roadway deaths."
To qualify for a Safe System Innovation Grant, an organization must clearly explain how its program will improve safety on the roadways, set a timeframe for the reduction in deaths and injuries, outline how the program will be evaluated, and detail how the organization intends to reach its target audience, among other elements.
The SWF and UMTC program will include: "before" seatbelt usage counts along motor coach routes in selected locations in the United States; the development of a comprehensive plan to educate motor coach passengers about the benefits of wearing seatbelts and to persuade passengers to wear their seatbelts (where installed); implementation and evaluation of the comprehensive plan with the aid of "after" seatbelt usage counts; post-implementation focus groups; and the final preparation and distribution of the campaign "kit."
It should be noted that SWF and UMTC have a long history of working with U.S. DOT agencies including Federal Motor Carriers Safety Administration, National Highway Traffic Safety Administration, and the Federal Highway and Transit Administrations, as well as the American Bus Association, United Motor Coach Association, Greyhound, Peter Pan Bus Lines and other motor coach industry stakeholders.
The Road to Zero initiative was launched in October 2016 as a joint effort between the National Highway Traffic Safety Administration, the Federal Highway Administration, the Federal Motor Carrier Safety Administration, and the National Safety Council. The goal is to eliminate roadway deaths by 2050. The Department of Transportation committed $1 million annually from 2017 to 2019 and an additional $500,000 in 2018 to fund Safe System Innovation Grants, and the National Safety Council is managing the grant process.
For more information, visit Road to Zero.