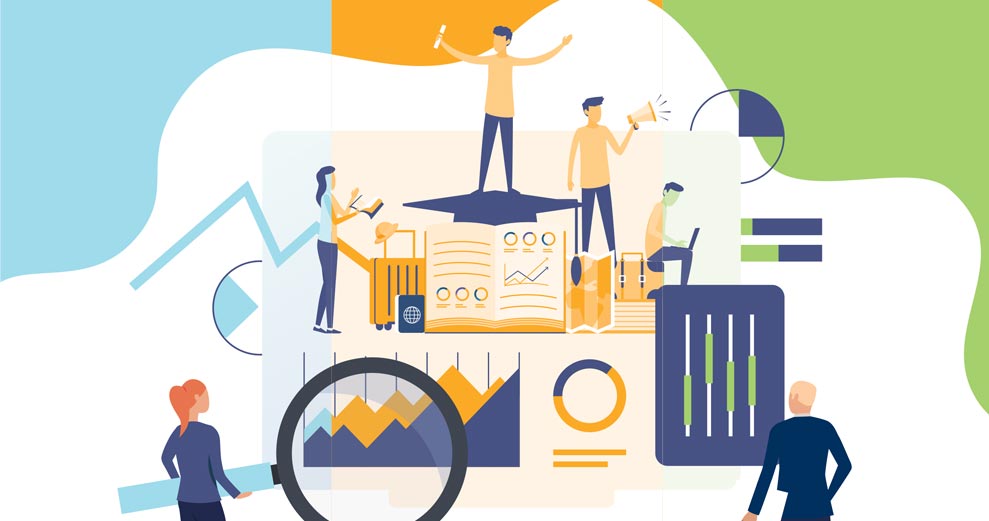 Student Travel Business Barometer 2019 Annual Report Released
August 20, 2020
The First International Data Report for the Student Group Travel Industry Provides Key Benchmarks for Recovery
Arlington, Virginia: Student & Youth Travel Association (SYTA), the international professional trade association promoting student and youth travel, and BONARD, an independent market research company, have just released their Student Travel Business Barometer 2019 Annual Report. This is the first-ever international report to gather quantitative data for the student group travel market, and provides important benchmarking for measuring growth in the recovery following the outbreak of COVID-19.
Carylann Assante, SYTA CEO, noted that the idea behind this landmark industry study was to establish a data platform for the global student group travel industry. This segment of the tourism industry lacks recognition, particularly at the government level where funding and recovery aid decisions are made, due to absence of reliable measurement. The data gathered from 2019 measured three main performance indicators: number of students traveling, average trip duration and average group size.
"Our 2019 Business Barometer shows that the student and youth group travel industry is a significant industry segment that was on course to achieve its greatest year ever, prior to the outbreak of COVID-19," said Assante. "The pandemic brought that growth to a screeching halt, but the great value in our Business Barometer is that we now have a benchmark of real data that we can use to measure growth as we hopefully move into recovery phase in late 2020, 2021 and beyond."
The initiative was joined by 149 student tour operators from 26 countries across the world, which included both SYTA members and non-members. Overall, responding businesses represented 1.8 million traveling students. According to Patrik Pavlacic, Head of Research at BONARD, this gave the project a strong voice internationally. The study was conducted quarterly, although the interruption of business due to the coronavirus necessitated a merged survey for Q3 and Q4.
Most recent data points to a healthy and growing sector pre-COVID-19
In line with a growing appetite among parents to invest in the education of their children, the majority of student tour operators noted an increase in demand for student travel in 2019. Of all quarters, Q2 recorded the highest number of respondents (65%) reporting a year-on-year increase in the number of students traveling domestically. Q4 and Q1 also performed strongly, with 60% and 54% of business reporting growth in customer volume. Regarding international trips, the biggest number of operators that saw an increase in student numbers was recorded in Q3 (56%), with Q2 (52%) and Q1 (46%) following closely.
"We hope that these numbers predict a good sign for recovery later this year and into 2021," said Assante. "If we can count on the strength of Q1, Q2 and Q4 in 2019, we are optimistic that we may be able to see a rebound in business in Q4 of 2020 and Q1 and Q2 of 2021. Of course the majority of our business is derived from school trips, so school openings around the world will be the real determinant of our recovery."
The research also mapped the global student tour operator landscape. Businesses catering to no more than 10,000 students travelling domestically constituted two thirds of the market. In contrast, two thirds of STOs involved in international travel sent abroad up to 1,000 students.
Seasonality and student preferences explored
Spring represents the most travel-heavy season both domestically and internationally, with May significantly leading in student volume. On average, a tour operator carried 2,758 students as part of a domestic trip and 1,157 students traveling abroad.
On the other hand, May trip durations were shorter compared to other months. Students took the longest trips in January and July; an average of 5.7 and 6.9 days respectively for domestic travels, and 10.9 and 10.3 days respectively for cross-border trips.
In terms of group size, the biggest groups embarked on domestic trips in spring and autumn (between 57 and 61 students per group), while international trips saw the biggest groups in March (43) and February (39).
Within their previous research, The Student Travel Digest, SYTA and BONARD gathered considerable evidence on the impact of travel on young people's lives. Thus it was not surprising to see trips with an educational component holding sway in domestic travel. Together with performance arts/music programs, these trip types accounted for more than 60% of all student travelers. However, with international travel, the inclination towards educational trips in Q1 and Q2 was replaced by school and college tours in Q3 and community service and volunteering programs in Q4.
Critical global issues of concern in 2019 were mapped
The Business Barometer also explored the sentiment of student tour operators on three key issues: Health and safety, the role of technology in business and sustainability.
Student travel customers continued to place cost and content aspects of their trip as their top priorities in 2019, however safety was growing as a concern. With the onset of the coronavirus pandemic, safety is expected to emerge as the top global concern. Prior to the pandemic 46% of responding SYTA members claimed to be prepared for critical situations, however 59% of non-member organizations already felt challenged by safety concerns and risk management requirements.
All student tour operators make use of mobile applications and social media to communicate with schools and parents, however a majority of the operators surveyed did not use GPS devices to track students during their trips. And, finally, none of the operators recorded high demand from customers for sustainable elements in group travel and in fact found reluctance by customers to bear higher costs to pay for sustainable features in their itineraries.
"We anticipate that we may find some striking differences in the attitudes of operators and their customers to all of these issues in 2020 and beyond," said Assante. "Health and safety will be #1 on each operator's list of priorities for certain, and we expect both technology and sustainability to play a far greater role as trip planning transforms in a post-COVID student travel industry."
For media inquiries, please contact:
Carylann Assante, SYTA CEO, CAE, [email protected]
Stefan Kolibar, Head of Marketing, [email protected]
For more information about the Student Travel Business Barometer or other industry research, please visit https://syta.org/student-travel-research/.
About us
SYTA (www.syta.org) is the non-profit, international professional trade association that promotes student & youth travel and seeks to foster integrity and professionalism among student and youth travel service providers. SYTA is "The Voice of Student and Youth Travel ®".
BONARD (www.bonard.com) is an independent market research provider with 12 years of experience working in the student travel industry. The company is a United Nations World Tourism Organization (UNWTO) Affiliate Member, with senior research officials also being members of ESOMAR World Research.