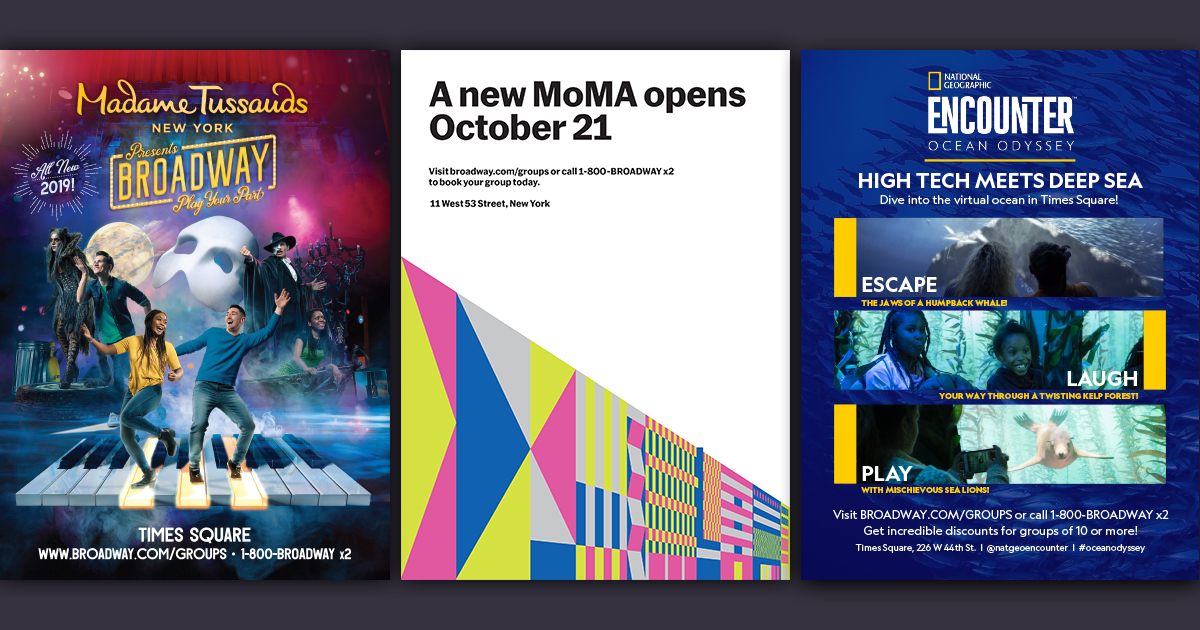 Students can Experience the Top New York City Attractions with Group Sales Box Office!
July 18, 2019
Student groups love a good Broadway show, but did you know that Group Sales Box Office at Broadway.com is also your one-stop shop for top New York City attractions?  From the masterpieces on display at the MUSEUM OF MODERN ART, to the wax figures at MADAME TUSSAUDS, and the deep sea wonders of NATIONAL GEOGRAPHIC ENCOUNTER: OCEAN ODYSSEY let us customize your students' itineraries to create educational experiences that last a lifetime!
The MUSEUM OF MODERN ART's renowned collection of modern and contemporary art includes Vincent van Gogh's The Starry Night and Andy Warhol's Gold Marilyn Monroe, along with works by Jackson Pollock, Jasper Johns, Cindy Sherman, Elizabeth Murray, and many other great artists of our time. MoMA's collection also showcases photography, film, architecture, design, media, and performance art, and offers shopping and fine and casual dining options.
MADAME TUSSAUDS New York is the ultimate celebrity experience – get up close to amazingly life-like wax figures of the most famous pop stars, Hollywood legends, sporting heroes, and historical icons – all within one place. Get your tickets now and prepare for your close up with some of the world's most famous faces.
NATIONAL GEOGRAPHIC ENCOUNTER: OCEAN ODYSSEY is an immersive, walk-through experience that takes you on an unforgettable underwater journey across the Pacific Ocean. Instead of taking animals out of their homes, ENCOUNTER's groundbreaking technology transports you to theirs, bringing you up close to the sea's most incredible creatures.
Group Sales Box Office at Broadway.com can help you plan a variety of experiences beyond Broadway.
To book these and other exciting attractions visit us online at www.broadway.com/groups or call 1-800-BROADWAY x2 today.