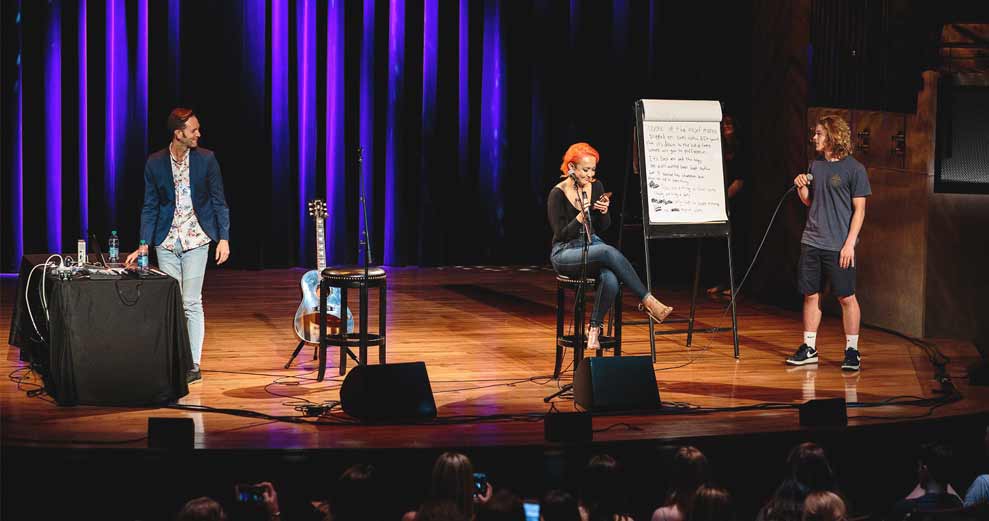 Students Get a Taste for the Life of a Professional Musician
May 9, 2018
Hundreds of choir students from Ohio file into the CMA Theater at the Country Music Hall of Fame® and Museum, where they are about to participate in an interactive experience that transports them into the life of a professional musician.
Inside Tracks is a program that covers it all—from songwriting and performing to professionalism in the music industry.
The coolest part?
Students walk away with an original track, composed by their group, that combines beats and lyrics written in real-time—alongside Nashville recording artist Meghan Linsey and record producer Tyler Cain.
Meghan Linsey began her career as one-half of the Billboard chart-topping country duo Steel Magnolia, signed to Big Machine Records. The duo was nominated for major music awards, including ACMs, CMAs and Teen Choice Awards, and sold over 1 million downloads and albums.
After recording and touring as an independent artist, Linsey took her musical journey to a new level as a contestant on NBC's The Voice. She was crowned the Season 8 runner-up and was the first contestant in show's history to perform an original song that she wrote for the show's finale. Her latest album, Bold Like a Lion, features collaborations with Grammy-nominee Aloe Blacc and the legendary Fred Schneider of the B-52s.
Tyler Cain has built a name as an in-demand Nashville record producer, musician and songwriter, working with a long list of award-winning artists, including Big & Rich, Darius Rucker, Billy Currington, Meghan Linsey, Ashley Monroe and many others. He was recently nominated for a Mark Award by the Production Music Association, and in 2017, his song "Has Anybody Ever Told You" was included on a Grammy-nominated Album of the Year.
While Linsey and Cain's accolades are impressive, the most compelling element of Inside Tracks isn't the awards.
It's the way the duo engages the crowd.
Cain navigates the stage, hammering out beats on his midi controller and layering guitar tracks while Linsey interacts with the students, fielding their ideas as they shout out lyrics for the next line in the song.
Their energy is magnetic.
They juggle the moving parts gracefully, and students respond.
After the program, students are invited to take pictures, ask questions and discuss their musical aspirations with Cain and Linsey.
As the group is heading off to their next adventure, the buzz of excitement is in the air—and students can be seen giving high-fives to their classmate who provided a perfect lyric for the song.
Today, it's choir students from Ohio. Tomorrow, it could be your students writing and recording the perfect track.
Courtesy of the Country Music Hall of Fame® and Museum. Learn more at countrymusichalloffame.org.
Photo Courtesy of Erin Lee Allender Photography.