SYTA LIVE Business Sessions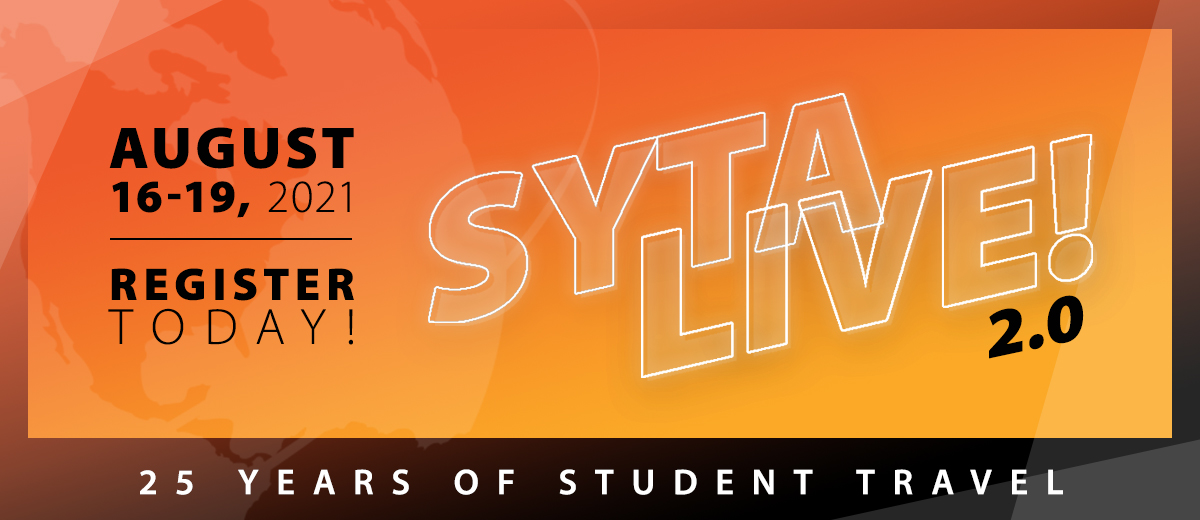 Registration Rates
Tour Operators: 
Complimentary


Suppliers: 

$295

Join or renew by July 1st to receive access to this event. Membership must be current through December 31, 2021.

Additional members from the same company may join/share the virtual appointment book at no additional cost.

Cancellation/Refund Policy: Conference cancellations must be received in writing no later than June 25, 2021. All cancellations are subject to a 20% administrative fee. SYTA will not issue refunds for registrations after June 25, 2021 however, substitutions without penalty are welcome through July 16, 2021. SYTA regrets that refunds will not be given for no-shows. To be considered for a refund, requests must be submitted in writing by email to [email protected].
---
SYTA Membership
Active/Tour Operators
2021 Dues: $375
Tour operators, receptive tour operators, group travel planners, travel agencies who receive and send students, youth, and school groups domestically and internationally.
Associate/Supplier
2021 Dues: $525
Suppliers and sellers of products, services, and destinations to student travel industry. May include but are not limited to attractions, hotels, restaurants, transportation, insurance, technology, financial services, destination marketing organizations, convention and visitors bureaus, state and provincial marketing organizations, international tourism boards, and receptive operators.
Dual
2021 Dues: $625
Dual membership applies to companies that meet all the criteria of both an Active and an Associate member. This may be a tour operator that provides customized tours to student groups and also serves as a receptive tour operator for a destination or a transportation company that also provides customized group travel services to its customers.
Not sure on membership status? Please email [email protected].
---
Virtual Business Sessions
Buyer and Seller appointment-takers have the opportunity to request appointments through the appointment portal. SYTA requests that Tour Operator members take a minimum of one book of appointments.
---
Important Dates
Tuesday, May 11  Company Profile Creation/Update & Research
Wednesday, May 19  Appointment Requests Open
Wednesday, July 21  Appointment Requests Close
Tuesday, August 3  Final Appointment Schedules Available Online
---
Business Session Hours
Tuesday, August 17
10:00 AM – 12:55 PM EST
2:00 PM – 4:55 PM EST
Wednesday, August 18
10:00 AM – 12:55 PM EST
2:00 PM – 4:55 PM EST
Thursday, August 19
10:00 AM – 12:55 PM EST
2:00 PM – 4:55 PM EST
SYTA's Business Sessions offer 10-minute pre-scheduled appointments, where Buyers and Sellers obtain information and create business relationships. We have built in 5-minute breaks between each appointment. You may have up to 12 pre-scheduled appointments per session or a up to 72 total appointments throughout the three days.