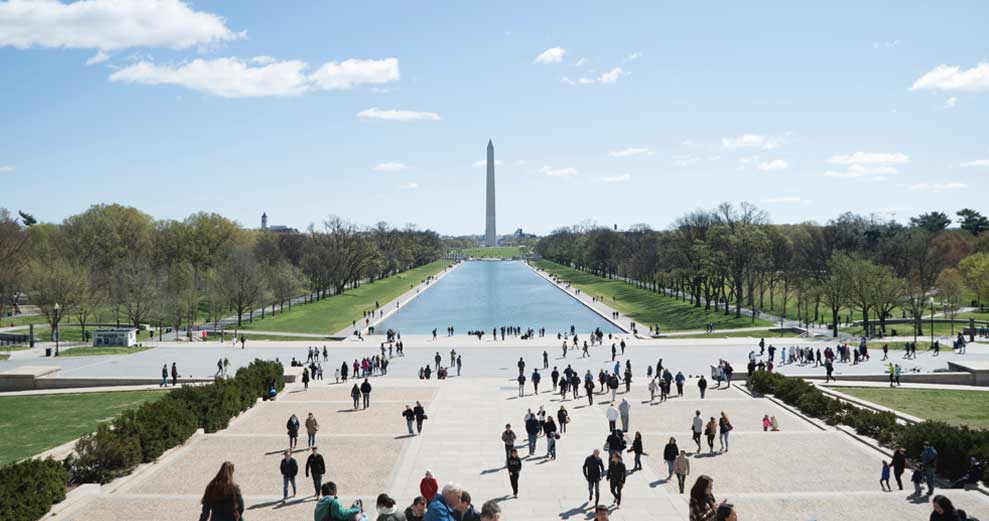 SYTA Youth Foundation and American Experience Foundation Welcome Youth for Seventh Annual Rite of Passage Trip
March 28, 2019
The American Experience Foundation (AEF) awarded 30 seventh and eighth grade students from across Harrisburg, Pennsylvania its 2019 Rite of Passage field trip, which took place on March 15-17, 2019. AEF enriches the lives of low-income students through inspirational travel experiences to the nation's capital. It is the philanthropic arm of Destination DC (DDC), the official destination marketing organization for Washington, DC.
American Experience Foundation and the SYTA Youth Foundation (SYF) guided students throughout the city for a unique, only-in-Washington, DC experience. SYF's mission is to impact the lives of students and youth through travel experiences that change their lives.
The 30 middle school students attending the field trip were all participants of Hamm Camp, a nonprofit week-long basketball camp based in Harrisburg, Pennsylvania that was founded by DDC's sports development manager, Lawrence Hamm, in 2009. The free week-long camp for girls and boys combines basketball skills instruction with a daily workshop focusing on essential life skills regarding communication and professionalism. Hamm Camp is the largest free camp in Pennsylvania, supporting approximately 300 Harrisburg youth each summer and was a dream for Hamm, who grew up in the community and played professional basketball for six seasons overseas.
"The ability to inspire young people through travel is one of my favorite aspects of my job," said Elliott L. Ferguson, II, president and CEO, DDC.
"Our very own Lawrence Hamm has been changing the lives of young boys and girls for years through his foundation, and I am so proud that the American Experience Foundation and our hospitality partners are joining forces to provide a field trip to the nation's capital to those who might not otherwise have the opportunity."
The three-day cultural excursion included experiences such as a U.S. Capitol tour; a basketball game with the Capital City Go-Go, the NBA G League (NBA's minor league basketball) and an affiliate of the Washington Wizards; views of the city from the Entertainment Cruises' Spirit of Washington boat; and a monuments by night tour with Big Bus Tours.
Throughout the trip, students also worked with Omari Pearson, founder of 'Passion to Purpose,' on team building, work ethic and navigating career goals.
"My purpose with Hamm Camp has always been to teach Harrisburg youth that there is more in life than just basketball, so we teach them how to tie a tie, communicate effectively and explore prospective career fields, such as the travel industry," said Hamm.
"The opportunity to welcome 30 of my campers to the nation's capital, with the help of AEF and SYTA Youth Foundation, is an amazing milestone and only an extension of my hope to provide more to these students each year."
Washington, DC is the top student travel destination in the U.S., according to SYTA tour operators. The field trip enriched the lives of these students by exposing them to attractions with historic significance, cultural understanding and the power of tourism.
"The Student and Youth Travel Digest is a global report showing that educators believe travel has a positive social impact on their students and improves classroom learning," said Carylann Assante, CEO of SYTA and SYTA Youth Foundation.
"The DC Rite of Passage program brings the classroom to life and we are proud to be a partner with AEF to have made this happen for these students."
Local partners who contributed transportation, accommodations, attraction passes, tours and meals include:
Ben's Chili Bowl
Big Bus Tours DC
Capital City Go-Go
Carmine's
Crowne Plaza Crystal City
Dani Fresh Photography
Entertainment and Sports Arena
Entertainment Cruises
Events DC
Innovative Coach
National Portrait Gallery
Newseum
Observation Deck at CEB Tower
Omari Pearson/Passion to Purpose
Peak Performance Tours
Smithsonian Museum of Natural History
Smithsonian National Museum of African American History and Culture
Student Watchers
U.S. Capitol Visitors Center
Courtesy of eSYTA.