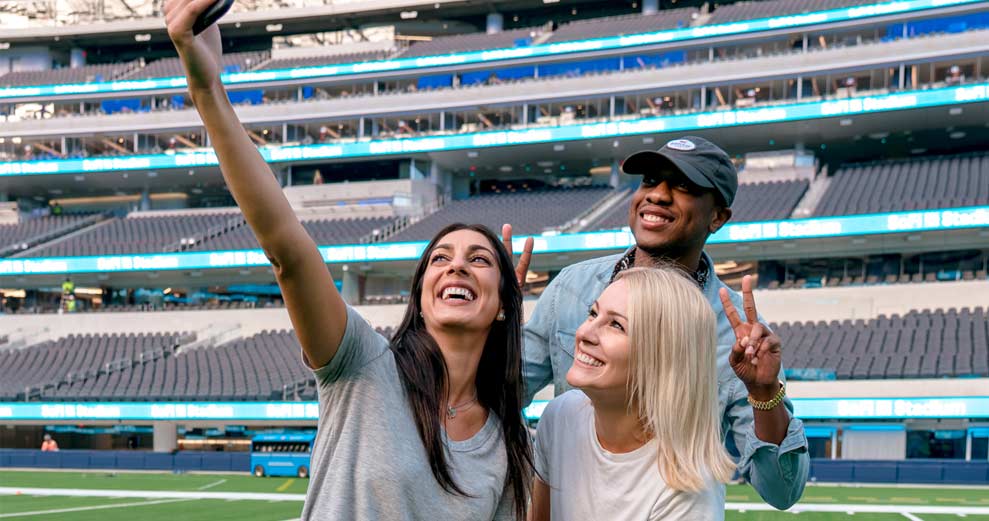 Teamwork, Courage and Compassion
May 11, 2021
For millennia, across times of both great joy and deep turmoil, sports have united people in a special way. Incorporating sports into your travel itinerary not only offers students an opportunity for unparalleled behind-the-scenes insight and fun, it also provides an avenue for growth, camaraderie and unforgettable memories. Take a look at some of these exhilarating options.
Nestled in the heart of the sports and entertainment capital of the West Coast in Inglewood, California, the new SoFi Stadium allows students to experience what it's like to be an LA fan, game viewer, broadcaster, player and more—on and off the field. Home to the Los Angeles Rams and Los Angeles Chargers, the stadium offers experiences like a VR photo opportunity, a tunnel run to the turf, on-field challenges like kicking field goals, visiting the locker room, running the "40" and more. Students can even experience a post-game interview after all their hard work.
About two hours south in San Diego, students could get their heads in the game at Petco Park—home to MLB's San Diego Padres. Whether your itinerary allows for a historic behind-the-scenes guided stadium tour or other group enhancement, students will leave feeling energized and bonded with each other. From warning track ceremonies and parades to national anthem performances, there's something suitable for whatever your students are interested in.
When the time is right, a visit to the Hockey Hall of Fame in Toronto, Ontario should be on your list. The ultimate hockey-lover's destination has artifacts galore, including the original Stanley Cup donated by Lord Stanley of Preston. Students could also hear some exclusive stories (as told by HHOF curators) and view rarely seen video and photos of the Stanley Cup as it has made its way through different championship possessions, thanks to the museum's Tales of the Cup virtual enhancement. Insert themes of teamwork, inclusion and perseverance to elevate the experience further.
At the Pro Football Hall of Fame in Canton, Ohio—the birthplace of the National Football League—students could explore exhibits and displays which pay tribute to the talents and triumphs of pro football's greatest legends. The Hall of Fame also makes materials available to enhance your visit, with programs like "Careers in the NFL", "African American Trailblazers", "Women in Football" and even custom-made programs to suit your individual curriculum needs.
It's all about college ball at the Chick-fil-A College Football Hall of Fame, located in the heart of Atlanta, Georgia. Here, students can turn textbooks into playbooks with a day full of interactive learning and fun, found in various galleries and on the attraction's 45-yard indoor playing field. Kick a field goal through the regulation goal post, run an agility drill, catch a diving pass, and more.
Ensure your student trip has an experience you'll never forget with a visit to an Orlando Magic game at Amway Center in downtown Orlando, Florida. Not only will students be treated to a thrilling NBA game, but they could also take part in many of the add-on options available, including on-court and national anthem performances, opportunities to play on the court before or after a game, and more. Prior to your trip, be sure to confirm the destinations mentioned above are open, in addition to noting any special hours and COVID-19 protocols.
This story originally ran in Teach & Travel's May 2021 issue, written by Sarah Suydam.
SoFi Stadium photo courtesy of Legend's Hospitality.