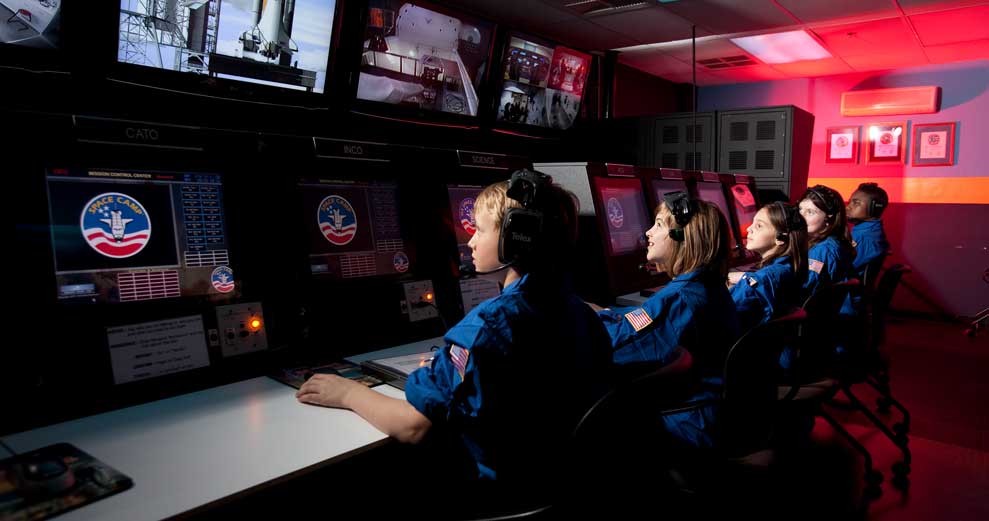 The STE(A)M Capital of the South
June 5, 2019
Students with their heads in the clouds will feel right at home in Huntsville, Alabama, at the U.S. Space & Rocket Center—home to Space Camp. Whether they have an interest in space, aviation, robotics or cyber security, a specialized camp adventure awaits.
The U.S. Space & Rocket Center's newest STEM camp—U.S. Cyber Camp—allows students to delve into the world of cyber technologies through hands-on experiences and challenges. They'll learn the ethics and responsibilities of personal data security for safeguarding professional networks, and the challenge of an expanding "internet of things." This program not only balances individual instruction with team building, but also introduces students to careers and professionals working in cyber fields. Students can even take a tour of Redstone Arsenal military base!
Activities students could encounter during the U.S. Cyber Camp include building computers and networking systems as well as learning the fundamentals of Python programming within a Linux environment. Additionally, they'll have opportunities to explore coding using a Raspberry Pi and defend systems against cyber threats.
Nearby, just southwest of the heart of Huntsville, students can bask in creativity at Lowe Mill ARTS & Entertainment—a historic textile mill turned into the largest privately-owned arts facility in the country. Consisting of galleries and studios for more than 200 artists, Lowe Mill showcases every medium of art, from culinary to performance.
Students have the opportunity to openly explore the complex and artist spaces where they can shop, learn about the artists, and admire their works. Plus, many artists offer classes for groups.
Which Huntsville STE(A)M adventure will your students explore next?
Learn more at huntsville.org.
Content and photo courtesy of the Huntsville/Madison County Convention & Visitors Bureau.