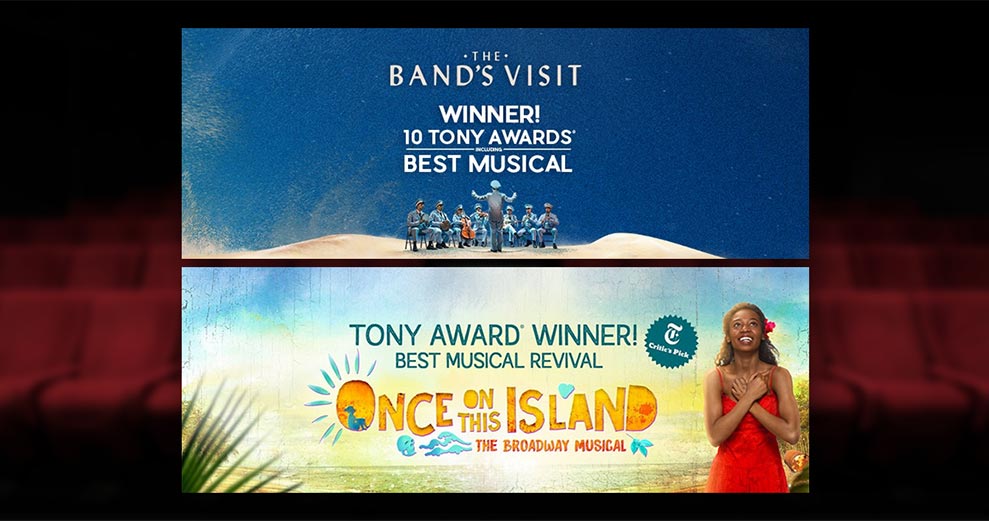 Tony Award Winners
June 13, 2018
The Tony Awards® was a thrilling night filled with music, heart, and humor that brought the theatre industry to its feet worldwide. With show stopping numbers and impassioned speeches the 2017 – 2018 Broadway season ended on a high note! We are thrilled to bring two of the big winners THE BAND'S VISIT and ONCE ON THIS ISLAND to perform at the Best of Broadway at SYTA Baltimore this August.
Fresh off their phenomenal 10 Tony Award wins, including Best New Musical, THE BAND'S VISIT is now one of the most celebrated musicals ever. It rejoices in the way music brings us to life, brings us to laughter, brings us to tears, and ultimately, brings us together.
In an Israeli desert town where every day feels the same, something different is suddenly in the air.  Dina, the local café owner, had long resigned her desires for romance to daydreaming about exotic films and music from her youth. When a band of Egyptian musicians show up lost at her café, she and her fellow locals take them in. Under the spell of the night sky, their lives intertwine in unexpected ways, and this once sleepy town begins to wake up.
The Tony Award winner for Best Revival of a Musical, ONCE ON THIS ISLAND, is the universal tale of Ti Moune, a fearless peasant girl who falls in love with a wealthy boy from the other side of the island. When their divided cultures keep them apart, Ti Moune is guided by the powerful island gods on a remarkable quest to reunite with the man who has captured her heart. Bursting with Caribbean colors, rhythms, and dance, this production transforms the reality of a tropical village devastated by a storm into a fantastical world alive with hope.
Both shows pair perfectly with your favorite Broadway Classroom Workshop.  Take a Making Music workshop and be transported to the world of THE BAND'S VISIT or a Musical Theatre Song & Movement workshop to experience the flavor of the Caribbean in ONCE ON THIS ISLAND, all in the heart of New York City
Mark your calendars for Monday, August 27th to see these spectacular shows plus many more at the Best of Broadway, you won't want to miss it!