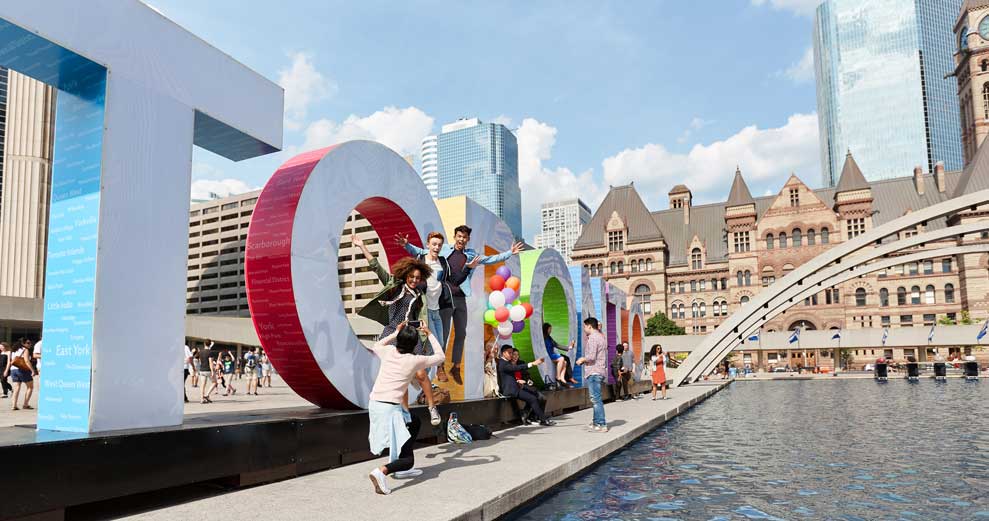 Upside Down, Underwater and Uncovering Toronto
April 17, 2019
Praised as a must-visit cultural destination and one of the best places to travel to in 2019, Toronto, Canada, lives up to its growing reputation as a thriving hub. For a city that just celebrated its 185th birthday, it still offers lots of newly innovative experiences for the curious student traveler.
Interactive, illusory and imaginative—these educational opportunities will have young minds spending less time looking down at their phones and more time delighting in what's in front of them.
Toronto isn't the only one celebrating a milestone in 2019.
The Ontario Science Centre celebrates its 50th birthday! With an amazing lineup of events throughout the year, student groups can immerse themselves in captivating experiences including educational IMAX films about nature, space and—of course—science; special exhibits like Women in Space; and collaborative presentations on climate change, cosmic connections, and DNA fingerprinting. The Ontario Science Centre is one of Toronto's most iconic cultural attractions, inspiring creativity and curiosity for young, learning minds. It's a great place to soak up knowledge in interactive and innovative ways.
Looking for another cool place to soak up education, in more ways than one?
Ripley's Aquarium of Canada takes learning to a whole other level—and underwater—with group sleepovers that'll give students a good dose of Vitamin Sea. An overnight reef adventure includes hands-on learning experiences, explorations of the aquarium, and in-depth information on the aquarium's watery inhabitants. Bedtime snacks and sharks included! But if sleepovers aren't your student group's thing, Ripley's offers ample daytime activities such as live interactive dive shows and aquarist talks, where seasoned aquarists answer burning questions about life under the sea. Not to mention the enchantment of the aquarium itself, with its glow-in-the-dark jellyfish wall, an assortment of rainbow-colored tropical fish, and friendly stingrays.
And yes, students can touch them.
Finally, if you really want to grab your group's attention and change their perspective on things, take them upside down and side-to-side into the imaginative world of illusions. Toronto's Museum of Illusions recently opened and is already garnering lots of attention, thanks to its mind-boggling installations and exhibits. Featuring everything from illusions and holograms to challenging puzzles, students will definitely broaden their perspective while being wildly entertained. In a world of social media crazes, they'll truly see that nothing is as it seems. Fantasy meets reality and education goes hand in hand with amusement in this other-worldly Toronto experience.
Visit now! Travel is easy, as no passports are required for student groups under 19 years of age. For more information on these and other great educational activities, visit Tourism Toronto.
Courtesy of Tourism Toronto.
Photo courtesy of Finn O'Hara/Tourism Toronto.