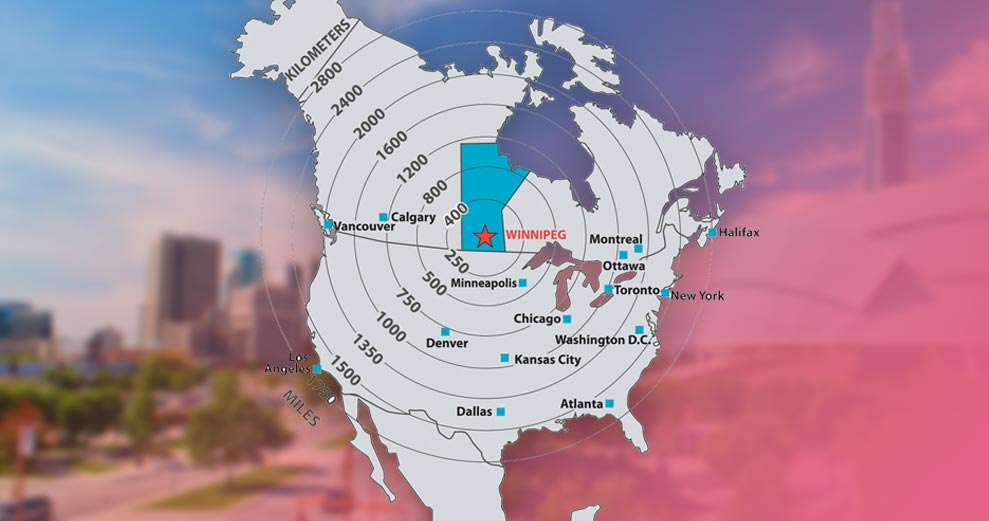 Where is Winnipeg?
November 11, 2019
Located at the geographic center of Canada and North America, Winnipeg is Manitoba's vibrant capital city.
Bordered on either side by Ontario to the east and Saskatchewan to the west, Manitoba is considered the gateway to Western Canada and the heart of the nation. It's easily accessible by air, land or rail and is only about an hour north of the U.S. border.
Winnipeg James Armstrong Richardson International Airport welcomes 3.4 million passengers annually. With an excess of 140 flights per day, the airport is serviced by major and local carriers including: Air Canada, Delta, United Airlines and WestJet. Did you know? If flying from Chicago, you're just 2 hours and 35 minutes from Winnipeg and just over 5 hours if flying from Orlando.
The city has more than 6,000 years of history as a result of its significance as an Indigenous meeting place. From the 17th to 19th centuries, the area flourished as the hub of Canada's fur trade and then later again as a key site of early railroad development.
With a population of 753,700 (2018) culturally diverse people, Winnipeg is a four-season destination with cosmopolitan flair and a warm, welcoming spirit.
REMEMBER:
A passport is required to enter Canada from the U.S., so be sure to act fast if you need to get one or start the renewal process.