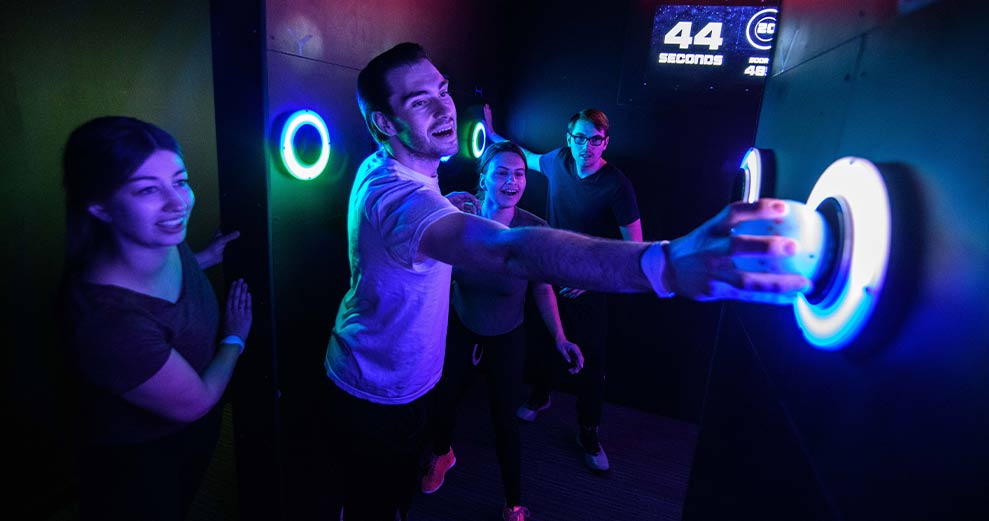 Winnipeg's New 13,000-Square-Foot Gaming Center
February 12, 2020
We crawled under the red lasers on our hands and knees, careful to keep low to the ground. Finally reaching the far wall, we hit the completion button—safe for a moment while the grid reset. We were waiting to see what the next challenge would be. A moving gate? How will we have to jump and twist ourselves to navigate the next labyrinth?
Those are just some of the dilemmas students will find when they step into Activate, Winnipeg's newest attraction and the world's first active gaming experience of its kind.
Activate Games is the perfect activity to add to your Winnipeg student itinerary. Teams of up to five persons work together to solve puzzles, crawl under (harmless) red lasers, shoot baskets at modified hoops synchronized with lights, target shoot with balls and find the right color codes to complete the challenge.
This unique experience is the brainchild of Adam and Megan Schmidt, owners of the wildly popular escape room The Real Escape. With a mind for cooperative puzzles and interactive gameplay, Adam and Megan turned their attention to develop a new style of puzzle-solving: Active gaming that combines video gaming concepts with physical activity.
When walking into the game center, students will have access to 11 different gaming rooms, including a modified climbing wall, laser maze and so much more.
Many of the challenges are logic-based, requiring strong team communication and quick thinking to complete, making it ideal for groups. Students will work on these important life skills without even realizing it as they get caught up in all the action and work up a sweat at the same time. Play the "hide and seek" game, where they'll unscramble a jumbled word inside a room filled with a watchful eye, or tag letters through a pipe-filled room.
A big component of the Activate experience is working together and team building. Players earn points for completing levels that are logged through a digital wristband, allowing students/teams to compare high scores with friends.
It's a race against time and your students will love it! For more information on Activate Games and for other Winnipeg itinerary ideas, visit Winnipeg Groups.
Written by Mike Green, Tourism Winnipeg.
Courtesy of Tourism Winnipeg.
Photo courtesy of Mike Sudoma.