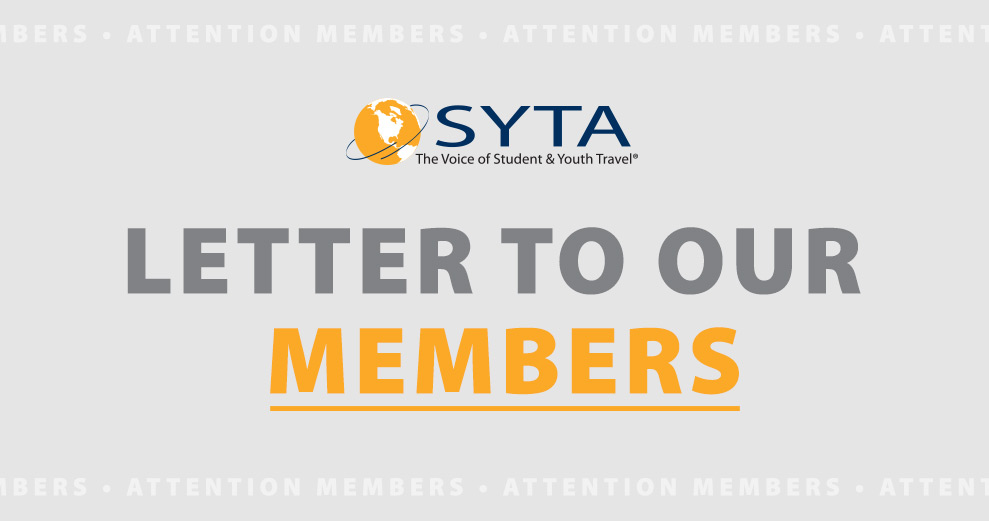 SYTA Working To Help Members Through Crisis
March 2, 2020
Dear SYTA Member—
SYTA is working closely with allied associations worldwide to share information, provide resources and keep our members informed about the novel coronavirus. Daily contact with the Centers for Disease Control and Prevention, National Institutes of Health, Department of Homeland Security, U.S. Department of State and Transportation Safety Administration does not indicate that domestic travel should be restricted.
We work with U.S. Travel Association to follow the guidance of federal authorities:
Travelers should follow best-health practices. At this time, there are no restrictions on travel anywhere in the United States and no indication that travel plans here should be altered for any public health reason.
As media reports continue about the spread of the novel coronavirus (COVID-19), we understand your concern for your clients and the welfare of your business is high. I am receiving your calls and we are paying close attention to our own sources and industry resources, so we can offer you the latest information and best practices to help you navigate through this with minimal loss of business.
I believe the information below will be helpful. We will build upon this bulletin as we receive new information.
This scenario is changing rapidly at the same time that are entering a busy student travel season. The well-being of SYTA members and their student travelers is of the utmost importance to us all. That's why we are consulting with world and national health organizations, United States and international travel associations, and trusted educational organizations in efforts to give you the best and most helpful resources.
We want to be interactive with you, our members, to understand the situations you face and share what we have learned.
I'm pleased to share that many of our members are collaborating together and sharing effective practices in response to this crisis. In these difficult times, we need to stay proactive by providing suggestions and solutions to your clients, and reinforce the value of working with a professional tour operator.
Please contact me at [email protected] to let us know what you need, what you know that might help your fellow members, and to offer advice and best practices we can share.
Please find resources here which you can use and share with staff and customers.
SYTA will continue updating our website with relevant coronavirus information as the situation evolves. Should there be urgent developments you must know, we will send information to you directly.
Please know SYTA is working to help our members in any way we can to provide you with resources, information, and best practices to get through this crisis, and to help you recover your business once the crisis passes. Travel is a resilient industry and we have experienced difficult times in the past.